Review: SHAKESPEARE IN VEGAS Delivers Authenticity & Hilarity at 4th Wall Theatre Company
Within the first few seconds of Kim Tobin-Lehl's amusingly frenzied entrance onto the 4th Wall stage in SHAKESPEARE IN VEGAS, one word immediately crossed my mind-- "authentic". For the subsequent two-hour performance, authenticity remained to be a theme present in the developed characters, the feel-good storyline, and the entertaining true-to-the-industry moments that any involved theatre individual would be able to relate to.
---
This isn't the first time a theatre newbie has stolen the scene from the star, the first time actresses have gotten catty backstage, or the first time an actress was hired for a role they believed would be much more wonderful than the reality was. However, for wise-guy director Tony (Philip Lehl), his season was indeed going to be one of firsts: He was going to bring Shakespeare to Las Vegas.
Playwright Suzanne Bradbeer's SHAKESPEARE IN VEGAS follows the interaction between these two contrasting worlds: the world of Shakespeare and the world of Sin City, as Shakespeare-lover and actress Margot (Kim Tobin-Lehl) is hired for three of her dream roles in Tony's Shakespearean season. Margot, wearied by the theater business but full of heart, jumps at the chance to perform the genre she loves, though it means relocating to Vegas.
What awaits her is nothing she expected, but everything she needs. At times Margot seems to be the only sane one onstage, which creates plenty of hilarity as supporting characters Merrie Jo (Skyler Sinclair), Collette (Christy Watkins), and Mike/Buck (Braden Hunt) bring their own individual bouts of eclectic absurdity to the table.
Each character was incredibly developed and translated very well, thanks to Bradbeer's script, 4th Wall's established cast, and Jennifer Dean's vision as director. I believe everyone knows a Margot: someone whose good intentions often get overshadowed by their outbursts of personality flaws, someone who can't help but speak their mind and then regret their bluntness a moment later. Likewise, everyone knows a Merrie Jo: a bright-eyed, overly excitable newcomer to the theatre that HAD to have been cheerleader captain in her past life, what with her animated facial expressions and bouncy personality. Similarly, each character in this production has their own hook, their own lovable qualities, that also contribute to their flawed natures individually.
Philip Lehl is a picture-perfect as the hustler, director, and savvy character that Tony is, and he challenges Margot in a way that might just end up bringing out the best in both of them. Christy Watkins brings much comedy to the stage with Bradbeer's hysterical script and her convincing delivery of the ditzy Collette. Braden Hunt portrays both Mike and Buck: Mike--a well-meaning guy on the road to reform who you love to root for--and Buck--the guy you just love to hate. Hunt so easily converts from one persona to the other, delving headfirst into their much-contrasted identities.
However, the sincerest joy onstage and best performance of the night was delivered by Kim Tobin-Lehl as Margot. Every word she spoke appeared not as just a character she was playing for those two hours, but rather a reflection of Tobin-Lehl herself as this character. You believed her performance as Margot. Each sarcastic word, well-meaning interaction, or hilariously frantic outburst was performed with such authenticity and care that it was hard to believe that at the end of the night, Margot herself wasn't actually going to be walking out the stage door.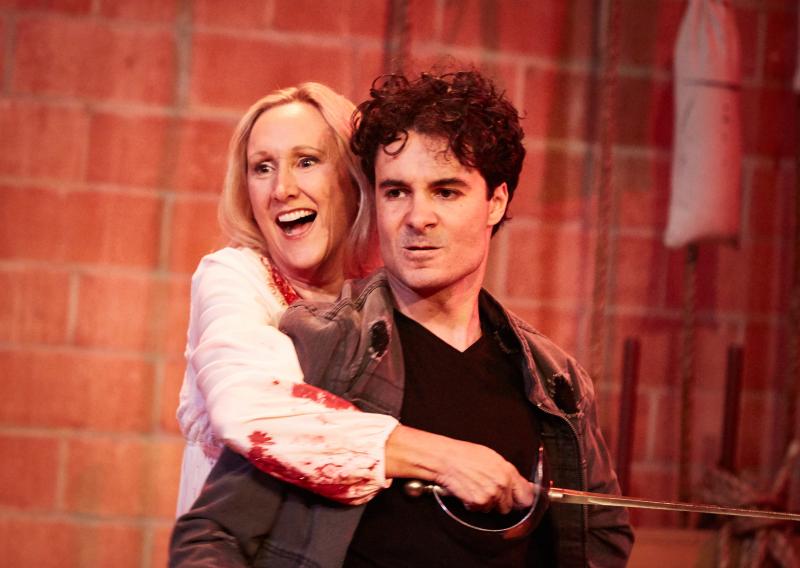 The designers and production crew of this production did an exceptional job of creating this peek into the theatre industry and all the shenanigans that ensue when you bring the works of William Shakespeare to the city of Vegas. Ryan McGettigan's set design made great use of the space, offering flexibility of location while keeping in mind the big picture theme of the theatre industry in Vegas. Neon signs decorated the space, which synced with the sound design by Mike Mullins and lighting design by Clint Allen provided entertaining transitions between scenes. Macy Lyne (Costume Designer) had what I imagine to be a wealth of responsibility, with this production including costumes for three shows within this show itself.
Michelle Ritter (Stage Manager), Tina Montgomery (Properties Master), Josh Morrison (Fight Choreographer), Drew Hoovler (Carpenter), and the humorous crew members Kalin Menzel and Bradley Jackson were also part of the team that brought this feel-good, authentic story to the stage.
Be sure to catch this theatrical delight at 4th Wall Theatre Company, running through June 9th. I'll leave you with perhaps the best takeaway message of the night, delivered by Margot herself: "Don't do drugs. Don't do theatre".
Photos by Gabriella Nissen.
4th Wall Theatre Company opened Shakespeare in Vegas on May 18th, and will continue performances through June 9th. Performances are Thursdays-Sundays @ 7:30pm, with an additional Pay What You Can performance Monday, June 4th @ 7:30pm. Box office opens one hour before curtain. Please visit 4thwalltheatreco.com or call (832) 786-1849 for tickets and information. 4th Wall Theatre Company performs at 1824 Spring St 77007.