BWW Review: Come to the CABARET at Obsidian Theater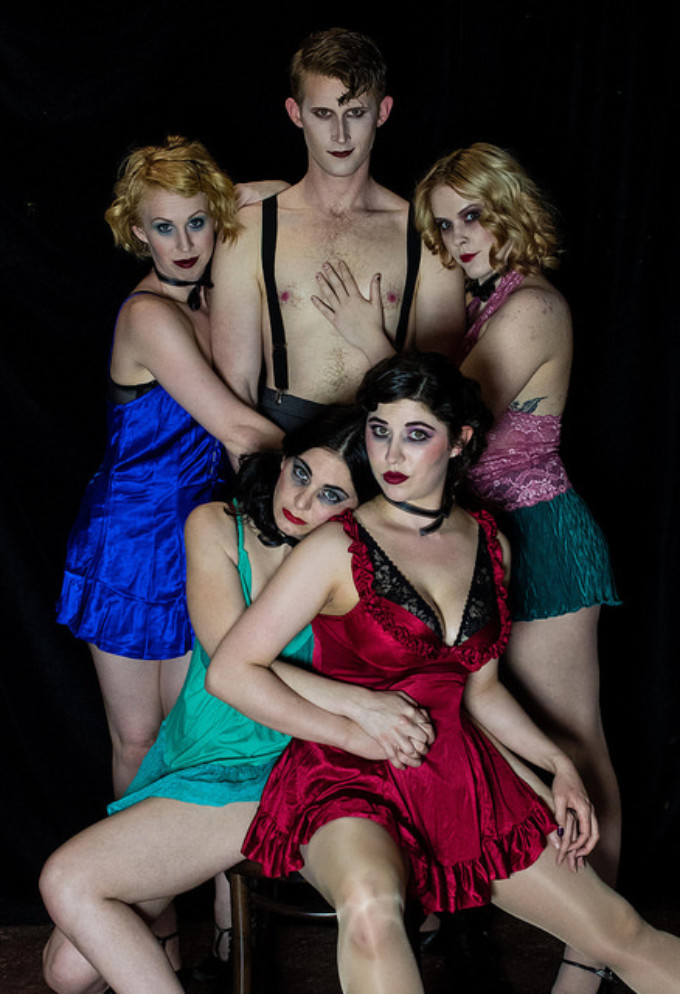 The dark jewel of musicals CABARET feels right at home in the Obsidian Theater, and their new production adapts well to the intimate space that already feels like a seedy nightclub. The show is well cast, well executed, and handsomely done in little more than new unironed orange bedsheets and shell footlights added to the shiplap walls already there. It's not a reinvention, but a celebration of the classical musical that delivers familiar songs and themes. It is well worth coming to this CABARET where indeed... life is beautiful.
---
It's the all too familiar tale of an American writer heading to Berlin just before the Nazis come to power. He parties with a beautiful English chanteuse, meets a charming older German couple who intend to marry, and accidentally ends up caught in the crosshairs of cultural upheaval. CABARET has had a long history of adaptations since it premiered in 1966, and still has much to say to audiences. It created the "concept musical", and introduced the idea show tunes could be more realistic and committed to political commentary.
CABARET came to be reinvented as a theatre piece in 1993 when it was reimagined by Sam Mendes for The Donmar Warehouse in London. The original book was reworked to include more of a sexual identity crisis for American writer Clifford Bradshaw, and several songs made popular by the 1972 film were added in. He also collaborated with actor Alan Cumming to make the Emcee character far more aggressive sexually. Since then there have been many iterations, but director Paul Hope sticks to the latest versions with nods to all the rest. The first act is packed with songs from the original 1966 Broadway run as well as the Bob Fosse big screen adaptation, and it feels lengthy and overstuffed with an embarrassment of riches from Kander & Ebb. The second act moves much faster, and includes several gut punches that pay off the lengthy buildup.
Paul Hope embraces the classical elements, and gives us recognizable milestones from the history of CABARET. The Brechtian delivery of the songs from the original Broadway show pops up, the sexed up reinvention of the Emcee and new Kit Kat Boys arrive from The Donmar Warehouse revival, and even the newest take on "Two Ladies" offers gender bending comedy. The concepts sometimes seem at odds since most songs are either performed in a club or on the radio like the film, but then several end up being traditional musical numbers out of nowhere like a traditional Broadway affair. Audiences won't mind because it means everything they love about CABARET is here, but it does seem disconnected as a through line. Hope keeps things precise and clean, avoiding the seamier notes of the show at times. Even the darkest moments are presented with a sweetness that disarms.
The cast is amazing from top to bottom, a gorgeous group of local actors who all have the goods to pull off CABARET and make it their own. Nathan Wilson turns the Emcee from skinny and dark to beefy and blonde, and uses his innocent voice to vocalize through his rouged up sneer to great effect. He's the perfect host and agitator throughout the evening - an imaginative breath of miasma that seems all too sweet in the offing. He embodies Paul Hope's concept of sweet with just a hint of seedy perfectly. Whitney Zangarine makes Sally Bowles hard as nails, but then opens up a vulnerability that sells her struggle to pick domesticity or decadence. She controls every note masterfully as she belts through Sally's iconic numbers. I was mesmerized when she delivered her epic solo which becomes a master class in singing and acting. We get to watch Sally breakdown thoroughly even as she belts for all it is worth. Cole Ryden gets the often bland role of the young American writer, but he manages to charm the audience with wide eyes, leading man good looks, and a gorgeous tenor. He's a natural music star. Seth Cunningham is a pitch perfect villainous Ernst, and Jenny Lamb equally matches him as the hooker with no heart. Stephanie Rascoe Myers and Steve Garfinkel embody the older couple who the audience falls in love with in both acted scenes as well as their heartbreaking songs about marriage, pineapples, and ugly faces.
The leads are supported by the Kit Kat Girls and Boys who flesh out the rest of the ensemble and play varying characters in addition to their night club personas. AJ Hernandez, Jayden Key, Andrew Russell, Bryan Kaplun, Elizabeth Tinder, Amanda Marie Parker, Natalie Nassar, and Lexie Jackson add much to the show ranging from eye candy to punctuation of the political themes. They each bring their own brand of sexy to the proceedings, and execute the Fosse flavored choreography of Krissy Richmond well. They stomp, they writhe, and they make the most of reveling in the debauchery.
There is not much to grouse about here save for one or two small hiccups. During the preview performance several of the microphones were acting up. They popped, they whined, they dangled precariously out of costumes. It seemed more fuss and distraction than was necessary. When Stephanie Rascoe Myers delivered "What Would You Do" entirely without a microphone it worked beautifully. In a space that seats 70-100 patrons you don't need them. This cast could belt it out easily without the odd look of the mics in their face and the packs behind them.
This is the CABARET you love, done exquisitely well by a local team in a small intimate space. There is hardly a misstep in any of the performances, and Paul Hope presents it traditionally and in a way that honors the heritage of the show. It's exciting stuff, and cements Obsidian as one of the best smaller houses in the city. They don't have the budget of an Alley or a TUTS, but they have passion to spare. That is what in the end sells this CABARET, the commitment of the artists to pour everything they have into a piece that challenges as much as it entertains. It is a high gloss version of a musical that plays with the grotesque.
CABARET plays at the Obsidian Theater through May 5th. Tickets are available through their website http://www.obsidiantheater.org