BWW Interview: Get Ready to Rock the Boat! Michelle Aravena Talks GUYS & DOLLS at TUTS
Luck be a lady as the gamblers and gangsters of GUYS & DOLLS take the Theatre Under The Stars stage for their final main stage show of the season. When the iconic musical, based on the short stories of Damon Runyon with music and lyrics by Frank Loesser and book by Jo Swerling and Abe Burrows, bows in Houston, audiences will be treated to everything they love about the show, now told with a Latin flair.
Today, Miss Adelaide herself, Michelle Aravena, joins us to talk about the show's longevity, her perpetually single (and sneezy) character, and getting to sing "one of the most brilliant pieces of musical theatre history," "Adelaide's Lament," every night.
---
Do you remember the first time you encountered GUYS & DOLLS? What was your first impression?
Michelle Aravena: To be honest, I've never even seen the show. It has never been on my radar. I knew of its popularity and reputation but it was not on my list. When I received the material for the TUTS production and the concept behind it, I was immediately curious. How this would all come together? Would it make sense? Skeptically, I started working on the material with the dialect and Latin flair, and came to find out that it was a perfect fit. I think it was only helpful coming into this blind because now I can't imagine the show any other way. I only wish we could have more time with it. It feels like a show I would gladly maintain for a longer period of time. It's just so fun!
You're playing the role of Adelaide, and playing someone who's been nursing a cold for 14 years caused by a lack of marriage has got to be a lot of fun, but what's the key to keeping Adelaide from becoming a caricature?
Michelle Aravena: Yes, Adelaide is one of those famous musical theatre characters that tends to become of caricature of itself. Again, coming into this blind my only research was the script, and what is in the script is real. You have to start with the reality of her, which is a woman who has loved a man for many years, and he has loved her, but he has a fear of the ultimate commitment. Sounds pretty damn familiar, doesn't it? I can certainly connect. So, once you have the reality of the character and the situation, then you can start layering on the comedy of certain moments. I thinks it's a balancing act. Knowing when the comedy is needed and when it's not. This character has more real moments than you would think. What I hope to bring in my take of Miss Adelaide is a woman that people, even today, can connect to.
NPR wrote that "Adelaide's Lament" is "often considered a perfect comic song," and even quoted Fred Ebb as saying, "Every line in it is worth something. It means something; has impact. It has vitality. It has humor and charm and appropriateness. And I don't know how you can get much better than that." Based on all your experience in musical theatre, does it get much better than "Adelaide's Lament" and what's your approach to the number?
Michelle Aravena: What they say is true. The "Lament" is one of the most brilliant pieces of musical theatre history. I must admit, I was very intimidated to start working on it because of its reputation and the brilliant performers who have made it famous. Luckily my "captain, oh captain," Nick DeGruccio, knew exactly how to attack this piece. He simply said, "Don't worry about the comedy, it's there. Don't worry about the beats, they're there. Just work through the story." We jump into something like this thinking we have to create moments, add bits, when the key is to just say the words. Now, some material needs more work than that, but when you have a piece like GUYS & DOLLS you just have to stay out of the way. It's all on the page.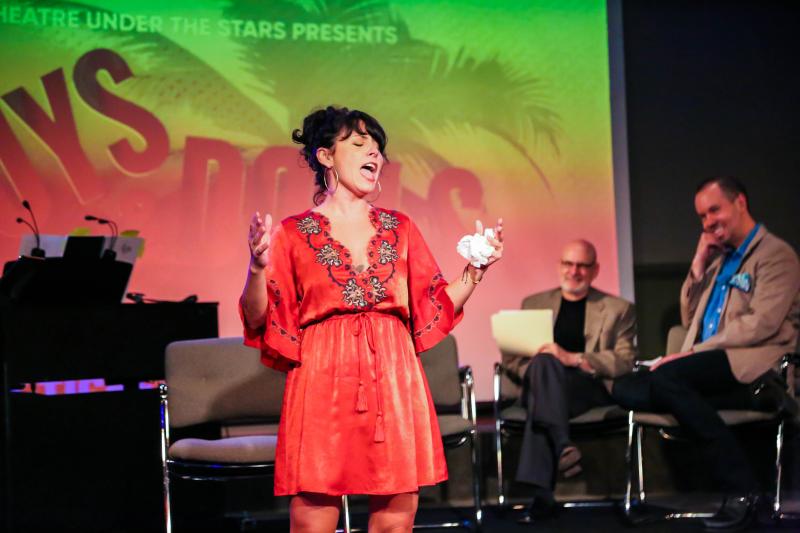 How did your dance training prepare you for this show's choreography?
Michelle Aravena: Having been a dancer is always helpful in finding the physicality of a character. As dancers we are super in tune to our bodies and how to create stories through movement. Whether I'm dancing or not, my physical stature is always a big part of my character. Adelaide is a show girl. She may be a little bit past her prime but you better believe she still knows how to bevel and walk down stairs in a three-inch heels.
For a show that premiered in 1950, GUYS & DOLLS is still going strong today. How do you explain the show's longevity?
Michelle Aravena: This show will always remain relevant because ultimately it's about relationships. All kinds of relationships. This struggle will always be part of the human race. It's what makes us human. What's really exciting and interesting is making this show using a whole other culture, and still nothing changed in the story. No matter what race or religion, the human connection is universal. That's what we're doing here, and I couldn't be more proud to be a part of this history-making production.
Now, a little about you! I read that your first job out of high school was as Ariel in a LITTLE MERMAID show at Disney World, and since then you've been on Broadway in shows like JERSEY BOYS and A CHORUS LINE and toured the country with WEST SIDE STORY, MAMMA MIA and LES MISERABLES (not to mention all the regional credits along the way). So, my question is this: A lot of artists say that each project teaches them something about their craft. What are some of the major lessons you've learned from different productions?
Michelle Aravena: I think I'll refer back to what I just said. Every role is based in truth and to make it a believable performance, you must always pull from your personal experiences. The last show I did was a new play called ROE at Asolo Theatre. [It's] a new play based on the Roe v. Wade trials. In that show I played the lover of Norma McCorvey, a Mexican lesbian from Texas. When I started the process I had no idea how I was going to jump into the skin of this character. It felt really out of the box for me. Then, as the process went along, what I realized was this was just a women with unconditional love. That is something I can connect to. Point being, every character starts from a place [of] love. At least for me.
And finally, what is the best advice anyone has ever given you?
Michelle Aravena: Best advice? Don't fight the ride. It's a roller coaster of many ups and downs. Learn to appreciate it all and know it all has a purpose and a plan. It will never be the plan you will expect or anticipate but in the end you will have no regrets. I promise!
GUYS & DOLLS opens June 12 and runs through June 24 at the Hobby Center for the Performing Arts, 800 Bagby. For more information, call 713-558-8887 or visit tuts.com. $38 to $128.