Interview: Actor Marco Camacho Talks ELF THE MUSICAL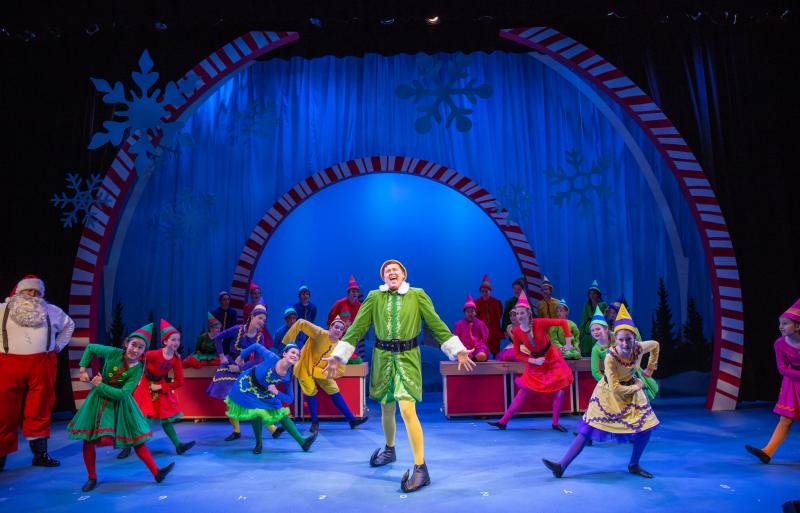 If you're yearning for some contemporary yuletide carols, head over to Queensbury Theatre. December 7 through December 23, 2018, the company will stage ELF THE MUSICAL, the theater adaptation of Will Ferrell's popular 2003 film ELF.
---
The ELF fable starts at a human orphanage. A bright-eyed baby, enticed by a sack stuffed full with toys, escapes from his crib and crawls into Santa's Bag. Santa, too busy eating milk and cookies to see the infant moving tiny head (and hands) first into his bag, then unknowingly absconds the child away to the icy peaks and −40° Fahrenheit weather of the North Pole. When Santa and the elves of Santa's Village discover the toddler, they name him Buddy and decide to raise him as their own. 30-years later, however, Buddy, the lone human resident of Santa's Village, sticks out. He dwarfs the elves in size and he can't bake cookies, cobble shoes, or build toys. So once again he dives head first into adventure and decides to leave the North Pole for New York, where he hopes to find his birth father and discover who he really is.
The film is a sweet story that follows in the footsteps of A CHRISTMAS CAROL and HOW THE GRINCH STOLE CHRISTMAS! Scrooge, in this case, is Walter Hobbs, Buddy's father and, as expected, he learns that family is more important than money and the true meaning of Christmas at the end. The musical sweetens the pot a little more, rounding out the edges of Walter Hobbs, making him more Bob Cratchit than Ebenezer Scrooge. It's standard holiday fare, but for one thing-Buddy.
Marco Camacho, the actor and professional caroler who stars as Buddy in the Queensbury Theatre production talked to me about Buddy, his indomitable optimism, and his youthful outlook. Read our conversation below!
BroadwayWorld: Is it daunting to play a character originally made to fit Will Ferrell's comedic skills and style?
Marco Camacho: Not at all! Will Ferrell is a comedic genius, and ELF is definitely my favorite performance of his. For Queensbury's production I felt it was important to pay homage to his style, while still making the role my own. I find great joy in making people laugh, so it is a lot of fun to play around with this character and discover who Buddy is. Thankfully, Will Ferrell outlined the perfect template for this iconic character, for the musical version I am happy to color it in. I've been playing an elf for weeks and it feels right.
Describe your role in the musical.
My character, Buddy, is honest and earnest possessing a love of all things Christmas. Buddy was raised in the North Pole thinking he was an elf. As a result, he is is a child trapped in an adult's body who is not afraid to say what's on his mind. However, after learning he is human, Buddy begins searching for his long-lost father. During his misadventures Buddy ends up helping others in a variety of ways. What I love about Buddy is that he's always positive. This show really tells the story of human experience.
How are the musical and film different?
The stage version enhances the story while still staying true to the heart of the film. The show takes your favorite moments from the movie and adds magic, music, and a whole lot of dancing. There is nothing like live theatre," says Marco Camacho, who plays Buddy in ELF: THE MUSICAL.
How does the musical improve upon the film?
The show works so well on stage, I think the writers Bob Martin and Thomas Meehan, as well as the songwriters Matthew Sklar and Chad Beguelin created a fresh version of the ELF story for the stage. Our director for the production, Marley Singletary, delves deeper into the family relationship in addition to the connection between Buddy and Jovie. Also, who doesn't love a big sparkly musical number?
What are your favorite ELF THE MUSICAL songs to sing, listen to, and/or see performed?
There are so many great numbers in this show! "World's Greatest Dad" will always be one of my favorites, it was the first song I ever heard from the show. As for fun flashy dance numbers, I love "Sparklejollytwinklejingley" and "Nobody Cares About Santa." They really bring down the house.
What do you want the readers to know about ELF: THE MUSICAL?
"The best way to spread Christmas cheer is singing loud for all to hear!" This show will bring audiences the joy of the holiday spirit making you feel like a little kid on Christmas morning.
ELF THE MUSICAL. Produced by Queensbury Theatre. Book by Thomas Meehan and Bob Martin. Music by Matthew Skylar. Lyrics by Chad Beguelin. December 7, 2018 - December 23, 2018. 12777 Queensbury Lane. queensburytheatre.org. $30-$50.