BWW Interviews: LATRICE ROYALE on MISTER ACT, Future Shows, and The Latrice Factor - 'There's No School For This'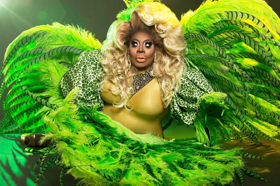 Latrice Royale - the name immediately brings a smile to the faces of thousands. As it should - Royale is one of the warmest, most loving drag queens in the game. Her rise to stardom came from RuPaul's Drag Race's fourth season, but the show has anything but defined her. Following her success on the silver screen, she toured the world, giving stunning looks, singing one woman shows, produced documentaries, put out her first album, and the Latrice Royale train barrels forward faster and faster each day. It's hard to guess where she may end up next, but the fact remains - I want to be there when she arrives.
Just back from a spectacular UK tour, Latrice took a breather from Mister Act rehearsals to talk to me about all things Royale. Next Friday, she'll be starring in a musical with other drag superstars Willam, Heklina, Peaches Christ, Tiffany Fantasia, and more. In two months, she'll be hosting the Mr. and Miss Pride South Florida in Aventura, the seventh time since she took ownership. She'll also be on the Shady Tour: Hater's Roast with another cast of her friends and colleagues. When she finds time to breathe is a mystery - but she never once stops bringing her trademark warmth, kindness, wisdom, and the undeniable Latrice laugh.
---
BWW: You started this magical career on a dare based around Jamie Foxx's Wanda character from In Living Color. You furthered yourself more on a dare to audition for RuPaul. Has anybody given you a dare we should know about recently?
Latrice Royale: No one but myself. I have been daring to do things that I have not dared to do! I'm ready to shake some things up, and I think we need to be shook a little bit more. There's a lot out there that we haven't seen, as far as drag, and art, and entertainment goes. I'm definitely ready to explore, and use this platform to expose all of that. There's some new things coming up that I wish could go more in depth with, but I can't - yeah! Believe it or not, there's something on the horizon, baby!
BWW: I love that! You've said, "A show by Latrice Royale is an adventure." "Diversity is key to captivating an audience." "Just when you think Latrice Royale is done, here I go again." When the light hits you on any stage, the reaction is always blinding. How do you continue to perform with such fervor, such passion? And what do you advise new performers, whether drag queens and otherwise, if they want that Latrice factor?
LR: The Latrice factor? Ooo, I like that! (laughs) I feel that as an entertainer, I don't want people to become complacent, or know what to expect from me, and kind of put me in a box. That's what I - no, never. I never ever.
I pride myself on doing what's passionate to me. I have a lot of tricks up my sleeve that I've not even begun to unveil yet! Being old school, and old school just means that there are some things, some shit, that these new kids have not seen. It's gonna blow their minds. Old school tricks are going to be so fresh and so new. My show for them is like OH MY GOD!
That's what I pride myself on - being that entertainer, that has that WOW factor. You don't know what it is, that I've pushed you out of your seat and onto your feet, and [you're] clapping and screaming and you don't know why you're doing it... but you're gonna go with it! That's the performance that I like to deliver.
If you're going to be in this kind of industry you have to figure out what works for you, and give more of that.
BWW: We've got Mister Act -a Peaches Christ experience meets that Latrice spectacle. And finally premiering in your drag hometown, Ft. Lauderdale. What makes Mister Act so fun to do, as opposed to your one-woman show, Here's To Life or Life Goes On?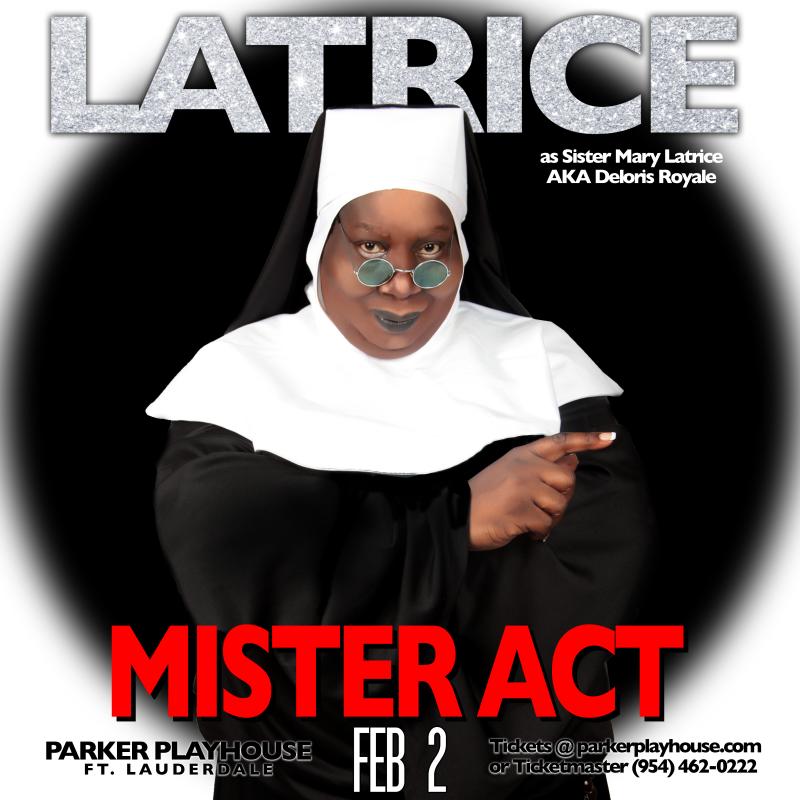 LR: This is a parody of a classic favorite, Sister Act. We all love Whoopi. What a way to incorporate drag, theater, comedy - all in one show. This is just everything you need, and it's a way for me to be outside myself, but still hold true to myself. Peaches is brilliant at making the character, building the character around your personality. You're still holding true to who you are, while paying homage to the character you're portraying - and it's so much fun.
BWW: Can we hope to see more musicals starring Latrice? A parody of Little Shop of Horrors, Dreamgirls, maybe even Hairspray?
LR: ALLLLLL OF THE ABOVE are on the table, baby! I played Audrey II a time or two, and I feel that's one of my callings. My loving fiancé is so for it, let me tell you. All of those things would be amazing to do. I think Peaches really could bring that to life and I would love to explore that with her. You never know!
BWW: When you work with somebody else on a collaborative show, like Peaches Christ or Heklina or Willam, what changes in your artistic process? How are you approaching this production of Mister Act, compared to when you did it a year ago?
LR: This is a little bit more home team, home base. I really connect with where I'm at. It feels real good to have a comforted feeling that you're at home. You bring your friends over for a sleepover, you know what I mean? (laughs) It's comforting. The part that is always stressful is making sure that the community is aware that this is happening and this is for them. I really want to impress upon people that were trying to bring something new and fresh to South Florida.
BWW: What changes when you work collaboratively, versus working by yourself?
LR: It's always a team effort. It definitely gets my creative juices flowing, because it's not just about me. It's a different thought process. Obviously, we go through a lot of preparation for shows like Here's to Life, but that's more of an emotionally driven type show. This is comedy, and you have cast members and different players, and you get to play off people. It makes for a different experience altogether.
BWW: Your friendship and professional partnership with Willam has been one for the ages. How excited are you to be onstage with her again this year?
LR: Absolutely loooooooove me some Willam! Like - people don't know about Willam. They have their preconceived notions. The one thing I can tell you about her, is that she's a tried and true, ride or die bitch. If anything went down, that's the person we callin' first. I know she'll handle it.
I love the fact that Willam keeps it one hundred, professional. We don't blur our lines between professional and friendship. We keep our business business and we don't blur the lines of the friendship. It's easy - people think it's hard! But it's easier to do it that way, so then that way it doesn't become a strain on our friendship. You understand what I'm saying?
BWW: Yeah.
LR: Willam has a great knack of doing that, and that's how we keep our friendship intact, and the business is in order, and I love it!
BWW: Speaking of the business... as I'm sure your fans know, you've been vocal about the issues in management and representation drag queens are facing. We saw it in the recent New York Times expose, and there's the horrible tragedy affecting one of drag's most beloved new stars right now. It's very depressing. You're very blessed to have Christopher Hamblin in your life - not just as your manager, but as your wonderful fiancé. How go about balancing that professional and personal relationship, like you do with Willam?
LR: I'll tell you that is a more complicated and difficult kind of balance but we rise to the occasion. It's been an ongoing learning experience for the both of us. We've been tested a lot throughout this experience. But I think we've got a great hold on the common goal, and our mutual love and respect for each other comes first. We never get out of character with each other. That's how we do keep ourselves grounded and in check. I've been very blessed to have him.
I have a great team, Mike Tafoya, Nikki Civetti, Bob Taylor, that are the core of LRI (Latrice Royale, Incorporated). Because I'm a self-made business person, yada yada yada (laughs), I like to instill that in our clients as well. We don't want to run your life, we want to help facilitate your life and make your dreams come true. No one is gonna do that for you! If you're depend on someone doing that for you, they're going take it all away, because they have control.
We're trying to get everyone on your side to get you more self-sufficient. We'll help you along the process, and mold you so you can be your own business, own your own stuff so things like what's happening to other girls don't happen to you. What you will NOT see is Latrice Royale, Incorporated in litigation with one of her clients over some money. That's not... gonna happen.
BWW: I love that you created LRI, Inc. to help get representation for other queens. You've said before that you pride yourself on this professional capability and humble nature, getting it done. How did you learn to be such a phenomenal business-minded pro, in this game? How did that come about?
LR: Trial and error. Even though everything looks wonderful on the outside, of course I was going through and had some internal turmoil. things I had to shake off and get rid of, and redo and relearn. A lot like that duck on the water - smooth on the surface, but getting it underneath! (laughs) With trial and error, I had to learn some hard knocks.
I'm self taught. There's no school for this. There's no one who is going to offer up knowledge about what's going to be best to help you be successful unless you have those types of people in your life and I had to surround myself and change my surroundings, basically. And get with like-minded individuals and learn and grow. Here I am, still growing. Still learning. And still going to be successful. Staying humble all along, because as soon as you get it, it can be easily taken away.
BWW: You do still have some fresh faces in your life. You have Mr. and Miss Pride South Florida coming up in a couple months! Are you excited to be continuing the legacy of one of your first major pageants?
LR: I am! It means so much to me, because pageants meant so much to me when I reigned. To be able to bring it back, and create a platform for these artists who are now trying to further their careers, it gives me an opportunity to give back. Put focus, and energy, and, honestly, finances, behind people who are trying to grow their careers. It makes me feel good. I haven't done this for profit, at all. It's a work of labor, of love. It's for these up and coming people. Some people have different kinds of hobbies, and mine is, "I own a pageant." (laughs)
BWW: What are you hoping to see in the pageant this year? What should people be preparing for you?
LR: This pageant, this year, I'm sure is to be spectacular, spectacular! It's in its seventh year of my ownership, it's the fifteen anniversary of one of the queens who is returning. I'm hearing amazing talent is coming to enter this year... I can't wait to see both the Mr., and Miss, turnout this year. I'm trying to really rally up the community this year to come out, support it. Their presence is needed.
BWW: You have to support local queens.
LR: Exactly. It doesn't have to have that TV brand on it to make it a worthy event. Again, it's for the community. It's for the people. It's for all ages, it's a pageant! It's a night of really extravagant entertainment and glamour and humor and just a really good time.
BWW: Is there anything else you would like to say to your fans?
LR: My biggest message is - growth. Be proud of who you are and what skin you're in. Make all the mistakes you wanna make - NOW, while you're young! (laughs) Learn and grow from them. Let those mistakes not be who you are. That is not who you are, but grow from it, and become the person you wanna be. Always love positivity. That's me.
(And) I've got some new music coming out - reaaaaal real soon!
BWW: I like to hear that! Is there anything else you can say about it, or is it still under wraps?
LR: I'm about to do a teaser release, it's called 'Excuse the Beauty'. It'll be coming out May 11th, so for DragCon we're gonna let it loose. I'm going to be performing it live there. It's going to be pretty, pretty amazing. It's featuring one of my proteges (I call her my drag niece), her name is Epiphany Mattel. She's on the rise now, she just released her new single 'Fix Yo Face'. Her video and song are available on iTunes. Check her out too! Like, I'm doing it! We have a lot going on over here at LRI and we're trying to really expose and grow new talent. She's one of them on the rise, so stay tuned!
---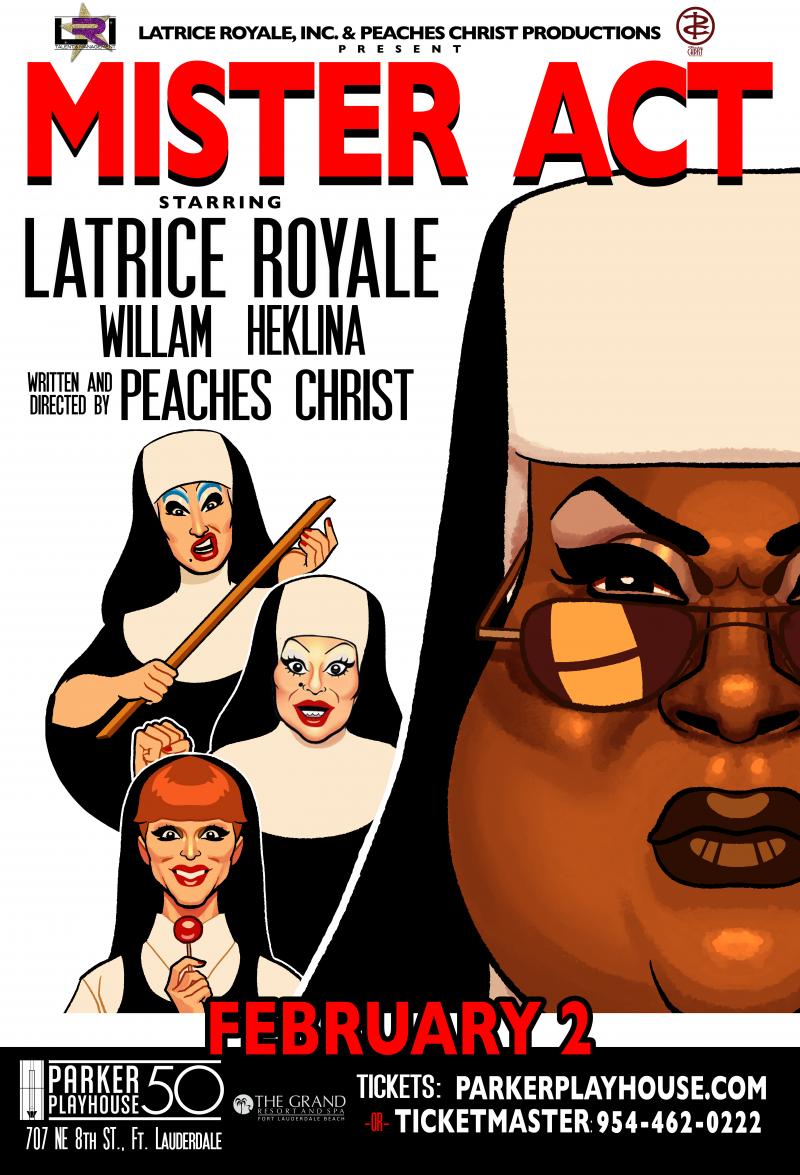 Mister Act plays February 2nd at the Parker Playhouse. Tickets can be purchased online or at the door.
Mr. and Miss Pride South Florida will be held in Aventura on March 19th. Tickets can be purchased online or at the door.

Related Articles View More Fort Lauderdale

Stories

Shows
Trevor Durham has been covering theatre for years, starting off as a Cappies Critic before he became a staff writer for ULoop, the FSView, working (read more...)