BWW Review: SPAMALOT, FINLAND at Tornava's Summer Theater
"-- And the toilets are this and that way" we hear... from the loudspeakers. The style of the show is set before the show has even properly started: we're going to get a comedy splash!
I went to see Monthy Python's SPAMALOT musical to Törnävä's Summer theatre, Seinäjoki on daytime on Saturday 3.8. The show is based on Monthy Python and the Holy Grail -movie from 1975, originally adapted on Broadway 2005 by Eric Idle. Now in 2019 performed in Finland, directed by Mika Eirtovaara!
Even while walking to the audience, I notice that the set design by Juho Lindström is overall great and is filled with links to the animation parts of the original movie, too. The wooden castle fits to the mood of somewhat childlike approach to life and the story: not so frowningly, but with a light and jolly additude, like this show is full of. There were some little boot stains on the leftside-wall... Meant or not, hilarious anyways.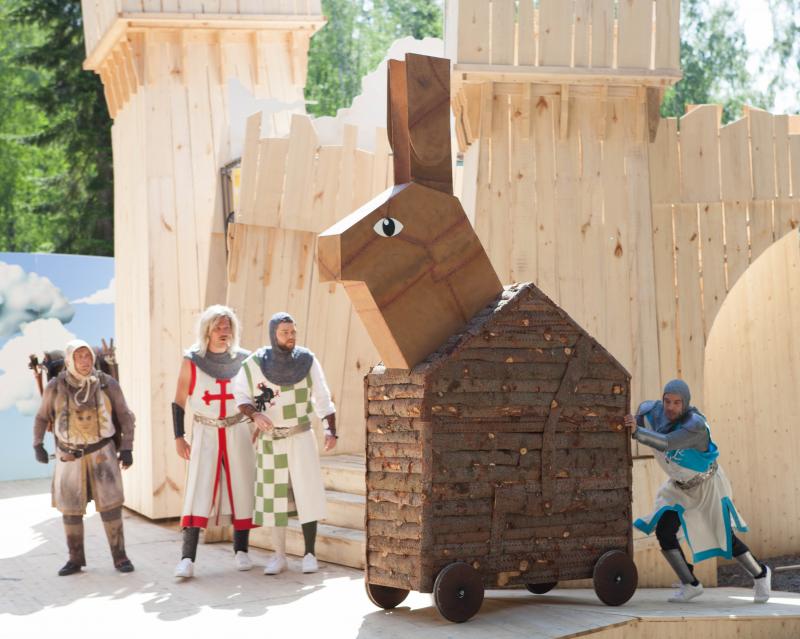 The scenes are recognizable. King Arthur (Juha Hostikka) rides on stage alongside his companion Patsy (Lauri Ketonen) who clacks two halves of a coconut together, making a horse riding sound.
Mikko Koivusalo's witty translation to Finnish is great, though to my taste its deliverance would have overall needed more sharpness, especially in the dialogues; speaking is a little too laid-back, for example in the first dialogue with King Arthur and the towerguard. I was waiting for more comedic timings and rhythms!
But then, the show as a musical, offered more physical comedy and that part was rehearsed well: the brightest example was the bang on the head of the dancing corpse-- who then wasn't alive anymore though he had just sung about it a while ago-- was excellently timed! Jyri Numminen did great physical, bubbly work throughout the show of which I enjoyed very much. Other moments in terms of physicality I want to highlight were: the monks who hit their heads to the Bibles in rhythm; when Sir Galahad (Olli Rahkonen) stretched out his ankle as he rose up after he'd been knighted-- just to mention a few.
In general Rahkonen's transformation to a knight was well done and amusing! He was one of my favorites alongside with Ketonen who did one of the best jobs what comes to comedy acting: he was present and his expressions commented all the happenings around him. And he did those expressions largely enough so that we saw them and were able to sync with them!
Another top of the hat I'll give is for the costume design of Riikka Aurasmaa! It is imaginative and transports us from glittery casinos where an armour is stripped off all the way to the jolly gaymen who hand out a dance off. The actors are also quick in their challenging costume changes.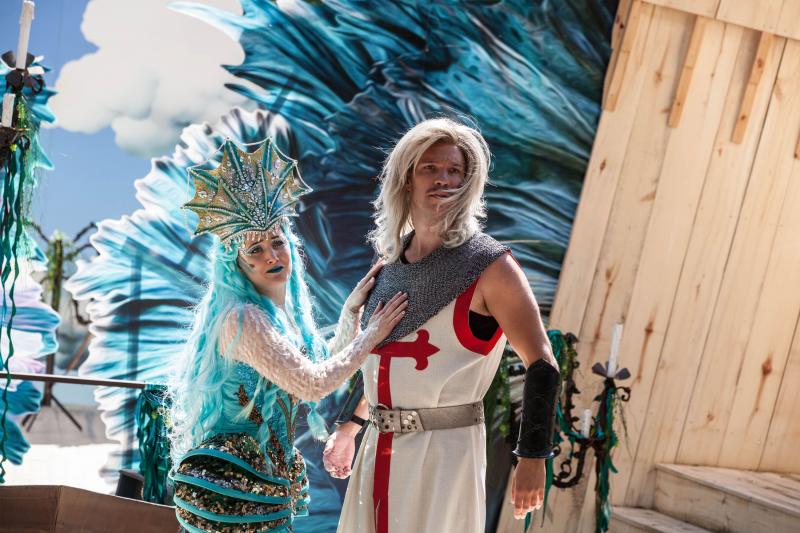 The Song that Goes Like This, which made parody out of generic musical duettos was top of its game in this performance. Galahad Olli Rahkonen and Anna Victoria Eriksson as the Lady of the Lake perform well the over-the-top-acting and singing. Lady of the Lake's diva character stays on, which is seen in the Find your Grail song in which she does these little expressions and gestures that communicate to the audience to focus on her. Not to mention her What Ever Happened To My Part? song that she started with snapping to the technician. What a Diva!
In general, the music is very good and groovy in this and you can't help but beat your leg or hand to it.
And who else would do the voice of God than Juha Mieto, who also speaks with a recognisable dialect used in that part of Finland. Great! Overall I enjoyed all those small inside jokes, for example when the head of the Knights who says Ni accidentally headed to Nurmo with his hooverboard and screamed about it. Of course the You Won't Succeed on Broadway (translated to Showbusiness) where numerous Finnish stars are mentioned of and some represented, even Aku Hirviniemi himself as he's one of the actors in this too, is hilarious! Especially the impression of Tarja Halonen was spot on and Saara Aalto on Ice was very clever.
The part that made me laugh the most and which ended up being my favorite was definitely the Rabbit of Caerbannog and the Wizard Tim who warned of it. The Wizard's long hands were almost uncontrollable that increased the comedical effect and the rabbit puppet was great too! In the end the rabbit just ate at the same time as it walked on the grass-set, which decreased the effect of realness, but hey, it's a radical bunny, perhaps it doesn't work inside the natural laws. I just think that it looked very good when it hopped around, ate, then hopped around, then ate-- not at the same time! Anyways, I loved the whole scene and the special effect too to which Tim reacted to.
Spamalot was full of little details I could write even more about, but it's better for you to go see it for yourself!
All in all Spamalot is a colorful piece of comedy, honoring the Monthy Python's legacy here in Finland of which one of the songs tells about too!
Tickets and info here!
Trailer below!
Article: Rosanna Liuski
Photos: Jukka Kontkanen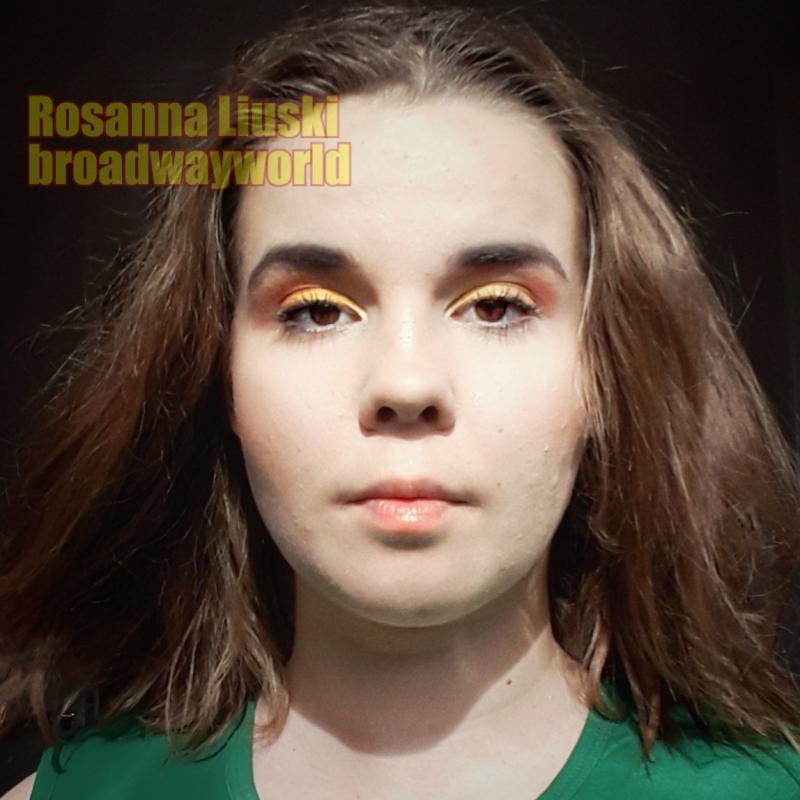 MONTY PYTHON'S SPAMALOT BOOK & LYRICS BY Eric Idle MUSIC BY John Du Prez & Eric Idle A NEW MUSICAL LOVINGLY RIPPED OFF FROM THE MOTION PICTURE "MONTY PYTHON AND THE HOLY GRAIL" FROM THE ORIGINAL SCREENPLAY BY Graham Chapman, John Cleese, Terry Gilliam, Eric Idle, Terry Jones, Michael Palin ORIGINAL BROADWAY PRODUCTION PRODUCED BY BOYETT OSTAR PRODUCTION, The Shubert Organization, Arielle Tepper Madover, Stephanie McClelland/Lawrence Horowitz, ELAN V MCALLISTER/ALLAN S. GORDON, Independent Presenters Network, Roy Furman, GRS Associates, JAM Theatricals, TGA Entertainment AND Clear Channel Entertainment