Review: FIRST DATE at FMCT
The original production of this show ran in Seattle in 2012 and made its Broadway debut in 2013.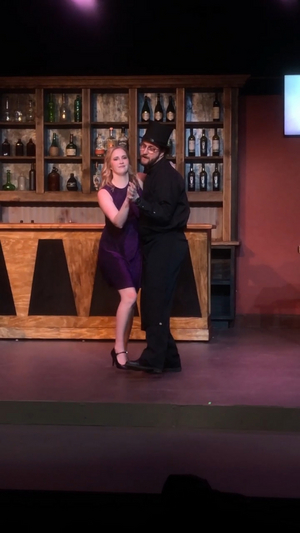 The original production of this show ran in Seattle in 2012 and made its Broadway debut in 2013.
The story brings you along on a First (Blind) Date. The story takes place in a New York bar and introduces us to many colorful characters throughout the 90-minute run time.
This small, and powerful cast helps us take this fun and hilarious journey.
First up we have Aaron, portrayed by Zachary Lutz. Zachary gets better every time I see him, I always think he can't top an amazing performance and then he does it again and again. This may be his best performance to date. He absolutely owns the stage. From the singing and acting to the perfect comedic timing. Some of his stand out performances for me were on "First Impressions", "The Things I never Said", "Something That Will Last" and of course the absolutely amazing performance on "In Love With You". I can't wait to see what he does next!.
Macy Scharmer as Casey was another wonderful performance. I always enjoy seeing Macy on stage and glad she has made her way to FMCT. Macy is so talented and her and Zachary worked so well together. Amazing vocals, acting ability and comedic timing. She had some great stand out moments on "First Impressions", "Something That Will Last" and one of the audience favorites "Safer".
Cord Redding as The waiter/Casey's Father/Blaze/Twitter/Therapist was so much fun, He was hilarious and had one of the audience favorite performances with "I'd Order Love" complete with top hat and dance number.
Seth Brandl as Gabe/YouTube/Stoner was the best friend that every guy needs. He played Gabe so well. His interactions with Zachary were some of my favorite moments of the show especially on "Allison's Theme #2". He also had a great performance on ""Can't Help But Love Me" as Stoner Guy.
Tracy Aronson was wonderful as Allison/Google/Megaphone Girl #1. Another one who I really enjoy seeing on stage. She is such a great performer and was so good on "Allison's Theme #1 & #2".
Michaela Grace gave us some wonderful moments as Grandma Ida/Lauren/Facebook/Megaphone Girl #2/Aaron's Mom. She has a beautiful performance on "The Things I Never Said".
Ayden Smith was hilarious as Reggie/Aaron's Future Son/Instagram/British Artist. The audience definitely loved him as Reggie on "Bailout Song #1, #2 and #3" and he also had a fun performance on "Can't Help But Love Me" as British Artist.
I also want to mention a few of the songs that featured everyone. "The One", "The Girl for You" and "The World Wide Web is Forever" were favorites.
With all of these great songs you definitely need a great band to help bring them to life. We were lucky to have "Cupid's Armpit" featuring Jordan Degerness, Jonathan Immel, Jacob Kalvoda, Aimee Klein and Evan Wood.
A huge congrats to director Kristian Borud, Music Director Jordan Degerness, Choreographer Christopher Taylor and the rest of the production team.
Photo Credit: Perry Rust