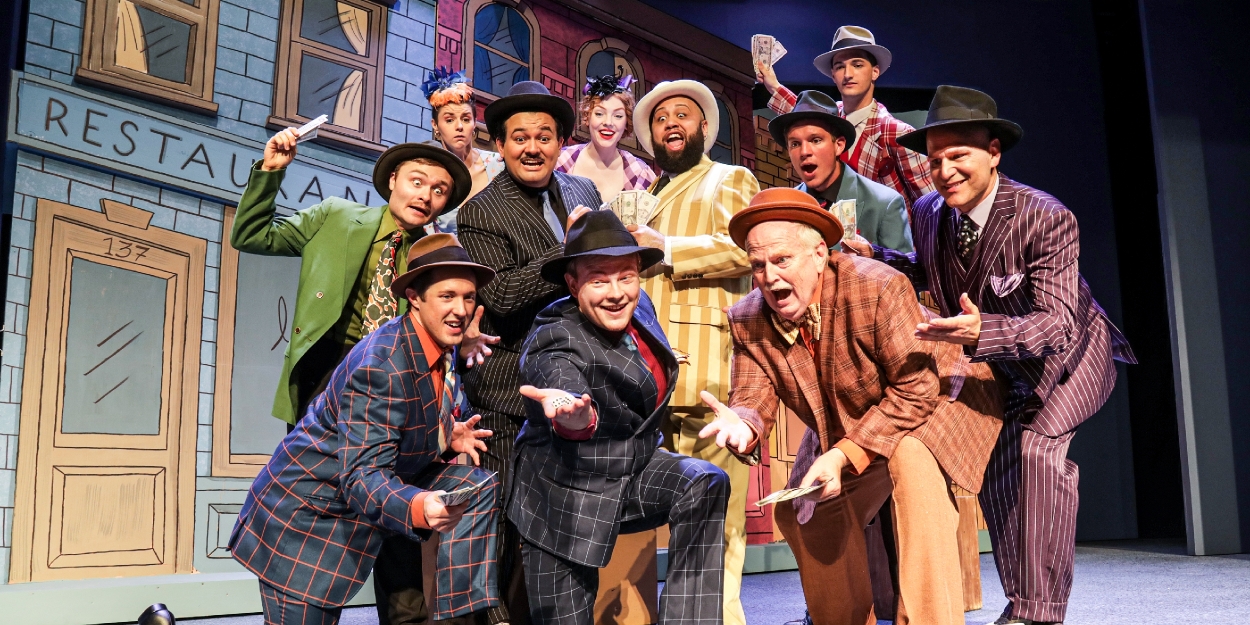 Review: GUYS AND DOLLS at Des Moines Playhouse
Guys and Dolls is a vibrant and colorful retelling of this classic fable of Broadway.
Everyone has a memory of the first musical they were in or saw. For me, it was either "Rodgers and Hammerstein's Cinderella," if i remember correctly, at a local high school. For others, their first memories with musical theatre come through local productions of "Guys and Dolls." Des Moines Playhouse is opening its 104th season with a bright and colorful production of "Guys and Dolls" that brings a new take for those who already have memories of the show while introducing it to a new generation of people to the show for the first time.

"Guys and Dolls" tells the story of gamblers in a heightened version of New York in the 1930s. It centers around Nathan Detroit, who is looking for a place to hold his crap game. His problem is that not only is he trying to hide this from his "doll," Adelaide, but he is also in need of a place to hold his illegal game. The only place he can get wants $1000 upfront. While talking with fellow gamblers Nicely Nicely Johnson and Benny Southstreet, he comes up with an idea. He will bet with Sky Masterson, who won't turn down a good bet, that he can't lose. He bets Sky $1000 that he can't get Sarah Brown, a missionary at the Save-A-Soul Mission, to go out to dinner with him in Havana. Is this truly a bet he can't lose? To find out, you'll have to head to Des Moines Playhouse to see.

Director Katy Merriman has done a fantastic job of tapping into the idea of this show being a fable. This is seen through the heightened and colorful sets and costumes to the cast of all ages. It helps the audience buy into the idea of this fanciful New York. We start seeing this fable on stage through the colorful sets of Teena Sauvola that seem like they could have been ripped straight out of a comic book. One of the parts of the set I enjoyed was the two-dimensional marquees of different theatres in New York. The marquees are instantly recognizable to those in the audience who have been to New York. The characters pop on stage in colorful costumes designed by Angela Lampe.

The cast is full of some of the most talented Guys and Dolls in Des Moines. Under the excellent music direction of Tina Hasse Findlay, bring some of musical theatre's most iconic songs to the stage. Leading the Guys of the cast was Greg Millar as Nicely Nicely Johnson, Gavin Runles as Benny Southstreet, Giovanni Bahena as Nathan Detroit, and Even Schettler as Sky Masterson. Each has moments throughout the show that allows their characters to shine on stage. One of my favorite moments came from Greg Millar's show-stopping "Sit Down, You're Rocking the Boat." It is a special treat for audiences to see and hear.

The cast also features some fantastic Dolls. Both Kaelan Bohn as Miss Adelaide and Taylor Anne Layden as Sarah Brown took their characters and gave us larger-than-life takes that audiences might not be used to with these characters, and I loved every minute of it. Both have powerful, belting voices that audiences may not normally associate with these characters but works beautifully with the score.

Whether it's your first time seeing "Guys and Dolls" or if you are returning for another trip to this musical fable, there is something for everyone in this production. From the direction to the sets and costumes to the cast, each aspect comes together to make for a thoroughly enjoyable performance that will have audiences leaving the theatre humming these fun tunes. I did it for at least a week after seeing the show. Make sure to get your tickets soon because this production is only here for a limited time, through October 2.
From This Author - DC Felton
David Felton has been involved in theatre since his middle school production of The Wizard of Oz. Throughout high school he stayed onstage, and once he got to college he started exploring thebackst... (read more about this author)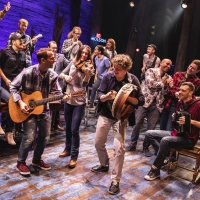 Review: COME FROM AWAY at Des Moines Performing Arts

November 24, 2022

In 2012 a little musical that could started its trek to Broadway. After a successful 2012 workshop at Sheridan College in Oakville, Ontario, this show went to La Jolla Playhouse and Seattle Repertory Theatre. Its journey continued with stops at the Ford Theatre in Washington DC and the Royal Alexandria Theatre in Toronto before arriving on Broadway in March 2017. When it opened on Broadway, it opened with a relatively unknown cast, but its story captured quickly captured the hearts of its audience. That show is 'Come From Away.' The tour is making its second stop in Des Moines from November 22-27 and is perfect for this Thanksgiving holiday.
---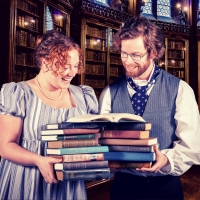 Review: MISS BENNET: CHRISTMAS AT PEMBERLEY at Tallgrass Theatre Company

November 15, 2022

As the holiday season gets closer, theatres start bringing some of our favorite stories to the stage. That is no different for Tallgrass Theatre Company, which is offering a new take on a classic tale this holiday season.
---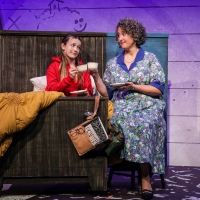 Review: HARRIET THE SPY at Kate Goldman Children's Series at Des Moines Playhouse

November 3, 2022

Things are not always as they appear. As we grow older, we learn different ways to seek the truth. One thing we don't have to think about to worry about how they appear are shows that are part of the Kate Goldman's Children's Theatre series at Des Moines Playhouse. This last weekend they opened their Children's Theatre series with the classic 'Harriet the Spy,' which will run through November 13. However you are introduced to 'Harriet the Spy,' through the book, the movie, the streaming series, or the play, this production is one you will have to take a closer look at.
---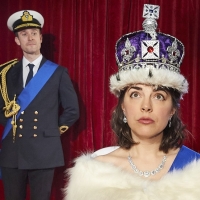 Review: THE CROWN LIVE! at Des Moines Performing Arts

October 28, 2022

In just a few weeks, Netflix will have people streaming the newest season of 'The Crown.' The show has always been popular, but with the recent passing of Queen Elizabeth, it has had a resurgence leading up to season 5. So it's no surprise a parody of the show has popped up, and you have the chance to see it! 'The Crown Live!' a parody by Daniel Clarkson, opened on October 25 as part of Prairie Meadows Temple Comedy Series with Des Moines Performing Arts. Whether you are a fan of the show, or this is your first time in the world of 'The Crown,' this show is a hilarious 90 minutes that you won't want to miss.
---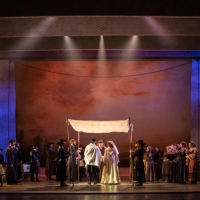 Review: FIDDLER ON THE ROOF at Des Moines Performing Arts

October 27, 2022

One of the things I've grown to appreciate about Des Moines Performing Arts is their willingness to bring revivals as part of the Willis Broadway Series. Their commitment to revivals has brought some of my favorite productions over the last few seasons. What is so great about revivals is many times, they take a new look at classic material. It could be focusing on an element of the show that wasn't focused on before. At other times it could be looking at the show through an understanding of current events. Tuesday night, Des Moines Performing Arts brought the national tour of 'Fiddler on the Roof,' the 2016 Tony-nominated revival to the stage, and it couldn't have arrived at a better time.
---