Burlington Civic Music Presents COCKTAIL HOUR: THE SHOW
This pop-infused performing arts experience brings the Manhattan, Martini, Bloody Mary, and more to life with charismatic choreography, toe-tapping melodies, and more!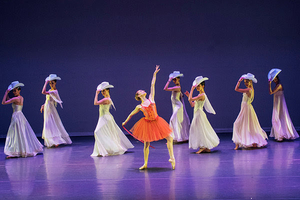 Cocktail Hour: The Show, by New York City-based Ballets with a Twist, will make its Iowa debut at Burlington Memorial Auditorium on Wednesday, April 12, at 7:30pm. This pop-infused performing arts experience brings the Manhattan, Martini, Bloody Mary, and more to life with an innovative mix of charismatic choreography, toe-tapping music, and glamorous costume design. You've never seen cocktails like these!
Single tickets are $35 with student tickets at $10. Tickets can be purchased by calling Burlington Civic Music at 319-752-0336 or Burlington Memorial Auditorium at 319-753-8111. For more information, contact Program Director, Barbara McRoberts, at 319-754-4163.
Created by artistic director and choreographer Marilyn Klaus, Cocktail Hour: The Show combines the enchantment of Hollywood's Golden Age with a sleek, state-of-the-art sensibility. Elegance, electricity and all-American energy combine in a menu of delightful, dancing drinks. It's high-style fun for all ages.
Program highlights include
"Brandy Alexander" - Atteeennntion! In the wake of a bold marching band reveille, The Great One arrives with loyal troops in tow, ready to conquer the dance floor.

"Roy Rogers" - Fellas, beware! With a crack of the whip, this rodeo gal corrals her man. America's Wild West is the backdrop for this amorous chase.

"Shirley Temple" - A daring damsel frolics through her soda pop-fueled imagination to an after-school hip-hop soundtrack.
Klaus, whose choreography has been seen internationally, formed Ballets with a Twist in association with Grammy-nominated composer Stephen Gaboury and costume designer Catherine Zehr. Her company - lauded by The Huffington Post for "blasting the boundaries between high art and entertainment" - has appeared in a wide range of venues throughout the country, from Cleveland's Playhouse Square and New York City's Beacon Theatre to Lincoln Center for the Performing Arts and the Tribeca Film Festival.
Gaboury's compositions have been performed by celebrated musicians nationwide. As a pianist, he has collaborated and toured the world with pop/rock icon Cyndi Lauper for more than a decade, most recently joining her alongside the New York Pops at Carnegie Hall and the Hollywood Bowl Orchestra at its historic home venue. He has also accompanied such artists as Patti LaBelle, Norah Jones, and Sarah McLachlan, and has performed at internationally televised events such as the Nobel Peace Prize Award Ceremony and the New Year's Eve Times Square Ball Drop. Gaboury's music has been heard in concert, on television, and in films (including Boyhood and American Beauty).
Zehr is the artistic force behind the company's costume design. Her creations evoke the origins and essence of each dance with dazzling colors and ornamentation. Zehr honed her skills while working at major American fashion houses, then by designing and manufacturing attire for her own label. She studied art and design at Washington University and New York City's Fashion Institute of Technology, where she and the company delivered the presentation "Designing Costumes for Ballets with a Twist" as part of The Museum at FIT's Fashion Culture series.
Craving more Twist culture? Visit balletswithatwist.com.
Burlington Civic Music is celebrating its 93rd year of providing a series of outstanding and varied programs to entertain, enrich, and educate audiences from Southeast Iowa and Western Illinois. The 1,700-seat facility on the banks of the picturesque Mississippi continues to roll in tune with keeping live music on the river alive and well.
For more information, visit https://cloud.broadwayworld.com/rec/ticketclick.cfm?fromlink=2222189®id=104&articlelink=https%3A%2F%2Fwww.burlcivicmusic.com?utm_source=BWW2022&utm_medium=referral&utm_campaign=article&utm_content=bottombuybutton1.