BWW Review: DOG SEES GOD at Des Moines Young Artist Theatre-DOG SEES GOD, I see art.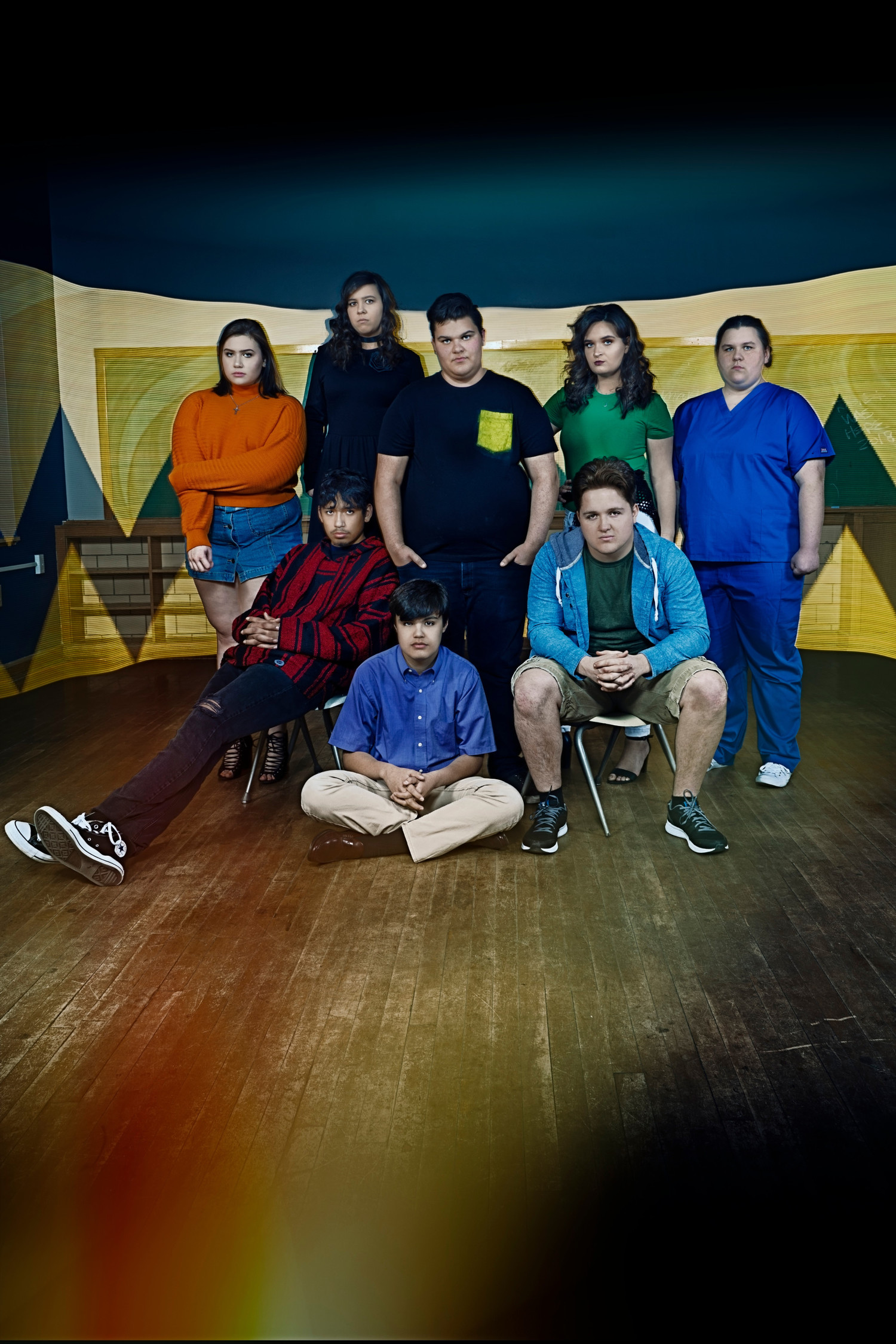 Why is theatre important? That is a question that everyone answers differently. For me, it is important because it is an artform that pushes us to examine ourselves and pushes us to have a dialogue about things that we might not talk about in our every day life. For me, Des Moines Young Artist Theatre's production of "Dog Sees God" by Bert V Royal does that. It asks us to look at issues such as drug use, suicide, eating disorders, teen violence, rebellion and sexual identity. What makes this show special is that it does it by using characters that seem like they might be characters that are near and dear to our hearts.
I must start by giving credit to David A VanCleve for his expert direction of this show. So many times when a show is done in thrust, directors forget that there is an audience on three sides and tend to direct the show in proscenium. From the beginning of the show, I could see that wasn't going to be an issue. David gave the audience some unique perspectives as characters discussed the issues tackled in this show. There were many times during the show where I found myself wishing I had sat on one of the other sides of the stage, because the moment in the show would have been even more impactful.
The direction wasn't the only area of the show that excelled. I appreciated that Alex Snodgrass' and Skylar Manna's set design incorporated the wall used for "You're a Good Man, Charlie Brown," to tie both shows together, and also had some set pieces spread around the stage that let this show stand on it's own. Another area I thought the tech excelled in was the costume design of the show by Avery Lauer. I appreciated that his design gave nods to several of the characters from the characters we al love, but also was able to make them his own. Some of those nods include CB being in yellow and black, Ban's sister having ha blue shirt, and CB's sister having a pink polka dot shirt.
No show can rely on the direction, and technical elements alone. What glues this show together is the amazing cast. Each of them did a great job of balancing what is familiar about their characters and what is different. While each actor did an amazing job with their characters, there are a few actors whose work was the glue that brought the show together and made the show as impactful as it was.
The first actor I feel I need to give credit to for their performance is Asher Suski as CB. He had the difficult task of opening and closing the show on his own. This is something I've seen adults struggle with. So to see a student tackle this was thrilling. I thought he did a great job of pulling the audience in and setting the tone of the show as he delivered his letter to pen pal. Not only could you feel the pain he was dealing with during the show, as an actor he earned each of his emotional moments.
Another powerful performance came from Noah Hackbart as Beethoven. I felt he had on of the most difficult roles in the show. If you as an audience didn't care and feel his characters pain, then when the emotional climax of the show came the show would have fallen apart. I could feel his characters struggle as he came to terms with who he is as a person. I found myself cheering for him as he came to terms with who he was. It made what happened at the end of the show even more disheartening.
While each student gave an amazing performance, there is one more that I feel that needs to be discussed in this review. That is Tanner Tillotson's performance as Matt. He had the difficult task of masking what his character might be feeling inside, and rage against people who may have the same feelings he is dealing with. The decisions he made as he built his character made the final moment he has with Beethoven even more troubling.
Because the show does deal with issues that are difficult to discuss, I do feel that it is important to discuss how those issues are dealt with. While I'm not going to go into all the issues, as I don't want to spoil what happens in the show, I do want to discuss one that I felt was handled especially well. That issue is suicide. This is an issue adults don't like to talk about let alone teenagers. What makes it especially hard to talk about is anyone who has ever dealt with this issue has seen how divisive peoples feelings are after it happens. This play, as well as the cast, does an expert job of addressing this and showing all the different reactions people could have. It makes for an extremely emotional and painful scene.
If it isn't clear, I thought this show was expertly done. If you have students in high school, I think this is an important show for them to see. It tackles the issues in ways that are both familiar and little different, and does what theatre is supposed to do, start a dialogue. When you attend this show with your own students, take some time to review the enrichment guide that accompanies this show. It can be found at https://docs.wixstatic.com/ugd/2c82df_814b0785d959403cbeb60d381117fe46.pdf
If you haven't seen this show yet, you have three more chances to see it. Performances continue February 20-21 and 23 at 7:30 PM. Following the show on February 23, Des Moines Young Artist theatre will be continuing the conversation by having a post-show discussion at the end of the show. To find out more information about this show and to get tickets, please visit https://www.dmyat.org/dog-sees-god
Photo by Brandon James Photography