Click Here for More Articles on Jimmy Awards
BWW Interview: Q&A with Bobby G Award Winners Abby Lehrer and Elisha Horne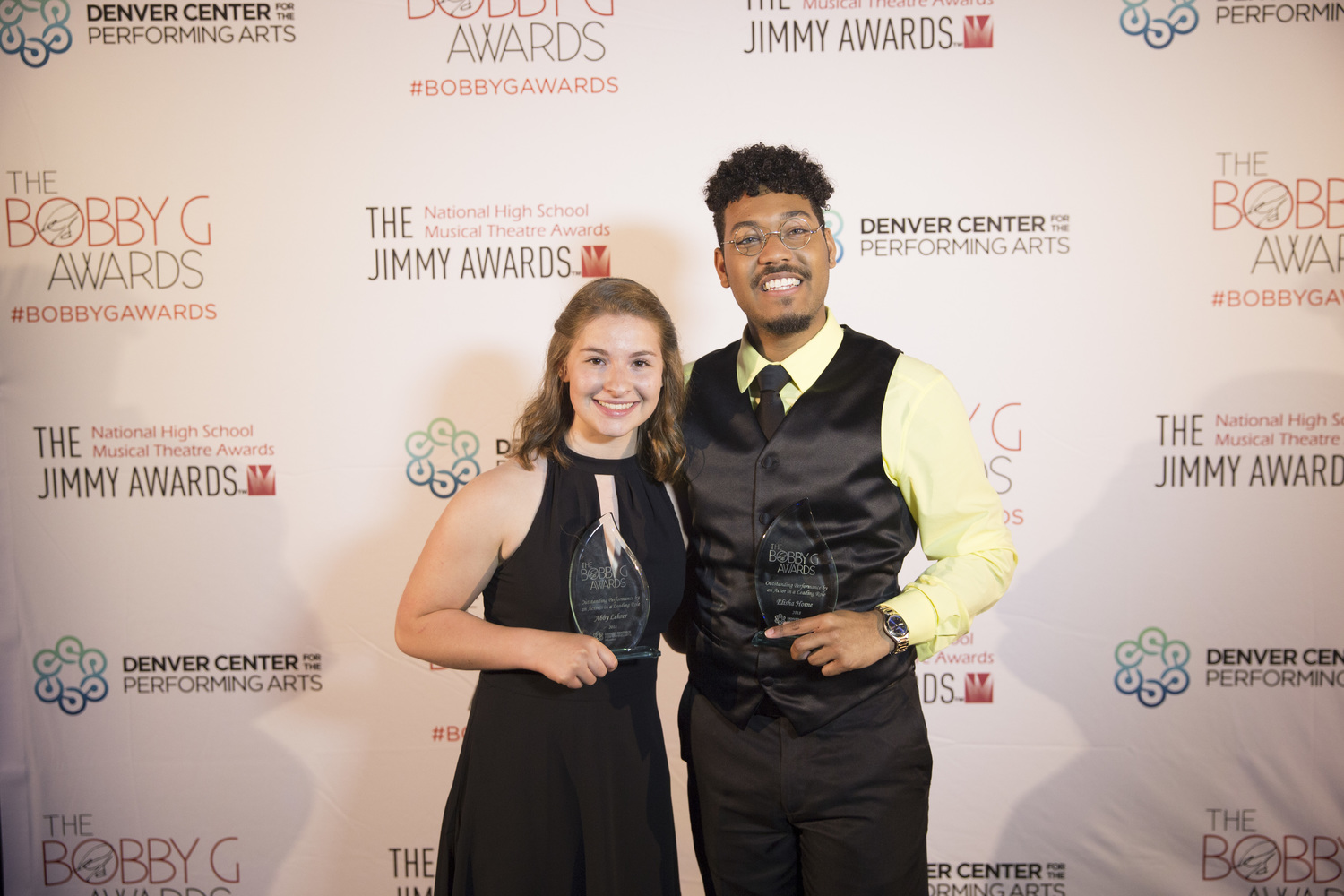 The winners of Colorado's Bobby G Award for Outstanding Performance by an Actor (Elisha Horne) and Actress (Abby Lehrer) are currently in New York City as finalists for the National High School Musical Theatre Awards (The Jimmy Awards), which recognizes excellence in high school musical theatre across the nation. The students will make their Broadway debut this Monday, June 25, at the Minskoff Theatre in a ceremony hosted by Broadway star Laura Benanti.
Elisha, of Vista PEAK Preparatory, won for his portrayal of Baker in
Into the Woods. Abby, of Castle View High School, won for her portrayal of Eponine in Les Miserables. We caught up with the students before they left earlier this week.
---
What was running through your head as you were heading to the stage to accept your award?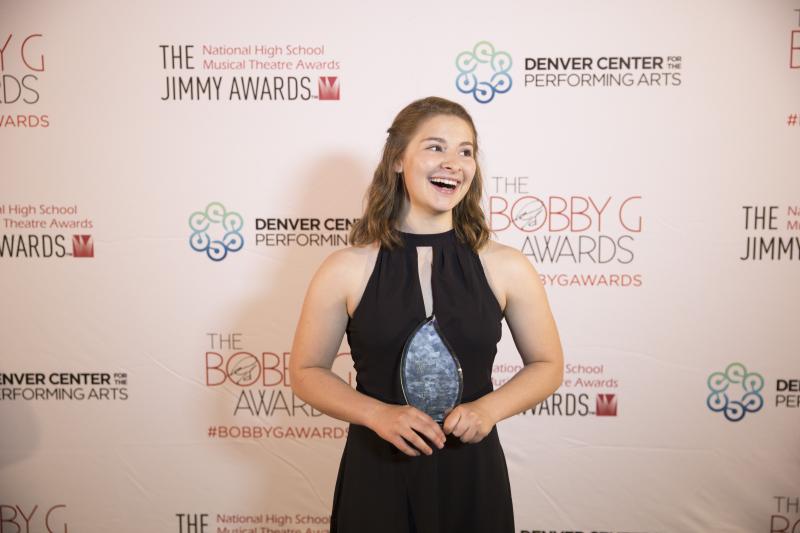 Abby: As soon as I heard my name, I thought, "Well this is about to be a pretty wild ride". HAHA! I actually was very excited because I had kept telling my school that I was going to try to make them proud. When my name was announced I was incredibly relieved and also very humbled to know I was representing my friends and mentors in such a unique way. It might sound cheesy, but I was just thinking of the joy that it brought to all those people cheering me on, because I knew we had all poured our hearts and souls into the show. Without several very important people my performance would have not been the same. I truly felt the award belonged to more than just myself. I just remember mumbling "Thank you, thank you, thank you", because this had been a huge trusting game for me in my faith.
Elisha: What was running through my head when I was going to accept my speech was that now I'm really in it and it is now my responsibility to represent Colorado for all to see. I also was thing that all my hard work and training had led me to this moment that it was now time for me to use everything I have to showcase my best talent and my best self.
Aside from your big moment, what else stands out to you as highlights of this year's ceremony?
Abby: THE ABILITY TO PERFORM WITH SUCH TALENTED INDIVIDUALS! We were such a team by the time we stepped on the stage for the ceremony and I know that while we were all there to win we were also there to support a greater cause in representing the arts in Colorado. We were also all blown away that we had the privilege of performing at the BUELL! We all took a moment backstage to let it sink in how many legends had
also stepped on that same stage and done the exact thing we were about to do.
Elisha: A great highlight from this year's ceremony was me performing with a group of equally talented people on the Buell Theatre stage and enjoying every minute of it.
How did you celebrate your win?
Abby: I celebrated my win with a malt from the Denver Diner just around the corner from the DCPA! I had some of my best friends there which allowed me to simply relax and enjoy that special time with some of my greatest supporters and encouragers.
Elisha: I celebrated my win by going with a group of my friends to Old Chicago and going for a ride through the town.
What are you planning to do to prepare for your New York trip? Is it your first time there?
Abby: This is not my first time there, but it is my first time at Tisch. I have been working on preparing my songs with one of my all-time favorite mentors and teachers, my choir director. She directs our musicals and has certainly inspired me in many ways, so I have been getting suggestions and feedback from her. I also just finished up a performance called Broadway to Africa which involved loads of singing, dancing, and acting. I had actually never worked with adults before on stage, so seeing the level of talent they brought to theatre was eye-opening. It prepared me I think in the way of professionalism.
Elisha: I am going over my music as well as recording myself make sure that I sound great and prepare my emotions for my songs to give the best performances I can. I am also making sure that I rest my body and my voice by getting enough sleep and drink lots of water and eat healthy.
What are you most proud about in your performance?
Abby: I wouldn't necessarily say I am proud of my performance, since there are always things you wish you could have changed or strengthened in the time that you had with that specific character, but I would say that I took a huge step in the way I prepared to share that character by letting myself be vulnerable with my own life and allowing my reality and Eponine's reality to collide. It takes courage to allow yourself to hurt a little bit in order for the truth of the story to have its effect on the audience. While my reality is not NEAR as horrible as Eponine's I still had to stretch to find some triggers. I just think I learned how to work hard to leave an impact and I am thankful for that.
Elisha: I am proud about the execution of my performance and that the audience got the message that I brought forth through my character in order to grasp the audience.
What was the hardest part of your role? And what just came naturally?
Abby: Well, going off the last question, it was hard to understand exactly what Eponine might have actually gone through during that time in 1832. I live in a nice home with a beautiful family that loves me, and she had none of that. She was used, dirty, and starving. Trying to replicate the emotions she might have felt was a great challenge, but one worth studying. What normally comes naturally to me happens after the hardest part. It is convincing the audience that I DO understand her emotions. I am naturally extremely expressive, so even if that night, I am not quite into my character, I have been told my expressions do the talking and the storytelling. I LOVE music so I think over the years it has become more natural for me to be able to connect the feel of the music with the truth of the character.
Elisha: The whole storyline of my character and the role came very natural to me because I have a similar story to the Baker that I was able to relate to. Yet I believe the hardest part of my role was reliving the past emotions I had experienced through my life concerning my life's story, and I think that made my character more loveable and authentic.
What are other roles you'd like to tackle in the future?
Abby: Definitely Annie from Annie Get Your Gun, Elphaba from Wicked, Mother from Ragtime, or Eliza Doolittle from My Fair Lady.
Elisha: A role I would like to tackle in the future would have to be Sweeney in Sweeney Todd because his role is very unique and challenging overall. But I also think it would be interesting to play a menace that is so iconic to the theatrical world.
Who are some performers you look up to?
Abby: I look up to Laura Osnes, who I believe is incredibly grounded and has a gorgeous voice, Barbra Streisand who I believe does theatre for all the right reasons and who has left a great impression on the world around her, and Bernadette Peters who inspires me to strengthen my storytelling and who leaves me captivated every time I watch her. Also Denzel Washington just because he is the bomb.
Elisha: Who are some performers you look up to? Performers I look up to are Norm Lewis, Brian Stokes Mitchell, Josh Groban, Bernadette Peters, Patti LuPone, and Barbra Streisand to name a few because they all are talented performers and vocalists, but they also perform with such passion and excellence that is just so beautiful to see come to life on stage.
What's your favorite show currently/recently playing on Broadway?
Abby: Currently it is Waitress. I had the privilege of seeing here in Denver and I was pleasantly surprised by the depth of the story and by the cast who did a remarkable job telling it.
Elisha: My favorite show on Broadway recently is War Paint simply because Patti LuPone and Christine Ebersole are on a stage together, but also because the music and ambiance of the show is so "back to the roots of Broadway."
What style of musical is your favorite to watch? Is that also your favorite style to perform?
Abby: I love the oldies but goodies. Anything with a story that might leave me changed when I walk out of the theatre is always my favorite. I can't say I am really into the contemporary style of music. I love sweeping orchestrations and characters that are pushed and challenged. Yes it is certainly my favorite style to perform. My goal in theatre is to move the audience or have them questioning something they hadn't before by the time they leave.
Elisha: The style of musical that is my favorite that is also my favorite to perform is Sondheim because his music is like no other and he has a great message that people can take away from his shows which leaves us with great thoughts to reflect on about life and it's obstacles along the way.
How long have you been doing theatre? What's next for you?
Abby: I have been doing theatre for about 8 years. I started with a small youth theatre company called Audience of One. I am going to take a GAP year! I would really like to take the time to look for colleges that I believe would fit me. It could also mean that I end up not going to college if that is what I am led to do. I am going to try out for shows around town to get to know the directors here in Denver so that while I am searching for my next step I am still learning from professionals and strengthening my passion for theatre!
Elisha: I have been doing theater for eight years now since I was in 5th grade. My next step is to audition for shows as much as possible just to get exposure and experience to help me better myself and pursue my career in musical theater.
---
Watch Abby and Elisha make their Broadway debut live! The Broadway League is pleased to announce that the 10th annual Jimmy® Awards ceremony will be streamed Live in its entirety on Facebook.
The Jimmy Awards will take place on Monday, June 25th at 5:30PMT/7:30 PM ET at the Minskoff Theatre, 200 West 45th Street in Manhattan, and will be hosted by Tony Award Winner® Laura Benanti. With support from 2017 Tony Award-winning Best Musical Dear Evan Hansen and Wells Fargo, the livestream will also include special content for those watching online.
Where: Facebook.com/JimmyAwards

Related Articles