Possum Point Players Announce Cast For BIG RIVER Next Month
Performances are March 24, 25, 26 and 31, and April 1 and 2.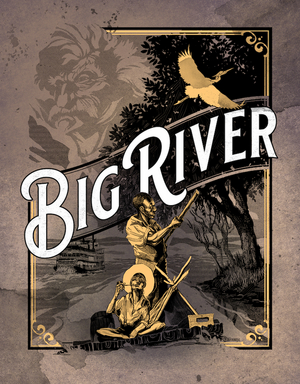 It might still be a little cool for a raft ride with Huck and Jim, but sponsor Dogfish Head Beer and Benevolence and the Possum Point Players invite you to reserve your spot on board now as they prepare to take you on "BIG RIVER: THE ADVENTURES OF HUCKLEBERRY FINN." Featuring Roger Miller's homespun country bluegrass music, the show is performed March 24, 25, 26 and 31, and April 1 and 2.
This award-winning show allows the audience to experience life on the river in the 1840's while enjoying music that reflects the times and absorbing the subtle messages of Mark Twain. This production is reprised as part of the Possum's 50th Anniversary Celebration. More than 20 area actors perform in almost 100 roles in this musical that was first performed in Possum Hall in 1993.
Tickets can be purchased at www.possumpointplayers.org/AboutBigRiver or by calling 302-856-4560. The shows are at 7:30 pm on Fridays and Saturdays and 2:00 pm Sundays. Adults are $27, and seniors and students are $25; all seats are reserved.
The ensemble cast of "BIG RIVER: THE ADVENTURES OF HUCKLEBERRY FINN," includes Kori Lewandowski, Bridgeville; Deb Wittle, Dagsboro; Paul Janiga, Levi Marine, and Susan Newark of Dover and Amy Baker-Sheridan and Finn Sheridan are from Frankford.
Claudius Bowden, Fred Dean, Andrew Showell, Lars Skye, and Briana Wittman are all Georgetown residents. Cameron Harris is from Greenwood; Dick Pack and Deni Robinson are from Lewes and Steven Wimbs is from Long Neck. Imani Cummings, Jakob Faulkner, Dulcena Kemmerlin, and Luke Stutzman are from Milford, Marques Clark and Xander Proseus are Millsboro residents, and Steven Perry is from Rehoboth Beach.
Rehoboth Beach resident John H. Hulse is the stage director, Diane Trautman of Millsboro is the music director, and Deni Robinson of Lewes is the choreographer.
"BIG RIVER: THE ADVENTURES OF HUCKLEBERRY FINN," the heartwarming Broadway show, won seven Tony Awards, including for Best Musical. Mark Twain's timeless classic sweeps the audience down the mighty Mississippi as the energetic Huck Finn helps his friend Jim, a slave, escape to freedom at the mouth of the Ohio River. Their adventures along the way range from being hilarious to suspenseful, and then to touching. On the river raft ride, "Big River" brings to life favorite Twain characters from the novel Including the Widow Douglas and her stern sister, Miss Watson, the outrageous King and Duke, and of course, Huck's partner in crime, Tom Sawyer, and their rowdy gang of pals. Huck's drunken father, the sinister Pap Finn, the lovely Mary Jane Wilkes and her trusting family and many more are seen as Huck and Jim float by!
The show features the pleasing and thought-provoking down-home country bluegrass music by Roger Miller who will forever be remembered for his "King of the Road." "BIG RIVER: THE ADVENTURES OF HUCKLEBERRY FINN," was a book by William Hauptman, music and lyrics by Miller, and was adapted from Mark Twain's classic The Tales of Huckleberry Finn.
See www.possumpointplayers.org/AboutBigRiver for more details about the show, cast and musicians.