BWW Reviews: 'Overpass', 'Strangers', 'Straight' & Youth Actors Dominate TeCo Competition
There are very few long-running play festivals/competitions in North Texas and the fact TeCo Theatrical Productions, Inc. has been able to successfully produce their event for 12 years speaks volumes about their ability to sustain programming in the midst of reduced arts funding nationwide.
This year's competition featured some new faces and quite a few older ones but the diversity of content entries clearly demonstrates that TeCo is no 'one trick pony' because the event appears to be growing each year in the quality of stories and improved tech standards.
"Grieve: Simon Bishop Presiding"
by Elle Vernee opens the festival and is a story about a man named Simon who makes his living as a Professional Moaner, meaning he makes his rounds at area funerals after being contracted out to ensure attendants experience just the right amount of grief necessary to properly memorialize their beloved. Simon's wife Tessie, played by Jessaica Shields, functioning as both appointment setter, wife, and caregiver for her widowed father Matson Hollis, played by Bill Richard. This play took too long to build energy and propel the story forward at conducive pace. This finally occurred when
Simon Bishop
, played by
Kenny G
ardner enters the scene and discovers he has booked a gig and tries to figure out which of his five moaning techniques to utilize, demonstrating the all. Predictably, these were played up for laughs and were extremely funny, with The Matrix generating the most laughs. The story then turns to the tense relationship Simon has with his father-in-law who sternly tells him to
"be a man and get a real job!"
which generates some emotional fireworks that felt authentic. After the argument, equally authentic was Matson reflecting on his late wife and the relationship they had.
"Grieve"
has promise but like the framed picture on the set containing a photocopy of his late wife, it didn't appear completely real and fleshed out.
Steven Young
's
"Under The Overpass"
turned on the heat in this Kentucky Derby of theatre and came out of the gates very strong. Directed by Bethany Kennedy,
"Overpass"
opens with a media collage of images of a prosperous City of Dallas, complete with its signature nighttime skyline. There, we find Leonard, a homeless black man played by the extremely talented Jeffery Pope living under a bridge somewhere near Cesar Chavez Boulevard within the downtown Dallas corridor. Despite the daily constant barrage of competing noises, Leonard's relatively calm existence is interrupted when Joey, a Latino man played by an equally talented Douglas Garcia jumps a curb and nearly hits Leonard and destroys his home, a cardboard box outfitted with blankets, comforters, and all his worldly possessions. The symbolism in Young's play is absolutely incredible, with intriguing juxtapositions between race and opportunity within America's 9th largest city. The classist tone found in
"Overpass"
reminds me a lot of how TeCo's first competition winner Laterras R. Whitfield addressed classism within the black community in his play
"House Nigger/Feeld Nigger,"
only difference here is the conflict is between the Latino and black communities. Pope, a high school student in real life who is much younger than his character's age plays Leonard with the finesse of a more seasoned actor, a true testament to the talent he possesses. Looming over Joey with an equal mix of anger and vulnerability, Pope manipulates Leonard's plight to absolute perfection, especially when he says to Joey with outright indignation
"this is MY home!"
or
"you think if you don't see me, you're safe but you're me; it's just a matter of time."
Not to be outdone, Garcia portrays Joey with an amazing blend of machismo and religious superiority as a
'proud Christian'
who has very much been drinking and driving, telling the homeless man "you people are the reason tourists residents don't want to come downtown." In director Kennedy's hands,
"Overpass"
was one of the top 3 play shorts of the evening and one that should be developed into a full-length production. Not to be bested, director David Kelting and his 2-member cast delivers an outstanding effort with Antay Bilgutay's
"Strangers In A Chapel."
Equally funny yet serious and heartfelt at the same time, veteran actors Renee Miche'al as Berenice and Bill Richard as Brian deliver powerhouse performances as two people who meet in a hospital chapel and find solace in each other despite the undefined illnesses of their loved ones. Brian, an openly and effervescent gay man walks into the chapel holding a cup of coffee clumsily, exclaiming
"caution, contents may be hot!"
, breaking Berenice's stoic and fervent prayer for her son Jerome who we later discover is gay. Unable to get himself settled in what is supposed to be a quiet and reverent setting, including going through his bag of tricks and pulling items out that had the audience in stitches and Berenice bristling, Richard plays the often funny Brian in a superbly nuanced manner that doesn't reduce him to a gay caricature but a REAL human being that you just grow to love in less than 5 seconds. Add into the mix the father he's there to see who he hasn't seen in 28 years and you're just rooting for the reconciliation he seeks. The same holds for how Miche'al crafted Berenice as a character, who isn't the typical fire and brimstone black mother who prays for deliverance from the abomination of homosexuality which the black religious community espouses ad nauseum, but as a REAL mother who loves her son and always knew he was gay, even as a little boy. When Berenice looks Brian in the eye and tells him that every parent of a gay son will always worry about where they are and if they're safe, you feel her unconditional maternal love down to the core of your soul. With the political vitriol surrounding marriage equality measures nationwide and how religion and religious freedom are dominating the national dialogue taking place over it, it would be nice if everyone took a page from these characters playbook and worked on finding common bonds without definition and just simply see the humanity in people.
"Strangers"
achieves this and should be developed into a full play to aid in the dialogue which should be taking place between the LGBT and black communities. For excellent direction, acting, and subject matter,
"Strangers"
is easily one of the top 3 play shorts of the 2014 competition. Rounding out the top 3 is
"Straight"
, written by and starring
Sam Green
, Jr. and three cast members who deliver a highly entertaining and FUNNY melodrama. Directed by Aigner Edgerson, we find Green as the over-the-top Julius (aka
"Mama"
), his husband Alex, played convincely by DeAndree Jackson, and their son Junior, played by Jeffrey Pope in the comforts of their loving home. The depiction of two black male actors playing a gay romantic couple, especially in Dallas, Texas (which can be very homophobic, particularly in the black religious community), is worthy of applause because it's an image you just don't see played out on area stages. Junior has some life-changing news to tell his parents and he's not so sure how they'll receive it. When he tells them he's heterosexual, his Dad blows it off as a phase. Mama, however, isn't having it and EXPLODES, telling Alex their son is an
"up-standing homosexual citizen of the United States of America. That's how I raised him. A God-fearing homosexual. A monogamously 'inclined' homosexual Christian. That's who my baby is!"
No stranger to the Teco competition or area stages, Green plays the flamboyant Julius to delightful PERFECTION, which kept the nearly full house at TeCo in a perpetual state of laughter at his antics. Whether chastising Junior about his dental hygiene habits (
"I have told you time and again, you have to switch sides when chewing. Switch sides, see? Alex call the weekend dentist!"
) or gushing over her husband (
"Look at your father and me. He was on his way to a Ph.D. but he said to me 'I want a doctorate of love with you instead.'"
), Green doesn't waste one single drop of potential laughter in his slapstick portrayal. Jackson as Alex deserves major props because sometimes actors with that much stage presence tends to overshadow everyone else on stage. That wasn't the case here and he was the perfect compliment and comedic sidekick. The same holds for Mwangsala Changwe as Felicia, Junior's birth mother whose entrance near the end of the play was so dramatic and tense, including a near confrontation with Julius that you are certain is going to end with claws out and hair tracks flying (and Julius is BALD!). Add to the mix Pope's youthful performance that was closer to his actual age and played with the angst of a child who just wants all of his parents to get alone.
"Straight"
knocks this one out of the comedic ballpark and should also be developed into a full-length play.
"Super"
, written by and starring Lindsay Jenkins, Kyndal Robertson, and Camika Spencer is a futuristic story set in a spa that caters to former and modern super heroes. The shop owner is a retired Wonder Woman, played by Spencer who takes a chance on a very assertive, modern and tech saavy Millenium Girl, played by Robertson, whom she gives a job to a the front desk reception. An older Catwoman, played by Jenkins is the other shop employee and tries to mentor the younger super she-roe but to no real avail. Millenium Girl is certain this job is only temporary because her life's calling is to be important and save lives, not work in a spa. Robertson's performance, which she plays to perfection with super hero stances and computer generated sounds, is the only thing that holds this play together. I'm not certain if the 20 minute maximum running time prevented the writers from maximizing the content of their storyline that sought to link themes of generational divides and modern technology, but this play short barely left the starting gate. Closing out the competition was Ruth Cantrell's
"The Swing"
, a sweet slice of life play which she also directed. Taking place during the American period of Jim Crow, we find Cleo and Becca, two young girls - one black and one white played by SaMya Sutton and Kelly Pennington respectively playing innocently with each other in a pasture out in the country on a tree swing Becca's deceased mother placed there. As Becca recites poetry with the blissful carefree nature that only a child can muster, Cleo's father Leon, played well by veteran actor
Vontress Mitchell
enters their youthful utopia and demands that Cleo goes home because she's not supposed to be there, meaning the 'white area of town.' Becca's caregiver, her step father played by Douglas Garcia, enters the picture and finds her there with a black men. After a confrontation, Becca begs Leon to take her home to live with him so she can be with her friend all the time. Leon explains to the young girl that due to rules of that time period, living in his home isn't an option. It was during these verbal exchanges that another youth actor stood out from the pack of adult actors. Pennington, a hopeful Booker T. Washington High School for the Visual and Performing Arts freshman candidate this fall, delivered a performance that was emotionally moving and just took your breath away. Working in sync like a well-oiled machine, Becca illustrates with crystal clear clarity the uncertainty her future holds while Mitchell mixes equal doses of fear and empathy for the young girl that is reminiscent of the relationship between the characters portrayed by
Dakota Fanning
and Oscar winner
Jennifer Hudson
in "The Secret Life of Bees." So, which thoroughbred is going to win the TeCo 12th Annual New Play Competition prize of $1,000? Will it be one of this critics top picks,
"Under The Overpass"
by
Steven Young
,
"Stranger In A Chapel"
by Antay Bilgutay, or
"Straight"
by
Sam Green
Jr.? Or will a dark horse in the form of
"Grieve: Simon Bishop Presiding"
by Elle Vernee,
"Super"
by Lindsay Jenkins, Kyndal Robertson & Camika Spencer, or
"The Swing"
by Ruth Cantrell over take the competition (which isn't a stretch, given the history of photo finishes in the Teco competition). We'll find out who crosses the finish line first when the new winner is crowned next weekend! - - - - - - - - - - - - - - - - - - - - The 12th Annual New Place Competition, sponsored in part by The
Dramatists Guild
Fund, runs Feb. 21 through Mar. 2 at the Bishop Arts Theatre Center, located at 215 South Tyler Street, Dallas, Texas 75208.
Performances are Fridays at 7:30 p.m. and Saturday and Sunday matinee shows at 3:30 p.m. Please note that some shows contain adult language and may not be suitable for children/youth. All seats are general admission and $15 in advance, or $20 at the door (plus service fee). All sales are final and no refunds or exchanges are permitted. Call the TeCo box office at 214-948-0716 for group rates.
| | |
| --- | --- |
| Vote Now for the 2022 BroadwayWorld Dallas Awards | |
| voting ends in | |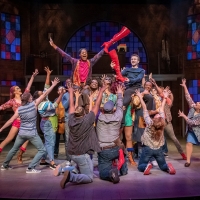 Review: KINKY BOOTS at Kalita Humphreys Theater

July 31, 2022

Uptown Players delivers a ROUSING production of the Award-Winning musical Kinky Boots!
---