Review: JUNIE B. JONES IS NOT A CROOK at Dallas Children's Theater
JUNIE B. JONES IS NOT A CROOK might be intended as a lighthearted afternoon for elementary school students, but the lessons of honesty and friendship that are shared by the team at Dallas Children's Theater, however simple, are still meaningful and important for children today, and can even be a nice reminder for some adults.
Based on the popular book series by Barbara Park, this episode in the Junie B. Jones series brings us into a kindergarten classroom with Junie B. and her friends Grace (the fastest runner in school), Lucille (the richest girl in class...before tax), Meanie Jim, Ricardo, and Handsome Warren (the new kid). Who is Junie B. Jones, you may ask? If you don't have children under the age of 10, it's possible that you may not know. Junie B. Jones is a mischievous 5-year-old with a no-nonsense approach to life. Though grammar is not her forte, and she might make decisions "out of thin hair," Junie B. demonstrates values without preaching to her young "peers" in the audience. Her lessons are fun, fast-paced, and familiar for friends of all ages.
Although many local children's theatres produce shows filled with children on stage, singing and dancing for peers and parents in the audience, Dallas Children's Theater lives in an entirely different world. Better described as "theatre for young audiences," DCT is a troupe of professional performers who create high quality entertainment for the whole family. Featuring some of DFW's most experienced actors and designers, DTC isn't "kidding" around with their craft.
Led expertly by local actress Mary McElree (who previously played the role in DCT's JINGLE BELLS, BATMAN SMELLS) as Junie, the company is full of DFW-theatre veterans who may be adult-sized in body, but have the energy and spirit of the kids they play. Their wide-eyed approach to each character is fully believable and completely engaging for adults and children alike. Together with McElree, Jori Jackson, Erika Larsen, Brett Warner, Johnny Lee, Will Carleton, Jeremy Coca and Karl Schaeffer make a terrific team of storytellers.
Director and choreographer Nancy Schaffer guides the show seamlessly from scene to scene, having the actors always in motion to keep up with even the most energetic child's attention span. Her staging is impressively enhanced by Bob Lavelle's colorful scenery, which perfectly fills the stage, creating an illusion that the actors might be characters in an after-school cartoon. No expense is spared on lighting (Jason Lynch), props (H. Bart McGeehon), sound design (Marco Salinas) and costumes (Lyle Huchton), which fit the production like a warm pair of mittens.
JUNIE B. JONES IS NOT A CROOK appears at DCT through February 26th. The show runs slightly over an hour, plus a brief intermission. For tickets and more information, visit www.DCT.org.
Kyle Christopher West is obsessed with the arts. Growing up on Cape Cod, Massachusetts, Kyle trained as a gymnast and dancer where he performed across the East Coast in productions of West Side Sto... (read more about this author)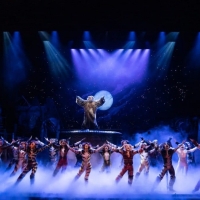 BWW Review: A 'Practical CATS' Performance at Proctors

May 5, 2022

The '80s delivered endless iconic pop culture trends like leg warmers, neon, Walkmans, Whitney, and Madonna. Broadway in the '80s also saw a unique culture shift as British mega musicals like LES MISERABLES and THE PHANTOM OF THE OPERA began to take over the American stage. First on the scene, though, was CATS, which uniquely married the worlds of theater, ballet, spandex, and synthesized music in 1982. And although CATS has purrhaps only grown more hair-raising with age (not to mention enhanced audience expectations), the song-and-dance spectacle continues to mesmerize and mystify audiences more than 40 years after its inception.
---