Review: JACKIE UNVEILED by Saffron Burrows as One of America's Most Private Public Figures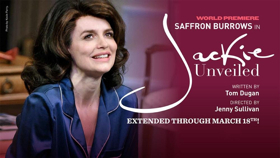 Hailed as an icon of style, grace and strength, famous for her allure and piercing sensuality, much has been written and said about America's most popular First Lady. But the one detail usually omitted is that Jacqueline Kennedy Onassis was human. From the creative team of Wiesenthal, award-winning playwright Tom Dugan's newest one-woman drama JACKIE UNVEILED explores the life of America's most private public figure, with Saffron Burrows taking us inside not only her high-rise Manhattan apartment, beautifully designed by Francois-Pierre Couture, but also her innermost insecurities and foibles. Directed by Jenny Sullivan in the smaller Lovelace Studio Theater at the Wallis Annenberg Center for the Performing Arts so that no matter where you are seated, Burrows will repeatedly pull you into the very private life of this American icon on two of the most traumatic evenings of her life.
Act I takes place on the night of Robert Kennedy's win the 1968 California primary election, which guaranteed him the Democratic nomination for President.
But the play begins just after Jackie saw her brother-in-law get shot on live television as he walked through the kitchen at the Ambassador Hotel after leaving his victory celebration. She is spinning out of control emotionally, smoking, drinking, and popping pills as she attempts to cope with the idea that the one man she has counted on since the death of her husband will soon leave her too, again due to a madman with a gun.
Dressed in blue pajamas, Burrows' basic resemblance to Jackie O assists in making her performance an interesting one to watch as she slowly, over the course of the first hour, disintegrates into a bleary-eyed stupor due to shock and rage while her children sleep down the hall, totally unaware of how their world is going to drastically change when they awaken. When she gets to the point of feeling she has nothing to live for now, then shares how a "loving God would forgive me for leaving my children," and asks the audience if they are willing to listen to her confession before taking pills to end her life.
Then she begins with, "Forgive me Future for I have sinned," and proceeds to recount how her life evolved from her early childhood upbringing to be pretty to get the best man through how she was groomed by Papa Joe to be the perfect Kennedy spouse. Along the way we get an inside glimpse via the shared letters and photographs as Burrows jumps around the times of Jackie's life through June 6, 1968. Knowing the audience wants to her more about her life with JFK, playwright Dugan has her sharing tidbits such as "Jack was out saving the world and I was at home killing his babies," referring to her three miscarriages that she later would find out were due to Jack infecting her with chlamydia due his many dalliances. Of course, his doctors as well as hers never shared that information with her at the time, fueling her guilt at not being a good enough Kennedy wife. Her comment how "Jack needed sex like some men need alcohol," drives her back to the bottle and to babble on until she finally answers the ringing phone, knowing full well what she is about to hear.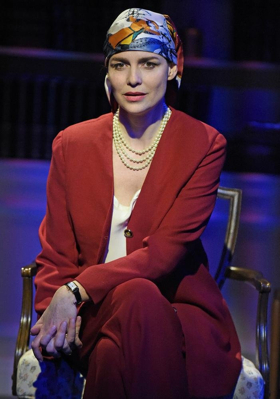 Act II opens with Burrows now dressed in a bright red pant suit with her head wrapped in a colorful scarf. It's March 1994 and she is awaiting a call from her oncologist to find out if the rounds of chemotherapy she has endured for the past year has cured her Non-Hodgkin's Lymphoma or if the latest tests reveal its return. While the call does not come through until the end of the play, we are asked to keep listening as she now is putting together a collage of family photos and memories instead of smoking, thanks to Caroline's suggestion for quitting the habit. She is 64 years old and is awaiting the arrival of her children and grandchildren ("They call me Grand Jackie") for a family pre-St. Patrick's Day celebration dinner on March 16. She often calls out to Maurice Templesman in another room, the man she welcomed to live with her in her Manhattan apartment in 1988, as she shares how her life played out with Aristotle Onassis who she married just four months after Bobby Kennedy died in order to create a safe environment in which to raise her kids, who she felt had the "Kennedy target" painted on their backs.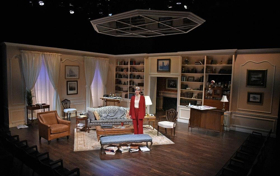 During this second act, we learn more details about her life with Ari, the "dirty-mouthed man" who broke up with her aboard his yacht by calling her "the Kennedy whore," at which point she stripped naked and swam to the nearest shore where a young girl greeted her emerging from the sea, asking if she was a mermaid. Humor is shared about her cab rides to Grand Central Station where she "just hangs out" talking to strangers, while she barely speaks of her role as senior editor at Doubleday Publishing. But as she keeps sharing her memories, the lighting design by Jared A. Sayeg switches to bright while light each time Burrows speaks as one of the other people in Jackie's memories by switching her speech pattern and demeanor to reflect that person.
One of Jackie's final observations, "Nothing frightens powerful men more than a powerful woman," received a few chuckles and light applause from the audience, no doubt reflecting the current women's marches and speaking out campaigns against men in power. Yes, Jackie, we have learned from you in this "messy collage we call life."
Remaining performances of JACKIE UNVEILED take place on Saturday, March 17 at 2:30pm and 8pm, and Sunday, March 18 at 2:30pm, as the Lovelace Studio Theater at the Wallis Annenberg Center for the Performing Arts, 9390 N. Santa Monica Blvd., Beverly Hills, CA 90210. Running Time: 2 hours (including intermission). Single tickets are $60 - $75, and may be ordered by visiting TheWallis.org/Jackie, calling 310.746.4000, or stopping by in person at the Wallis Annenberg Center for the Performing Arts box office. Be advised this production contains adult content and uses strobe light effects and herbal cigarettes.
Photo credit: Kevin Parry
Featured This Week on Stage Door
Shoutouts, Classes, and More from Your Favorite Broadway Stars