BWW Review: Musical Theatre West Salutes Old-Fashioned YANKEE DOODLE DANDY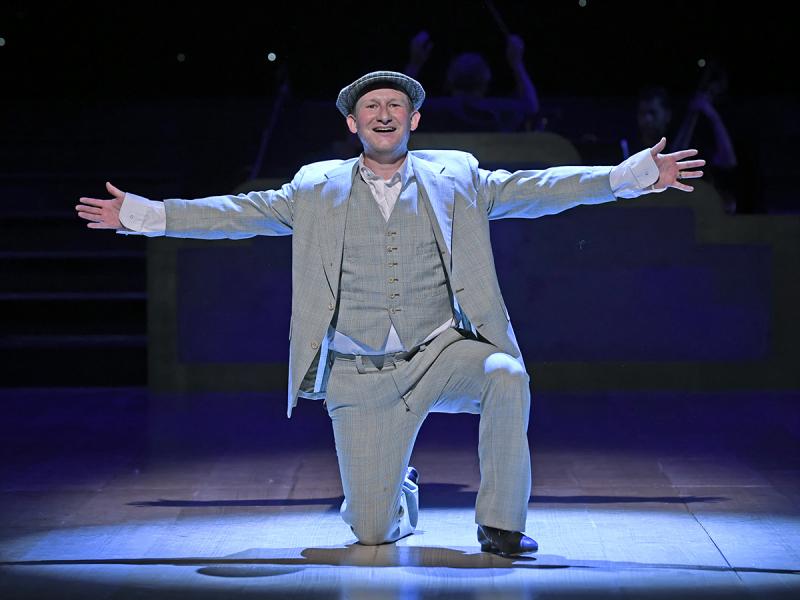 If you've ever made your way to New York City's overcrowded Times Square, you have no doubt seen the bronze statue of a smiling George M. Cohan erected prominently at its center, surrounded by the flashing lights and loud city noises of this busy tourist destination. Below his name and the years of his birth and death is a simple etching: "Give My Regards to Broadway"---which is, of course, both the title of one of his many well-known songs as well as being an appropriate motto that fits his very existence.
Cohan, you see, has been attributed to being the father of the American Musical, whose works are the very roots of Broadway and musical theater that we know today. The so called "King of Broadway" definitely earned his title, amassing a résumé that boasts authorship of 40 musicals and plays as well as more than 500 songs in his lifetime. Not only is he an accomplished writer and composer, he is also a prolific producer (128 productions), an often uncredited collaborator (14 plays), and a relentless live performer (3,400 stage appearances), too. He is also often credited for being the inventor and architect of the "book" musical---which is quite a departure from his earlier days in vaudeville.
It's pretty safe to say, then, that without Cohan's numerous contributions to the American theater, Broadway as we all know it probably wouldn't even exist. Hence... the statue.
This is the idea that's drummed rather loudly and patriotically by the ending of YANKEE DOODLE DANDY, the 2004 stage musical that had its world premiere at Seattle's 5th Avenue Theatre and is now in the midst of its Southern California regional premiere via Musical Theatre West. Directed and choreographed by James Rocco---who was the original co-director and co-choreographer of the 2004 premiere---this new production continues performances at the Carpenter Center for the Performing Arts in Long Beach through July 22, 2018.
A fairly entertaining, if inescapably old-fashioned jukebox musical sprinkled with momentum-halting fragments of a musical biography, the show offers itself up as a safe, middle-of-the-road Reader's Digest take on Cohan, where the musical numbers almost always steal the thunder from the exposition-heavy "book" elements that barely scratch the surface of what Cohan may have been really like.
Instead of a deeper dive into Cohan, the broad surface strokes utilized in YANKEE DOODLE DANDY feel like mere bullet points that serve only to take us to the next impressive musical number---and, boy, they are indeed delightful... so much so that you may start accusing Cohan of being the inventor of tap dancing, too, on top of everything else he pioneered.
For YANKEE DOODLE DANDY, the sheer volume of Cohen's achievements---and, of course, all those familiar hit songs many probably didn't even know can be attributed to him---are all apparently enough to fill this show (though the bulk of the show's music is credited to Cohan, composer/lyricist Albert Evans is also credited for additional new words and music for this new musical).
In that sense, the musical succeeds in accomplishing its goal.
This imbalance in favor of the show's dazzling song-and-dance offerings---judging from the reactions of those in attendance during a matinee I viewed on opening weekend---is definitely enough for many to perceive this stage musical as an enjoyable, harmlessly benign piece of entertainment, which, in all honesty, is perfectly fine, if a bit of a slight letdown for some us.
If Cohan is supposedly the "Man Who Owned Broadway," why did this musical biography feel more like just another old-timey musical revue rather than a more robust, more fleshed-out character-driven musical biography it has every chance to be?
Ironically, this reverent musical about the King of Broadway has yet to make an appearance in the very neighborhood that its subject founded. Is it, perhaps, because it may be a little corny for today's audiences? Maybe. But is it enjoyable? Mostly.
Right before the curtain even goes up, a declaration is made: this YANKEE DOODLE DANDY now on stage at the Carpenter Center is not---we repeat---NOT a stage adaptation of the celebrated 1942 movie musical of the same name that starred James Cagney as Cohan. Though that film is also a musical biography of Cohan, it is not the inspiration for this new stage musical which features a new book by David Armstrong. It's true---there's hardly any resemblance to the movie at all here.
In this iteration, the musical cribs a bit from FOLLIES and opens in 1942 to introduce an aging, very cantankerous Cohan (David Allen Jones) visiting a darkened Broadway theater he once owned, filled with resentment and rage (and probably liquor). His after hours loud banging on the stage door is met by Lou the doorman (Bryan Dobson) who still works there.
"I used to own the whole damn street!" Cohan bellows angrily, in a very get-off-my-lawn tone.
Soon the two older gentlemen start reminiscing about the 'ol days, most of which were apparently happier than the state Old George is trapped in here in 1942.
The audience is then whisked away via instant flashback to 1903, where we meet a much younger Cohan (Adam Wylie), a member of the celebrated vaudeville act "The Four Cohans" which is also comprised of his parents Jerry (David Engel) and Nellie (Cynthia Ferrer) and his younger sister Josie (Tro Shaw).
Eager to provide something fresh, young George is convinced that vaudeville, as popular (and lucrative) as it is, is getting a bit stale and uninspiring. His new fangled invention is essentially the beginnings of musical comedy, where songs are seamlessly intertwined with a story.
Clearly ahead of his time, Cohan is massively offended when the owner of the Erlanger Theater, their employer Mr. Erlanger (David Pevsner) hates this new concept completely.
"What the hell was all that talking?" Erlanger protests, referring to all the dialogue in between songs.
Their boss immediately demands that the elder Cohans stop placating the creative whims of their young son and go back to the tried and true act that they've already honed and perfected to wide acclaim.
Surprise! To show family solidarity, mom and pop (and, by extension sis) decide to defect with their son instead, with the aid of Sam Harris (Matthew Kacergis) who recognizes Cohan's talents instantly and throws his hat in the ring as a partner and producer.
Two years pass and the gamble pays off. Beginning in 1915 the Cohans enjoy several years as an even bigger hit act thanks to George's new creative direction. Part of the success also included new songs like "Yankee Doodle Dandy," "All Aboard Broadway," and "Give My Regards to Broadway" that become hits. Along the way, he meets and falls for actress Ethel Levy (Cassie Simone) whom he casts in several shows before they eventually get married. Soon, around 1912, George's parents retire from showbiz and sister Josie leaves the stage to get married---thereby dismantling the family act.
Thus begins George's next phase as, essentially, a one-man-show, marked by an insistence in working... and working... and working some more. This, as predicted, puts a strain in his marriage and stokes a disconnect between himself and his own daughter Georgette (Simone in a dual role).
I guess you can't keep a creative artist down, because Cohan pushes forward, sometimes even believing that only he and he alone can do any of this better than anyone.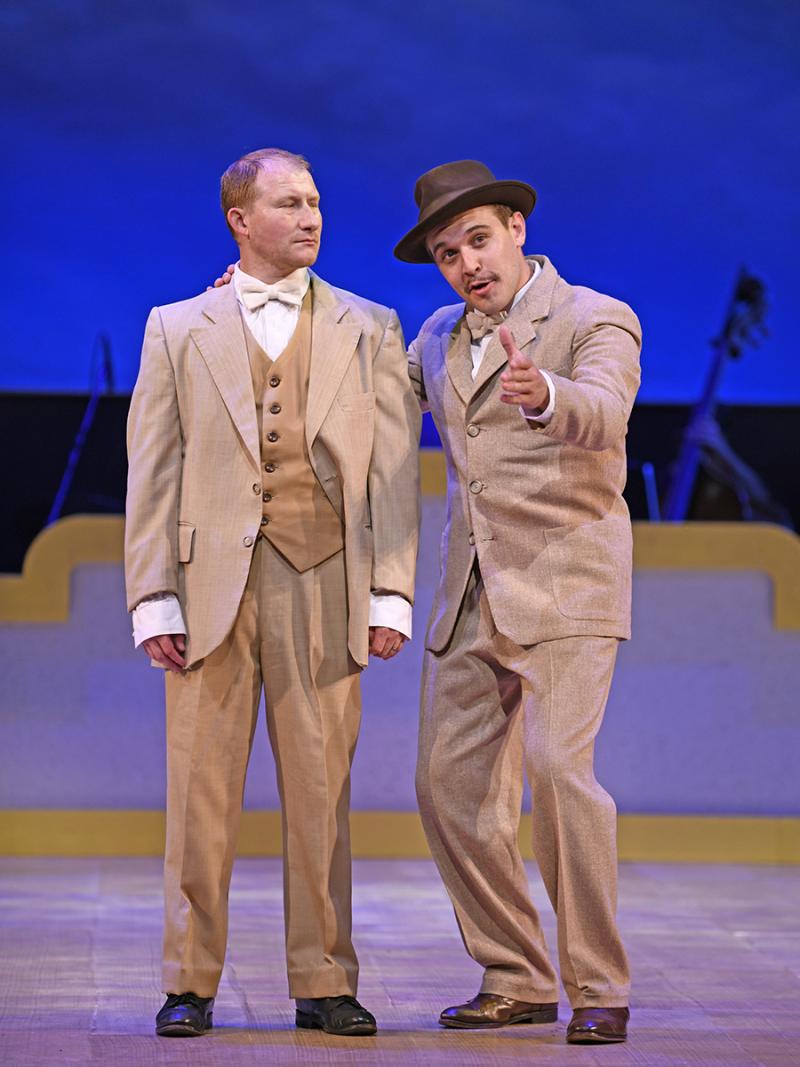 But other than an outward persona of a tenaciously-driven, but somewhat cocky showman who is voraciously hard-working and, uh, patriotic, YANKEE DOODLE DANDY doesn't really dig much deeper story-wise than what is already spelled out plainly in our faces, whether any of it is invented or not. I guess the most we are supposed to deduce is that his eagerness and hunger to entertain somehow turns him into a resentful, extremely bitter person later in life---not exactly the kind of person that gets bronze statues of their likeness.
Probably the most interesting thing we are privy to hear in this musical is when the older Cohan openly admits to Lou that he bought up most of Broadway simply out of "pure revenge." That actually put a smile on my face upon hearing it, because it felt vulnerable and honest and unvarnished by the sheen of its own hokeyness.
Only during the show's finale does he---and, us, the audience---finally realize just exactly how important he really is.
So, yes, as uneven as YANKEE DOODLE DANDY is as a whole musical, its "better" aspects---just like Mr. Cohan---are similarly very eager to please.
More than anything else, the core reason to see this production live is because of its splendid musical numbers. More specifically, the musical offers audiences the chance to witness some of the best ensemble tap dancing you'll see in a stage musical---and there are lots of it. It's just the kind of pronounced overcompensating that endears one to a show like this, because the sight of those syncopated steps performed by an enthusiastic, happy cast is just such an infectious, smile-inducing experience that's too hard to resist.
"Give My Regards To Broadway" is so wonderful that it instantly perked me up. Many other numbers aimed to wow: from the rousing title song to the various montages and medleys. Even the slower ballads are lovely.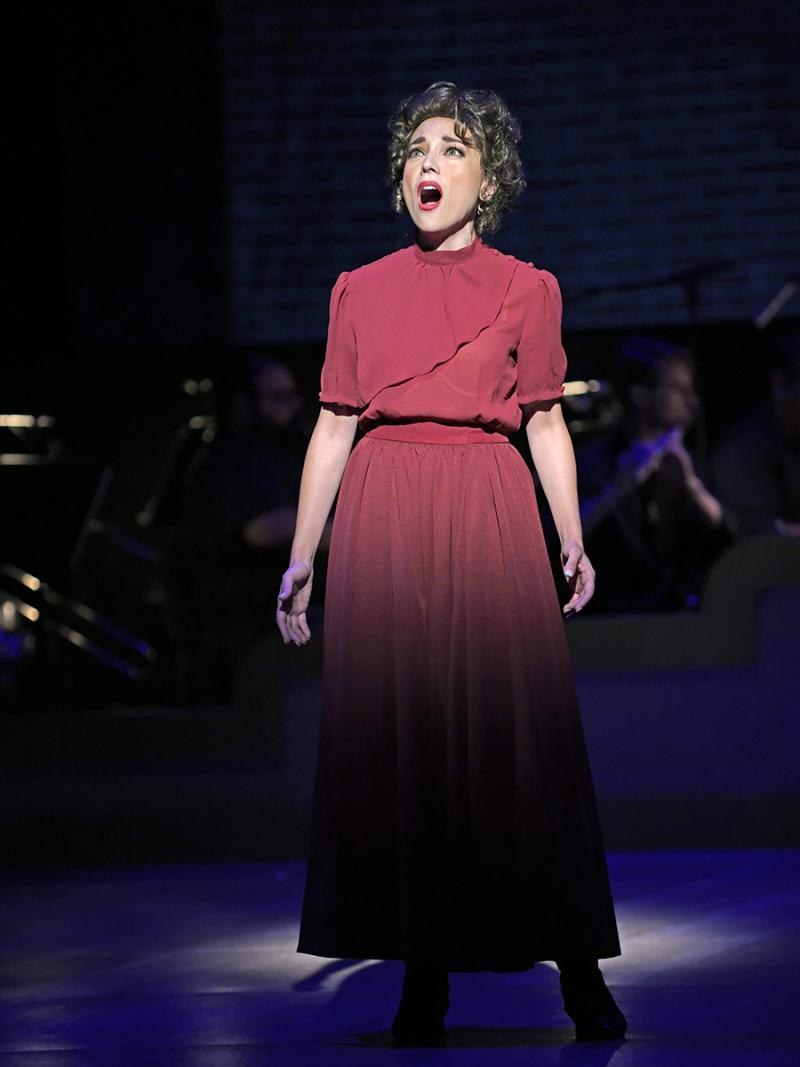 Much of the show's enjoyable raison d'être can also be sourced to its winning principal cast and large supporting ensemble, who all sing and dance with discernible energy and glee.
Boyish Wylie makes for an affable George M. Cohan, singing and dancing with charming pluck. So Cal musical favorites Ferrer and Engel are just perfectly darling in the roles of George's parents (I actually wish they appeared in the show more). Ferrer, in particular, was a beguiling presence in every musical number she is in, beaming with infectious joy reprising the role she originated in the 2004 world premiere. Her solo number "45 Minutes From Broadway" is a highlight in the first act.
Shaw has my heart for valiantly making the most of her role as George's sis Josie, providing observable nuance in her great portrait of someone often pushed aside or neglected because she's often shaded under her brother's enormous shadow. Simone is a stand-out chanteuse, giving an emotionally superb performance with her solo in "Pick Up Your Dreams And Go." Kacergis is a likable pal and partner as producer Sam Harris, while Jones and Dobson have an engaging "odd couple"-type dynamic as Old George and Old Lou, respectively, even if their sole purpose in the show is to orate paragraphs of exposition.
Aside from the cast, there is also plenty to appreciate in the show's technical aspects. Naturally, an old-fashioned musical with an old-fashioned songbook almost forces itself to have a beautifully-sounding orchestra to accompany it. Bravo to all the on-stage musicians under the baton of musical director Jeff Rizzo who provided the show its hefty-sounding score. Visually, Kevin Clowes' brightly hued scenic designs popped with pleasing color,,, accentuated by Paul Black's lighting designs, while Cecilia Gutierrez's vibrant period costumes completed the overall vintage look and feel.
Though, sure, much of it feels a bit dated---as if its been forever frozen in its portrayed era---both in general tone, its aww-shucks quality, and antiquated affectations. But at the end of the day, the hokey charm of YANKEE DOODLE DANDY is admirable in its unapologetic embrace of its old-fashioned qualities, which never wavers into modernist sensibilities at any time during the show (well, okay, it did contain one political joke that rings funnier than it should have when you think about where our world is today).
This kind of unabashedly "square" throwback musical will surely satisfy almost anyone who longs for the days when no one on stage rapped their passions, or sexily slithered their come-ons, or committed suicide while sing-screaming out their raging angst. YANKEE DOODLE DANDY is easily-digestible entertainment that strays from anything too controversial. Here, it's all about praising and saluting---and by the show's end, everyone will agree that it's okay to praise and salute the very subject of this well-meant musical.
Follow this reviewer on Twitter: @cre8iveMLQ.
Photos © Caught In The Moment Photography/Musical Theatre West.
---
Performances of Musical Theatre West's production of YANKEE DOODLE DANDY continue through Sunday, July 22, 2018. The Carpenter Center for the Performing Arts is located at 6200 E. Atherton Street in Long Beach, CA. For tickets or for more information, please call 562-856-1999 x4 or visit online at www.musical.org.