Click Here to Visit the College Center

Blogs are the opinions of the authors and do not necessarily reflect the opinions of BroadwayWorld. BroadwayWorld believes in providing a platform for open and constructive conversation.

Student Blog: Student Spotlight: Upperclassmen Edition
As the 2020-2021 school year comes to an end, I chat with my Hartt School peers to talk about their experiences with COVID-era theatre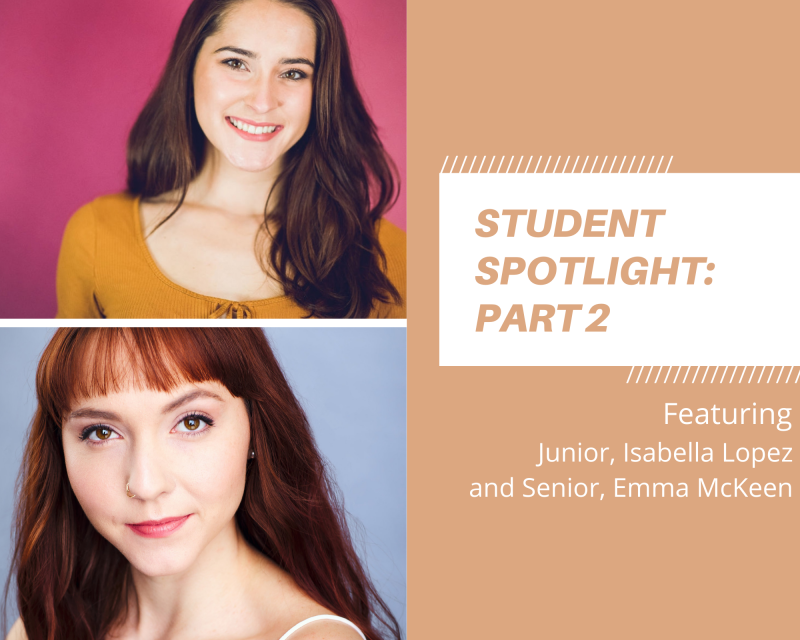 After my last Student Spotlight: Underclassmen Edition and writing about my own experiences with the Hartt School in the era of COVID theatre, I had to get the other two classes involved!
Bella (MT class of 2022) and Emma (AT class of 2021) are two fantastic actresses with a little more experience under their belts. I was so happy that they took the time to answer these questions for me! And boy, did they have some awesome answers.
Bella Lopez's IG: @bellallopezz
Where are you from!
I grew up right outside of Miami, FL!
What made you want to major in theatre?
This may be cliche, but when I was six years old my mom took me to see the National Tour of Wicked at a theatre near me. I knew I enjoyed singing by this time, and begged my mom to take me out of the house, so we went. Little did she know that day would change my life. I was in complete awe. I had no idea theatre like this existed, and that I could potentially do that one day. I was mesmerized by it all and started taking dance classes a week after that. I had such a passion for performing i hadn't even discovered yet, and from that day on, it was history.
Has anything surprised you about college life?
Being in a specialized program like ours, I was anxious stepping into this kind of environment. On top of transitioning to college, we had to transition to being in small classrooms with the same classmates for the next four years. I think we can all agree it took some time to find our people, and build a foundation of trust within one another we can utilize in the classroom. When I got here, I was very afraid of being alone. Lots of people underestimate the experience that some college students have who pack their bags and move across the country to a completely new environment. I really had no idea what to expect, but something that surprised me is the way my peers and I welcomed each other with open arms. We were all on the same boat and had a mutual respect for one another that from our first day together we found love in one another that was unmatched.
With senior year just around the corner, do you think things will be "back to normal" come fall?
Yes! With almost half of the population of CT being fully vaccinated, I believe we will have as "normal" of a semester as we can. This past year has been extremely rough for everyone, I know the students and the faculty are very ready to get back on our feet.
What do you think the university has been handling well? What do they really need to improve on?
I think the University has implemented and handled COVID-19 very professionally. At the beginning of this semester, they required us to get tested every week. Additionally, our department has done an extraordinary job at maintaining social distancing in the classroom, sanitizing and cleaning after every use, and doing our best to keep each other safe!
How have you been able to adapt to this hybrid learning experience?
Since COVID-19 affected us in the middle of our sophomore year, I was devastated and unmotivated for quite some time. Sophomore year was a year of growth for many of us, and lots of us had major plans for the summer that we, unfortunately, had to cancel. It's been great that we have the opportunity to do class on zoom and can somewhat have a learning experience that's new, yet effective. As actors, we have to be adaptable, and transitioning to the online world was tricky, but gave us a great tool we will probably use forever. A lot of us have more material we could publish on our website, and even track your progress. Nevertheless, nothing compares to our experience of live theatre, but I think there were some real benefits to doing school online.
What's your favorite show you've seen at Hartt thus far?
My favorite show I've seen at Hartt thus far has been Assassins, directed by Michael Fling in March of 2020. This show was performed in one of our classrooms that they created into a black box theatre, and it was so captivating and fun to watch from beginning to end. I'm slightly biased because it was one of our "Sophomore projects", so the entire cast were students from my class, but the direction, choreography, set, harmonies were so incredible. It was hard to remember they were only in their 2nd year of college. I was beaming with pride being able to watch my friends grow in such a short period of time.
Favorite class you've taken?
I think if I had to choose, I would probably choose my Periods and Styles Acting class I took last semester with Ricky Oliver. Although it was partially on zoom, I learned so much about myself as an actor. Ricky is one of the kindest, hardworking, and talented professors we have, and to work with him as one of my first classes after the pandemic was a blessing in disguise. We learned something new every day, and got to perform some older works most of us had never touched before. The concept of working on a scene written by Chekhov or Moliere on Zoom was definitely frightening. Nonetheless, he did an incredible job at creating a safe space in person, as well as on zoom, and truly allowing ourselves to explore this kind of work when we were all learning how to navigate the online world. I believe I saw the most growth in myself that semester in trusting the work as well as trusting myself.
Favorite song to sing in your rep book?
My favorite song to sing is probably Always True To You (In My Fashion) from Kiss Me, Kate. I always have so much fun singing this song and think it shows off my personality really well. It allows me to make bold choices and pushes me out of my comfort zone just enough that I think each time I've performed it, it's always unique. I think it's one of those songs that perfectly shows off who I am in any kind of cut I do.
Current favorite show you're listening to?
Honestly, with the pandemic, I haven't been listening to a lot of musical theatre because it made me really sad. I started trying to branch out and find more pop, country, R&B artists I could find to incorporate in my book. Although, of course, I love to listen to some of my favorite shows in the shower or in my car like Mean Girls, Once on this Island, A Chorus Line, Waitress, etc. Also, with theatre being shut down, it's been hard to find new material as not much of it is being produced right now. I have a ton of genres I like to listen to, and right now I think I'm really into the '70s.
What's a piece of advice you'd give to your 13-year-old self?
Take your time. As a kid, I was running towards adulthood and trying so hard to fast forward through my teen years. What I didn't realize was those years were monumental to who I am today. By the time I was 15 I had two jobs, plus my full-time schedule, plus cheerleading, and any production I was in after school. I love that I'm great at managing my time and am really motivated to push through anything life throws at me, but sometimes I forgot to enjoy being a kid. I was so hyper-focused on my technique or college, or simple things that didn't matter in even a few days, I didn't enjoy middle or high school as much as I would've liked. I would say, you're going to be more than fine, and take this time for yourself. Take this time to do the things you're supposed to do like play outside, and hang out with your friends more often. Adulthood will come sooner than you know.
Emma McKeen's IG: @emmammckeen
Where are you from!
Albuquerque, New Mexico.
What made you want to major in theatre?
I wanted to make art, I wanted to make a difference, and if I never went for it I knew I would always regret it.
What was your transferring experience like?
I transferred from a political science focus to a performing focus, and the two are very different kinds of college. When I got to conservatory training, I was always busy, had no connections outside of my immediate circle of peers, and was overwhelmed at first by the intense schedule.
What do you think the university has been handling well? What do they really need to improve on?
They have brought in such incredible professors from all over the country. Forrest McClendon and Shawn-Caulin Young live far away, but due to remote teaching they were both able to join us this semester and I'm so grateful for the opportunity to work with these incredible artists. Learning how to do shows was a definite learning curve. I think the university was often debilitated by obstacles instead of embracing them.
How have you been able to adapt to this hybrid learning experience?
I was never a homebody before the pandemic. Being in quarantine has turned me into an introvert, I actually quite like being able to finish school from home. I was in NYC and completely remote the first semester of senior year, so it gave me an opportunity to make connections and secure employment in the city before graduation.
Has anything surprised you about college life in general?
I think New England itself had me surprised the most. I have never been around real weather conditions, and I missed the sun. Learning to drive in inclement weather was a huge shock to me.
What's your favorite show you've seen at Hartt thus far?
August Osage County my freshman year.
Favorite class you've taken?
Brian Jennings Post Modernist theatre.
Current favorite play on your bookshelf?
Burgerz by Travis Alabanza
Looking back, what's the best thing you've learned in your 4 years at Hartt/all of your years in higher education?
The more I learn about myself the more I learn about art.
What's a piece of advice you'd give to your 13-year-old self?
80% of the things you take so personally are not personal. Be authentic always, it's the strongest version of yourself you can be.
What are your post-grad plans?
Moving to NYC this summer! Hoping to begin creating content online or streaming! Hopefully finding an into the film and television industry shortly!
Any upcoming performances?
Yes! Playing Lydia in Charles Mee's Big Love, we finish shooting tomorrow and the final film should be released this May.
Thanks so much for tuning into my Student Spotlight Series! Be sure to check out Bella and Emma's Instagram pages to follow all of their amazing endeavors.