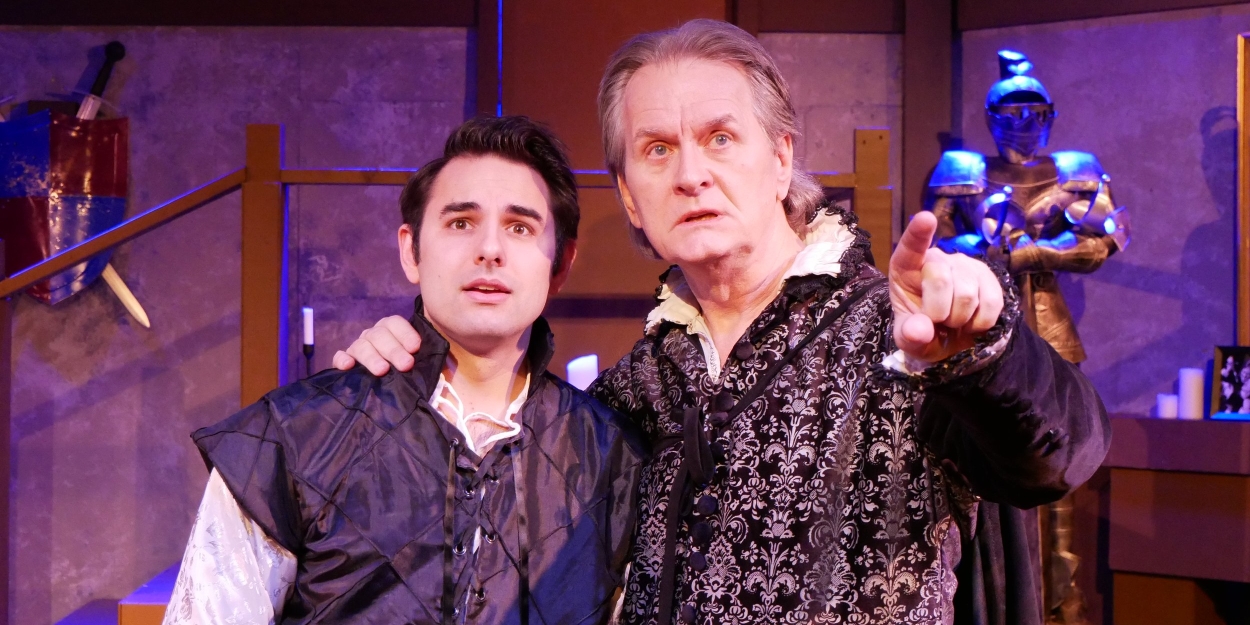 Review: I HATE HAMLET at Music Theatre Of Connecticut
Everyone knows that in order to be taken seriously as an actor, you must do theater and, specifically, Shakespeare. That's what draws Hollywood hottie Andrew Rally (Constantine Pappas) to New York to play the Danish prince, even though he hates Shakespeare.
To make things more complicated, he knows his thespian skills are limited. His bubbly real estate broker, Felicia (Liliane Klein) plays up the fact that the Washington Square apartment he just leased once belonged to John Barrymore (Dan O'Driscoll). That doesn't make him like it more because the apartment isn't contemporary and high tech. His German born agent and old flame of Barrymore, Lillian (Jo Anne Parady), encourages him to do it, as does his rich, commitment-phobic girlfriend, Deirdre, (Elena Ramos Pascullo). The only one who wants him to return to Hollywood is his hyphenated friend-writer-producer-director-predator-whatever Gary (Robert Anthony Jones).
But the contract is signed, and the show must go on. Felicia tries to summon the ghost of Barrymore in a séance, but he doesn't appear until everyone else leaves. And that's when the fun really begins.
Barrymore was as famous in the 1920s as his granddaughter, Drew, is today. He was perhaps known as much for his womanizing and drinking as he was for his acting. When he appears to Andrew, he tries to encourage the younger actor to be just like him on stage and in real life.
For six weeks, Barrymore teaches Andrew everything he needs to know about playing Hamlet. Andrew's interest waxes and wanes, and he finally asks Barrymore for "the secret" in playing the Melancholy Dane. Barrymore simply delivers the famous lines that begin with "Speak the speech, I pray you, as I pronounced it to you, trippingly on the tongue...."
Opening night doesn't go so well despite the master classes, and Andrew returns to the apartment dejected. Barrymore is sympathetic. Deirdre finally decides to commit to Andrew. Gary is certain he will finally be able to lure Andrew back to Hollywood with a very lucrative deal. But the power of theatre remains with Andrew who will presumably stay in New York to try to hone his craft.
Paul Rudnick's 1991 play is still hysterically funny, especially with Gary's lines such as "It's Shakespeare, right, it's like algebra on stage," Barrymore's comments that Hamlet is "pure hormone" and "I don't overact. I have the talent of 10 men," and Andrew's complaint, "What is this a test? No sex? Shakespeare? Like it's high school."
The all-AEA cast is immensely talented. Pappas and O'Driscoll play off each other with perfection. O'Driscoll is also the highly skilled fight and intimacy director for the show. The fencing was incredible, especially with the challenge of the way the set was designed. He also delivered Shakespeare's lines as if he were a master of the Bard's plays. Parady, a veteran of Shakespeare festivals, was ideal as Andrew's formidable German-born agent and former lover of Barrymore. Ramos Pascullo is delightful as Deirdre. Jones and Klein are exciting to watch individually and together they are like two bottles of champagne being opened and sprayed at the same time. Kevin Connors's dexterous direction brought everyone together like a house on fire.
Diane Vanderkroef's costume designs are just right for this show, especially Lillian's glittery opening night costume. Parady is a sequined outfit's best friend. Sean Sanford's set and props were believable for a vintage New York apartment and perfect for the second act, which was a tribute to period plays. Will Atkin's sound and RJ Romeo's lighting design were faultless.
You really don't have to love Shakespeare to enjoy this play. As long as there are challenging roles for actors to struggle with, I Hate Hamlet will resonate with them. And with the audience. I Hate Hamlet runs through February 19 on the mainstage of Music Theatre of Connecticut. The theatre is located at 509 Westport Avenue (Route 1) in Norwalk, opposite the movie theatre. There is free and ample parking. For tickets, visit www.musictheatreofct.com.
Enter Your Article Text Here!