Musicians of the Silkroad Ensemble Form The Art of the Duo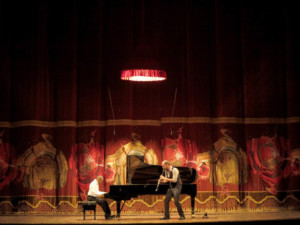 As part of the University of Saint Joseph's 4th Annual Chapel Series, The Art of the Duo will be performing on Thursday, October 11, 2018 at 7:30 pm in the Connor Chapel at the University of Saint Joseph.
The Art of the Duo is a musical collaboration between two composers, Syrian clarinetist Kinan Azmeh of Yo-Yo Ma's Silkroad Ensemble and Sri Lankan-born Canadian pianist Dinuk Wijeratne. Based on their innovative album Complex Stories, Simple Sounds, the Art of the Duo fuses elements of Arabic and South Asian influences with classical and jazz music idioms to create a new sonic world. Witness their diverse musical talents meld and soar together to create a rich sound unable to be imitated.
The haunting elegance of Azmeh's clarinet and Wijeratne's gentle melodies and unconventional use of piano strings unite to create unforgettable, emotional music that fits perfectly with the intimate setting of the Connor Chapel. Despite only being two musicians, the Art of the Duo's layering of intricate rhythms and sounds forms a complete and highly sophisticated musical experience.
Azmeh's career as a clarinetist, soloist, and composer has spanned across musical genres and stages worldwide. Specializing in chamber and Arab music, Azhmeh earned his doctorate degree in music from the City University of New York in 2013. His compositions are unique and immersive, often including dance, film, and electronics. Wijeratne has been described by the Toronto Star as 'an artist who reflects a positive vision of our cultural future' for his international work as a JUNO award-winning composer, conductor, and pianist. He has collaborated with artists ranging from orchestral musicians to DJs and composed for a multitude of artists and ensembles. After studying music in the United Kingdom, New York, and Toronto, Wijeratne's work as a music educator has led him to lecture at universities across Canada.
Tickets are $22 for adults and $12 for children and students with valid ID. Tickets can be purchased at the Frances Driscoll Box Office: 860.231.5555 or online at tickets.usj.edu.