Claire DeLiso Named Inaugural Burry Fredrik Design Fellow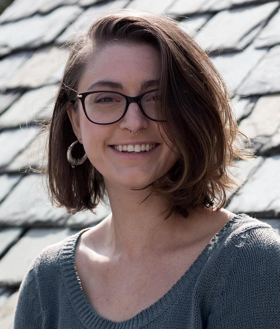 The Burry Fredrik Foundation has announced a new commitment to launching the careers of graduates from the Yale School of Drama Design Departments with the establishment of the Burry Fredrik Design Fellowship. Set designer Claire DeLiso, who received her MFA this past spring, is the first recipient.
This new Foundation initiative is a collaboration with Yale School of Drama and the Eugene O'Neill Theater Center's National Playwrights Conference. Each year, the Yale School of Drama Design Department faculty will select one graduating scenic, costume, lighting, projection, or sound designer as the
Burry Fredrik
Design Fellow, who will receive a $15,000 award and will be asked to participate in the National Playwrights Conference as a design responder. In addition, if the Fellow is hired as a designer at
Goodspeed Musicals
, Hartford Stage,
Long Wharf Theatre
, or Westport Playhouse in the two years following the award, the Foundation will make a grant to that theatre in an amount equal to the fee paid to the designer. "We are so pleased to honor
Burry Fredrik
in a way that so perfectly epitomizes her lifelong commitment to theater, to design, and to helping young professionals in the field. She would be proud to have Ms. DeLiso as the first recipient," said Barbara Pearce on behalf of the
Burry Fredrik
Foundation. "On behalf of
Stephen Strawbridge
and
Michael Yeargan
, Co-chairs of the Design Department, and
David Budries
, Chair of Sound Design, we are deeply grateful to the
Burry Fredrik
Foundation for their visionary leadership in establishing a Fellowship that supports early-career theatre designers," said
James Bundy
, Dean of Yale School of Drama. "The additional benefit to our sister theatres here in Connecticut is a particularly meaningful investment that will benefit the entire field." Claire DeLiso said, "I am honored to be the first recipient of this generous fellowship. I am grateful for my faculty's recognition of my work at Yale School of Drama and for the opportunities this award from the
Burry Fredrik
Foundation offers me at the beginning of my professional theatre career. I'm also excited to introduce myself and my work to colleagues at the O'Neill, Goodspeed, Hartford Stage, Long Wharf, and Westport Playhouse in the coming years." A theatre trailblazer, Tony Award-winning producer and Broadway director and stage manager,
Burry Fredrik
established the
Burry Fredrik
Foundation to promote the development of new work and the fiscal health of professional theatres in Connecticut. To fulfill its mission, the Foundation provides support for developing new works and audiences for Connecticut professional producing theatres with national import, and fosters the development of young theater designers. Claire DeLiso is a New York City-based set designer. Her design credits include Imogen Says Nothing (
Yale Repertory Theatre
); New Domestic Architecture, Women Beware Women, costumes for Titus Andronicus (Yale School of Drama); The Bitter Tears of Petra von Kant, Boris Yeltsin, Shiny Objects (Yale Cabaret); Midsummer, The Life and Death of Doctor Faustus (Yale Summer Cabaret); Private Lives, Some Mother's Son, Hedda Gabler (Smith College); Red, God of Carnage, and
Mr. Burns
, a post-electric play (New
Century Theatre
). Claire's film and television work includes production and costume design for the full-length independent film BadPuss: A Popumentary; Spooners (short), The Stand-ins (web series), and Unforgettable (production assistant). Claire was born and raised in a small town in the south of France. She received her BA in theatre studies from Smith College in 2012 and her MFA from Yale School of Drama in 2017.