CONNetic Dance's 'NUTCRACKER SUITE & SPICY' to Add More Spice to the Season in Hartford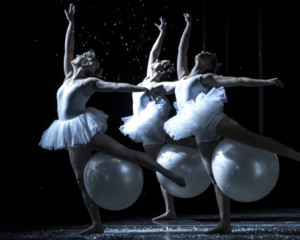 "The Nutcracker Suite & Spicy" - a rousing, toe-tapping, high-kicking spin on the classical ballet - returns to delight audiences in Connecticut's capitol city for the eighth year this holiday season.
Choreographed and directed by CONNetic Dance's Carolyn Paine and set to a compilation of music inspired by Pyotr Ilyich Tchaikovsky's original score, "The Nutcracker Suite & Spicy" fuses ballet, tap, jazz, ballroom and hip-hop techniques to breathe new life into the timeless tale of an imaginative young lady and her beloved nutcracker.
Performances will take place Dec. 15-17, in the Aetna Theater at the Wadsworth Atheneum Museum of Art, located at 29 Atheneum Square North in Hartford.
"The Nutcracker Suite & Spicy" is a quirky, innovative production infused with humor and updates to better reflect a contemporary, urban holiday. The curtain opens on a raucous Ugly Christmas Sweater Party, during which young heroine Clara is presented with a Nutcracker-a gift of which she is not fond-by the mysterious Drosselmeyer. Amid the chaos of the party, Clara is struck on the head by the Nutcracker, awaking to find her Nutcracker come to life as an attractive prince and a fantasy world in which they attend the Snow Ball-a beautiful snow scene with dancers gliding across the stage on pearly white Pilates balls. Continuing their travels, Clara and the Nutcracker visit the Club of Sweet Temptations, where cocktails from around the world dance their unique flavors, led by the sassy hip-hop Sugar Rum Cherry and CONNetic's signature Florettes who perform a Rockettes-isnpired Waltz of the Flowers. When a brawl breaks out between Club Rat and Clara's Nutcracker, Clara bravely saves her prince.
"From musing over the very first twist on the original plot to presenting The Nutcracker Suite & Spicy for its eighth year, this production has been a true labor of love," says Paine, who is also a professional dancer, actress, and comedian with credits including television, regional theatre, and international tours. "I am honored to have been at the center of this production since its inception and to have worked with such a varied cast over the years. It is my hope that this year we can tickle the sugar plums of both new and veteran audience members alike."
CONNetic Dance has long championed a diverse company of professional dancers-some having been classically trained in the studio, and others having honed their skills on the street. Stemming from this principle, "The Nutcracker Suite & Spicy" features dancers from myriad backgrounds performing a variety of dance methods and techniques. The result is a cast as wide-ranging and multifaceted as the urban culture of Hartford. A focus on incorporating local artists is paramount for Paine and her annual production. A notable addition to this year's cast is CT-based hip hop and music artist Tang Sauce.
This year's cast of professional dancers includes: Tyler Brown, Norman Campbell, Anton Cort, Kayleigh Crocetto, Jeremy Doran, Tristan Roden-Drummond, Samantha Flook, Jennifer Ferringo, Elisabeth Jeffrey, Kailah King, D'Andrea Knox, Keith Leonhardt, Amy Motson, Carolyn Paine, Freddy Rosado, Lyndsay Rysedorph, Leigh Schanfein, Alaina Watson, Leyna Woods, Alex Zarlengo and Tang Sauce.
Performances will be held December 15, 16 and 17, in the Aetna Theater at the Wadsworth Atheneum Museum of Art in downtown Hartford. Specific times are: Friday, Dec. 15, 8 p.m.; Saturday, Dec. 16, 8 p.m.; and Sunday, Dec. 17 at 2 p.m. Audiences are encouraged to wear Ugly Christmas Sweaters to Sunday's matinee, which will feature a live music opening and special visit by Santa.
Tickets ($40) are on sale at www.conneticdance.com, or by calling (860) 251-
9194. Discounted group rates are available. Additionally, a "Cyber Monday" ticket sale will be held Monday, Nov. 27, during which tickets will be discounted to $25 apiece.
Following the performance on Friday night, a "VIP" Opening Night Party will be held Infinity Hall in Hartford, and will feature appetizers, signature cocktails and appearances by the cast. Combination ticket for the Opening Night performance and Party may be purchased.
Related Articles View More Connecticut

Stories

Shows
More Hot Stories For You