Review: THE PRINCESS AND THE FROG at Downtown Cabaret Children's Theatre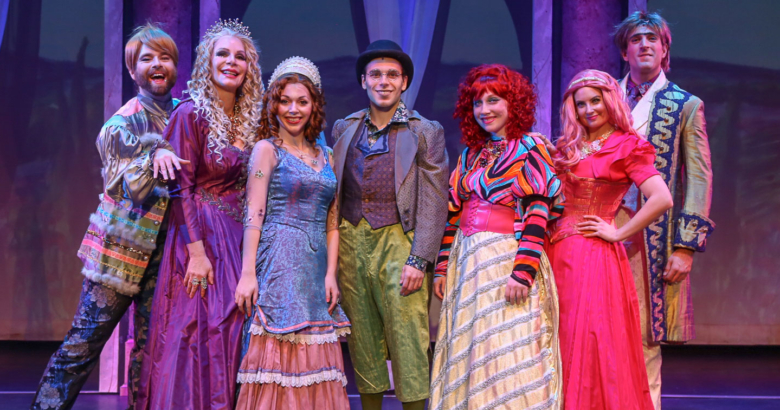 On Sunday, March 3, I had the pleasure of seeing THE PRINCESS AND THE FROG at the Downtown Cabaret Children's Theatre in Bridgeport, CT. While I consistently enjoy every show at the Downtown Cabaret Children's Theatre, there are some that particularly stand out as among the best ever, and this show is one of those! This is one of playwright Phill Hill's finest shows, enhanced by excellent acting all around, under director Frank Root, maximizing the quality of every character. Choreographer Cassie Carroll also enhances the show by providing some of the best choreography ever at the Downtown Cabaret Children's Theatre, really animating the characters during the singing and dancing scenes.
The song selections were particularly good on this show, too, featuring music made famous by Mike & The Mechanics, Clarence "The Frogman" Henry, Aerosmith, Billy Idol, the Cars, David Bowie, Neil Diamond, Three Dog Night, and Tina Turners' arrangement of Creedence Clearwater Revival's "Proud Mary." The songs are all lyrically edited to keep them consistent with the show and appropriate for children.
Actress Mikayla Petrilla brings refreshingly new talent in her Downtown Cabaret Children's Theatre debut performance in the role of Princess Eloise, the central protagonist who wants to fall in love, but is at risk of being forced into marriage with someone who she is not in love with. Princess Eloise is a highly likeable character, to whom the whole audience wishes the best. She has a kind and loving heart, even to the point that she is willing to befriend a talking frog. It was particularly impressive to see that Mikayla Petrilla's stage chemistry was just as tight with the other cast members as their stage chemistry is with each other, making her a very welcome addition onstage to the Downtown Cabaret Children's Theatre, since even as a newcomer, she fits right in with a group of cast members who have previously been acting together for a long time.
Robert Peterpaul gives another masterful performance as the male lead, playing the role of the frog who is really Prince Wesley. The show opens with a comedic spoof on the opening of Beauty and the Beast, to explain how Prince Wesley became the frog. The spell can be broken by true love's kiss, and the audience hopes that Princess Eloise will make it happen. Robert Peterpaul's singing, dancing, and acting, continue to reflect the consistent high quality that the audience has seen in his previous performances.
As someone familiar with Clarence Henry's "Ain't Got No Home," I tremendously enjoyed this lively duet between Robert Peterpaul and Mikayla Petrilla. The excellent stage chemistry between them is particularly showcased on this musical number.
Corinne Marshall commands the stage, excelling in the role of the central villain, Desiree who is pushing for her son to marry Princess Eloise, in hopes of gaining the fortune of Princess Eloise's family, and avoiding further consequences of poverty. Every line she delivers is with feeling and conviction that truly brings this character to life.
Ashley DePascale plays a convincing millennial valley girl, Havalena, the daughter of Desiree. Havalena is self-obsessed, chronically using her phone, has no interest in getting a job, and fancies herself as educated despite being a total ditz.
Corinne Marshall and Ashley DePascale are particularly showcased in "Proud Mary," that they perform together with energy and feeling, both totally in their element, a definite highlight.
Andrea Pane shows another side of his tremendous acting ability, effectively portraying Neville, the oaf like son of Desiree, the son who Desiree is trying to get to marry Princess Eloise, despite the fact that neither is in love with the other.
The role of Jethro is my favorite character I have ever seen Jason Parry portray, naturally making this my favorite of all his performances, a great role for him, truly showcasing a deeper level of his acting talents. His line delivery is priceless, while his stage antics are consistently amusing and engaging. When it comes to Jason Parry's performance in this show, "Do you love it? I love it!"
Karen Hanley rounds out the cast in the role of Queen Helene, who is Princess Eloise's mother, insistent that Princess Eloise gets married. Queen Helene is easily manipulated by Desiree, and is just as unwilling to listen to her child's desires as Desiree is. Even though Queen Helene is the one being deceived, she comes across as being as much a villain as the one who is deceiving her, a fine performance by Karen Hanley.
Surprisingly, there are no entrances or exits through the crowd in this show, but the fourth wall is broken, as traditional with the Downtown Cabaret Children's Theatre. I was particularly impressed by the children's reaction when the frog asked whether he should change his personality to conform to the image of Neville, falsely thinking that Princess Eloise was attracted to Neville. The children unanimously told the frog, "No," which shows that they not only are following the story well, but that they furthermore have an innate sense of knowing that being who you truly are is best, and that we should not try to be someone we are not to try to impress others. I hope these children continue to carry this realization throughout all the peer and societal pressures of life, as they get older.
Will Prince Wesley remain a frog? Will Princess Eloise be forced to marry Neville? If so, will they regard the marriage as valid? Will Desiree's scheming be discovered? Will Havalena shock everyone by saying something intelligent and profound? Will Prince Wesley and Princess Eloise end up together, in a wedding performed by Jethro? Come to the show, bring your children, and find out!
I highly recommend THE PRINCESS AND THE FROG which is scheduled to continue to run at the Downtown Cabaret Children's Theatre in Bridgeport, CT through March 31, 2019. For times and tickets, please go to Tickets.