BWW Review: IN THE HEIGHTS at Playhouse On Park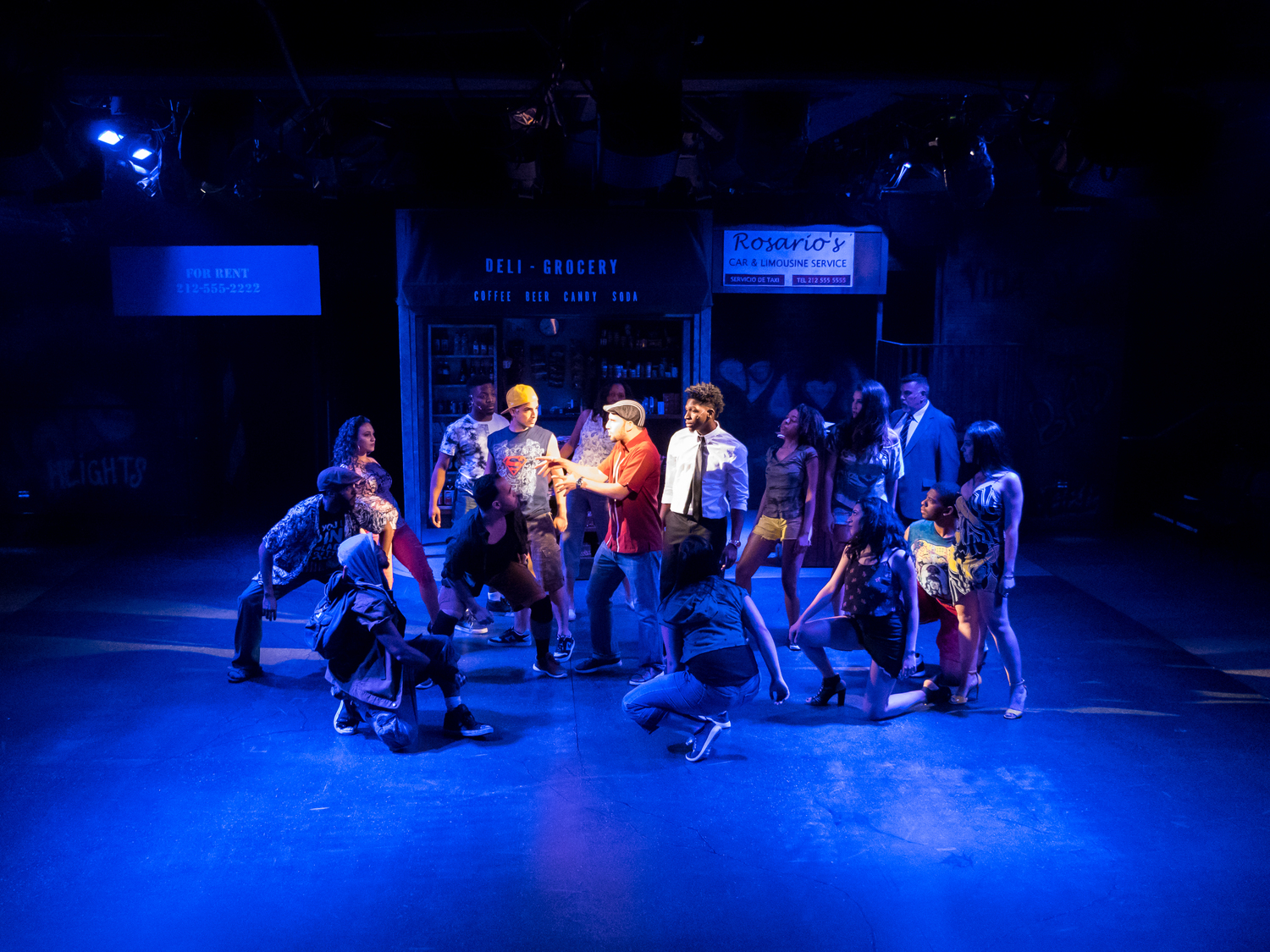 Home. Family. Finding where you belong. Themes that best describe the heart and soul of Lin-Manuel Miranda's Tony-winning Best Musical, IN THE HEIGHTS which is now playing at Playhouse on Park in West Hartford, CT. This powerhouse predecessor to Mr. Miranda's current smash hit HAMILTON, is a musical with a fresh and modern story and a palpable energy that bursts to life on the Playhouse stage.
For those unfamiliar with the piece, IN THE HEIGHTS (which has a book by Quiara Alegria Hudes) centers around a small block in Washington Heights, Manhattan sometime in the recent past. The audience is introduced first to Usnavi De La Vega (Niko Touros) the local bodega owner and source of encouragement, coffee and sustenance for the entire block. He is aided in the store by his young cousin, Sonny (Nick Palazzo) and inspired by Vanessa (Sophia Introna) the woman he has a crush on but is too nervous to tell. Vanessa works at the local hair salon with the larger than life Daniela (Sandra Marante) and Carla (Paige Buade) who spend their days cutting hair and sharing gossip ("No Me Diga"). The block is also home to the Rosarios, owners of the local taxi company, including Kevin (JL Rey), his wife Camila (Stephanie Pope), and their daughter Nina (Analise Rios) who has just returned home from her first year at Stanford. Nina is welcomed home by all her neighbors, but especially young Benny (Leyland Patrick) who is obviously in love with her. Rounding out the cast is the matriarch of the block and everyone's rock, Abuela Claudia (Amy Jo Phillips) who is always on her stoop ready to dispense advise, admonition, or a warm hug to anyone who passes by. Once the audience is introduced to this cast of colorful characters ("In the Heights"), we learn that Nina has dropped out of college and is struggling with how to break the news to her parents. We also hear that someone bought a winning lottery ticket from Usnavi's bodega creating a lot of speculation and dreaming about what each person would do with the money ("96,000"). Over the course of the show, relationships are tried and tested, and tragic events (including a blackout and ensuing looting) create tension, but, at the same time, bring everyone together in beautiful ways.
Directed by Sean Harris, IN THE HEIGHTS is a prime example of the modern musical in its finest form. It takes a current and relatable topic (neighborhood life, struggling to make ends meet), sets it in a real-life location (Washington Heights) and tells a beautiful story through a musical style that is modern and fresh - mixing rap, R&B, and latin music styles to breathe life into the tale of a few life-changing days on this small block. The audience is taken on a roller coaster of emotions from the high-energy dance numbers (choreographed brilliantly by Darlene Zoller) to the heart-wrenchingly beautiful "Alabanza" and are given the opportunity to experience the emotions that accompany each of these characters' stories. IN THE HEIGHTS also brings out a strong pride in your origins, especially in the rousing "Carnaval Del Barrio" where all the flags of the countries represented by these immigrants (Cuba, Dominican Republic, Puerto Rico, etc.) are flown proudly (by the audience as well!).
The cast of 18 actors fills the Playhouse on Park stage and brings to life all the ensemble numbers in a vibrant way. The "Blackout" number that closes the first act is a great example of the cast working together seamlessly, ending with some amazing fireworks (brilliantly orchestrated by lighting designer Aaron Hochheiser). As Usnavi, Niko Touros is a tour de force, delivering the fast paced and rhythmic lyrics with skill. Hats off to Mr. Touros for making such a challenging role look effortless. The rest of the cast is equally strong with some powerhouse vocals being delivered by Analise Rios (Nina), Sandra Marante (Daniela) and Sophia Introna (Vanessa). As Sonny and Benny, Nick Palazzo and Leyland Patrick give solid performances as do JL Rey and Stephanie Pope as Nina's parents. The real standout for me, however, was Amy Jo Phillips performance as Abuela Claudia. She was warm and lovely in her early scenes, but when given the spotlight ("Patiencia Y Fe") she showed off a powerful voice and gave a passionate and beautiful portrayal of this grandmother who escaped Cuba as a child and lived a long and rich life on this block.
As the season closing production at Playhouse on Park, IN THE HEIGHTS is the perfect mix of youth, energy and brilliant storytelling. Audiences are sure to leave with a smile on their face, a spring in their step, and a warmth in their heart after spending a few hours with Usnavi and his neighborhood family, IN THE HEIGHTS.
IN THE HEIGHTS runs at Playhouse on Park in West Hartford, CT through July 29th. For more information, call 860-523-5900 ext. 10 or visit www.PlayhouseOnPark.org. Playhouse on Park is located at 244 Park Road, West Hartford, CT 06119
All Photos courtesy Curt Henderson