BWW Review: HERSHEY FELDER AS IRVING BERLIN at Westport Country Playhouse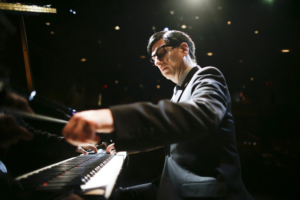 This is not a typical one-man show with the sole purpose of playing wonderful hits by one of America's greatest songwriters. Hershey Felder as Irving Berlin is one of his series of one-man concert biographies. Other include George Gershwin Alone, Monsieur Chopin, Beethoven, Maestro: Leonard Bernstein, and Liszt in Musik. Felder, a supremely gifted actor, pianist, and writer, gets under the skin of Berlin in a delightful storytelling. The show takes place in Berlin's Beekman Place apartment, to which a cantankerous old Berlin invites Christmas carolers inside so he can explain the origin and meaning of his famous songs.
Each of Berlin's songs has a story in it, but the songs also have a part of Berlin's heart. He was a man of great passion and suffered tragedies in his life, including the death of his young first wife, Dorothy Goetz, and of his son from his second marriage on Christmas day - the favorite holiday of his second wife, Ellin Mackay. Berlin, who immigrated to the United States from Russia when he was five years old, was a huge patriot. The song "I'm Dreaming of a White Christmas" was written for the soldiers who were stationed overseas. Some of his other famous songs were initially rejected and retrieved from a storage trunk, including "Always," which he gave to Ellin as a wedding present.
The songs are interwoven in Felder's chronological narrative and are complemented with Lawrence Siefert's projections on the wall of Felder's nicely designed set. The audience gets to see footage of Al Jolson's singing "Blue Skies," a song Berlin wrote when his daughter was born. When Felder sings and plays the piano, he tries to keep to the relative flatness of Berlin's limited playing and voice, but he does have opportunities to showcase his accents and mimicry. Felder is engaging and personable throughout the show, and adds an encore that isn't limited to Berlin.
The show runs through August 3, and tickets may be hard to get because opening night was cancelled due to an air conditioning malfunction. Do what you need to do to get tickets to see this show, because you are in for a very special evening of double brilliance - Felder and Berlin and Felder as Berlin. For tickets call 203-227-4177 or visit www.westportplayhouse.org. The Westport Country Playhouse is located at 25 Powers Court in Westport. Hershey Felder as Irving Berlin will stay with you forever.
Related Articles View More Connecticut

Stories

Shows
Sherry Shameer Cohen is an award winning parachute journalist and blogger who is always looking for more challenging work. Her articles and photos have appeared (read more...)