BWW Exclusive: National Theater Institute Alums Enable Young Playwrights to Experience Famed 'O'Neill Process'
This year -- the 10th annual Young Playwrights Festival -- featured 35 alums from the last 20 years of the National Theater Institute returning to the Eugene O'Neill Theater Center to nurture new works and new voices through the Young Playwrights Festival.
The O'Neill's Young Playwrights Festival (YPF) supports the work of student playwrights and gives young writers an opportunity to develop their scripts with a professional creative team consisting of a director, dramaturg, designer, and actors to breathe life into each play. Every year, students age 12-18 are invited to submit short plays. This year, a record-breaking 148 submissions were received from middle school and high school students and the work of six student playwrights was selected for development. The development process for each script draws on the principles and techniques used during the O'Neill's founding professional summer program, the internationally renowned National Playwrights Conference. Over three days, students have the opportunity to take their written work through the collaborative and see it brought to life on the stage as the Festival culminates with a public presentation featuring script-in-hand performances of each student's work at the Eugene O'Neill Theater Center.
These plays are given public readings after just two days of rehearsals with professional and collegiate artists, alums of the National Theater Institute Semester, Moscow Art Theatre Semester, Theatermakers Summer Intensive, and NTI-Advanced Directing programs, working as actors, directors, dramaturgs, designers, and mentors. This year, eight of the alums volunteering their time appeared courtesy of Actors' Equity Association. Others drew upon their background in theater, television, or film; their experience working with SITI Company, Wooster Group, Fiasco Theater, or Second City; their training with Carnegie Mellon University School of Drama, Columbia University, Pig Iron School for Advanced Performance Training, or Yale University School of Drama; and having worked at renowned theater companies including Vineyard Theatre, Signature Theatre, Actor's Theater of Louisville, New York City Center, Edinburgh Fringe, Classic Stage Company, Ars Nova, Manhattan Theater Club, and Huntington Theater Company, among others.
The weekend underscored the fact that the O'Neill is an artistic home for alums of all the National Theater Institute's programs. Tracy Shar (MATS '95) started her days at the O'Neill as a student at NTI's Moscow Art Theatre Semester. She then worked in the long-closed O'Neill NYC office under O'Neill founder George White, and was Lloyd Richards last assistant during his tenure at the National Playwrights Conference. This weekend, she was "excited to be back at the O'Neill after all this time and [couldn't] wait to see what the playwrights [had] in store." Aaron Heaps (NTI Fall '12) was "extremely excited to be returning home to the O'Neill to help bring new works to life." A sentiment echoed by Mark David Irwin (NTI Fall '14) who added that he was "grateful to serve and explore the works of the talented Young Playwrights." And Fiona Rae Brunner (Theatermakers '13) returned to the O'Neill after a year away saying, "what a joy to be back at the O'Neill and what a luxury to jump into what these brilliant young minds have conjured up!"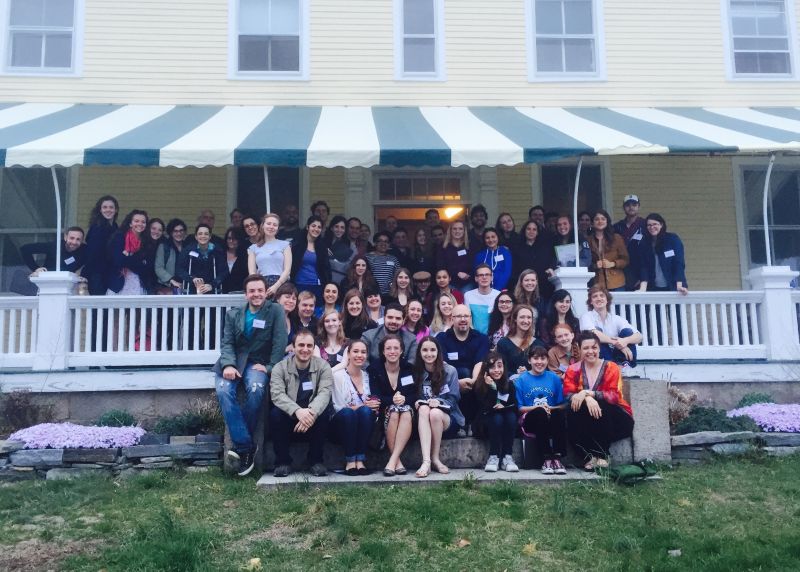 Young Playwrights Festival Director Sophia Chapadjiev (NTI '94) came to the National Theater Institute in the nineties as an actor and, happily, returned years later as a writer and educator. This is her eighth year producing YPF, which marries two interests of hers - nurturing young playwrights and offering alumni opportunities. As a playwright she once wrote a show that was acted and directed entirely by NTI alumni (OVER THE MOON Best Play, Audience Favorite; American Globe Theater). She is currently working on the commissioned PILGRIMAGE TO THE MOUTH, the final installment to her MOUTH PIECES triptych. And in June a new work of hers will premiere in London.
Sophia remarked, "I am so pleased by the quality of submissions we have received, the passion these students have for their work, and the tenacity of all these young playwrights -- some who've never written a play before -- for not only creating new works for the stage, but also being bold enough to enter a national competition and put themselves and their writing out there. I don't know if I had my act as together when I was their age and so I admire all our young playwrights tremendously."
The six works presented this year were: ASCENSION by Chloe Wilson, Clark Lane Middle School; BEYOND DEATH by Joshua Harlow, Waterford High School; THE DANGERS OF STUDYING by Sean Estep, Fitch High School; EMPTY SPACE by Branwyn McDowell, Waterford High School; STAY SHARP by Talia Masson, Dual Language and Arts School; and STRANGER STRANGERS by Zoe Rose, Classical Magnet School. Sixteen additional young playwrights (elementary to high school students) participated in the Guest Playwright Observation program.
With a singular schedule and an unmatched breadth of training, the National Theater Institute's semester-long programs offer students a springboard to the professional world at the two-time Tony Award-winning Eugene O'Neill Theater Center. Founded in 1970, NTI's credit-earning theater intensives -- taught by industry professionals and master teachers -- train actors, singers, directors, dancers, designers, playwrights and composers.
Learn more about NTI's acclaimed semester-long, credit-earning training intensives by visiting www.NationalTheaterInstitute.org and Facebook, Twitter, Instagram, and YouTube (@NTIRiskFailRisk).