Review: CATCO Posts Powerful Performances of FUN HOME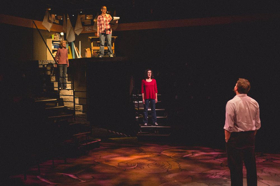 Theatergoers found Post-It Notes attached to their program and were asked to describe CATCO's performance of the musical FUN HOME. It turns out the one inch square probably wasn't large enough.
A nine-member cast delivered an emotional jarring, knock out performance of Lisa Kron and Jeanine Tesori's musical adaptation of the biography of graphic cartoonist Allison Bechdel. The musical, which runs Sept. 13-Oct. 1 at the Riffe Center (77 South High Street in downtown Columbus), leaves the audience bleary eyed and psychologically drained after its hour and a half performance.
Among the captions I would have submitted:
MISNOMER
One can't even type a snappy headline like "FUN HOME puts the fun in dysfunctional." The term "Fun Home" is an abbreviation for the Bechdel Funeral Home, which Allison's family runs.
The musical centers on the off-kilter relationship between Allison (who is played by Sydney MacGilvray, Meg O'Dell and Cari Meixner in her various stages of life) and her father Bruce (Peter Matthew Smith). Shortly after Allison discovers that she is a lesbian, she learns her father has been a closeted homosexual his whole life. While Allison discovers freedom and acceptance at Oberlin University, Bruce's secret life is exposed and he kills himself.
Pretty dark stuff indeed, but the musical balances a tightrope with wonderfully offbeat songs, "Raincoat of Love," "Changing My Major" and "Come to the Fun Home." In the latter, young Allison (MacGilvray) and her brothers Christian (Henry Smith) and John (Hudson Mugler) come up with a television commercial for the family funeral home: "We got Kleenex and your choice of psalm. Stop by the Fun Home. Think of Bechdel when you need to embalm."
THREE FACES OF ALLISON
To bring Allison's life journey to the stage, writers Kron and Tesori divided it into three parts. MacGilvray plays the youngest version of Allison with a wide-eyed innocence as she grapples with feelings she can't understand. O'Dell captures the passion and hurt of college-aged Allison, who, to the chagrin of her parents, discovers who she is and "jumps out of the closet" and into a relationship with Joan (Jenny Case). Case and O'Dell capture the awkwardness at the beginning of a relationship and the transition to familiarity.
As the oldest version of Allison, Meixner serves as the show's narrator, who wryly observes most of the action in the musical from her perch above the main stage.
UNLIKELY LIKABLE
As beautifully connected in appearance, temperament and vocal ability as the three Allisons are, the show would not work if it didn't have a perfect Bruce. Peter Matthew Smith handles the complexity of a man torn asunder by his inner demons. Bruce not only lives out of his life in The Shadows but he also seduces some of his former English students and manipulates his family under his steely thumb of control.
Yet, Peter Matthew Smith weaves together a character the audience can sympathize with and even feel compassion for in the show. Kim Garrison Hopcraft provides a lovely counterbalance to Bruce's mood swings as his long suffering wife Helen, who often turns a blind eye to her husband's dalliances and shortcomings.
Ricardo Locci plays an amalgam of Bruce's lovers as Roy, Mark and Pete, providing a different style and voice to each. Mugler and Henry Smith also round out the cast as Allison's brothers.
THERE'S NO ESCAPE
Director Steven C. Anderson creates a musical the audience can't turn away. The show is performed in a round in the Riffe Center's black box theater with the unique touch of the elder Allison's studio being above the audience. Meixner uses that space to create visual and emotional distance as she observes the action on the stage.
The choice to perform in the black box may have limited the number of people who can watch the show but it added intensity to the experience. Make sure you get a ticket to the limited run of this powerhouse performance.
CATCO presents FUN HOME 8 p.m. Sept. 16, 21-23 and 28-30 with 11 a.m. matinees on Sept. 20, 27, and 2 p.m. matinees on Sept. 17 and 24 and Oct. 1 at the Riffe Center (77 South High Street in downtown Columbus). Call 614-469-0939 for information.