The Cleveland Institute of Music Lauds Student Successes At Sphinx, Elmar Oliveira International Violin Competitions
Alexandra Switala won second prize at the 2023 Sphinx Competition. Zachary Brandon earned an honorable mention at the 2023 Elmar Oliveira International Violin Competition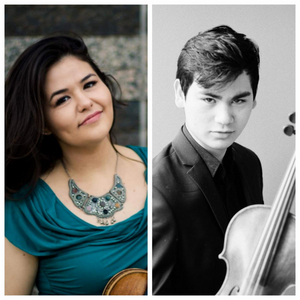 The Cleveland Institute of Music celebrates strong showings by current and former CIM students at two of the nation's highest-profile string competitions last weekend.
Alexandra Switala (2018-20, I. Kaler) took second prize in the Senior Division at the 2023 Sphinx Competition, held in Detroit, Mich., while professional studies student Zachary Brandon (Laredo/Rose/Sloman) earned honorable mention at the Elmar Oliveira International Violin Competition, in Boca Raton, Fla.
Both events rank among the most important instrumental competitions in the U.S. The Sphinx Competition in particular is notable for recognizing young Black and Latinx artists, whose cultures have long been underrepresented in classical music.
"We would have hailed Allie and Zach as victors no matter what the juries decided," said CIM President and CEO Paul Hogle. "It is no small feat to make it to the final round of a major competition. By doing so, Allie and Zach have embodied the CIM standard of excellence and proved that CIM is the future of classical music."
Switala, currently a member of the Milwaukee Symphony Orchestra, began her musical studies at age four in her native Texas and moved to Chicago in 2010 to study with Roland and Almita Vamos. She made her solo debut with the Ft. Worth Symphony Orchestra at age 13 and went on to appear with numerous ensembles, including The Cleveland Orchestra. In 2011, she won the Junior Division of the Sphinx Competition and took second prize at the Thomas & Evon Cooper International Competition.
At Sphinx in 2023, Switala performed the first movement of Samuel Coleridge-Taylor's Concerto for Violin in G Minor, Op. 80 with the Sphinx Symphony Orchestra conducted by Kalena Bovell. Her second prize award was $20,000.
Brandon is a current master's degree student at CIM, where he studies with Jaime Laredo and Stephen Rose. He has performed with several orchestras, including those of Toledo, Kalamazoo, Fort Wayne, Lansing and Battle Creek. He also has flourished at other contests, earning prizes at the Cooper, Stradivarius and Stulberg Competitions, and has taught at the Colburn Community School in Los Angeles.
At the Oliveira International Violin Competition, Brandon performed the Sibelius Violin Concerto in D Minor with the Lynn Philharmonia, under Guillermo Figueroa. His honorable mention entailed a cash prize of $5,000 from the family of Gerald and Barbara Arbetter and The Goldberg Foundation.
The Cleveland Institute of Music empowers the world's most talented classical music students to fulfill their dreams and potential. Its graduates command the most celebrated and revered stages in the world as soloists, leading roles, chamber musicians and ensemble members; compose meaningful, award-winning new repertoire; produce Grammy Award-winning recordings; and are highly sought-after teaching artists, administrators and thought leaders. A testament to the excellence of a CIM education, more than half of the members of The Cleveland Orchestra are connected to CIM as members of the faculty, alumni or both, and CIM alumni occupy hundreds of chairs in major orchestras worldwide. The school's increasingly diverse collegiate and pre-college student bodies benefit from access to world-renowned visiting artists, intensive study with CIM's stellar faculty and the rich curriculum offered by CIM's partner, Case Western Reserve University. A leader among its peers, CIM is the largest presenter of free performances, master classes and community concerts in the Midwest, hosting hundreds of events each year on campus and at locations regionwide, including Severance Music Center. Explore cim.edu to learn more.