VOICES OF A SIREN Hong Kong Performance Comes to Adelaide Fringe 2023
Performances run 9-13 March.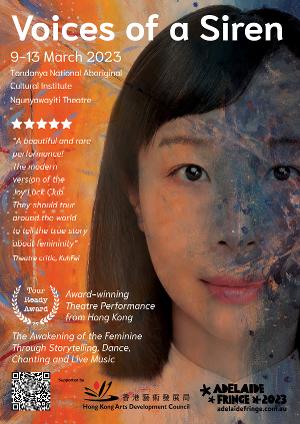 Award-winning solo performance about women over three generations. A mystic siren calls out from distant shores to take the audience on an astral journey of healing, forgiveness, and reconciliation. The awakening of the feminine within through monologues, dance, chanting, and live music liberates a past bondage and leads to spiritual metamorphosis.
In the mythical legend, sirens are seductive creatures who sacrifice for love. She cries out from the deep ocean, enlightening women whose souls had been suppressed throughout the ages. These stories are bound by the aspirations for women, about who they can be. Each with her own story, walking through tumultuous times, at the crux of the new and old,
confronting the changing ordeals of each epoch.A thin membrane exists between fact and fiction, dreams and illusions, across the intertwined destinies of three generations of women and their interpretations of love. Expressed through a series of monologues, dance and musical performance, this intergenerational journey tempts the audience to understand the deeper struggles of Chinese women, who had to fight the patriarchal structure of traditions and customs and who finally undergo a spiritual metamorphosis, releasing centuries of bondage and pain.
This production was selected to be a part of the Let's Be Together Art Festival x HK 2021 and Arts' Options "Hong Kong Made" Woman's festival 2021 special Programme and received the Adelaide Fringe Tour Ready Award (Hong Kong) 2021.
09 March 2023 -1:00pm - 2:00pm
09 March 2023 -12/03/2023 6:00pm - 7:00pm
10 March 2023 -12/03/2023 9:00pm - 10:00pm
13 March 2023 - 3:00pm - 4:00pm

Ngunyawayiti Theatre, Tandanya National Aboriginal Cultural Institute
253 Grenfell St, Adelaide SA 5000, Australia
Tickets A$15-25