Guest Blog: Passport to China - Day 3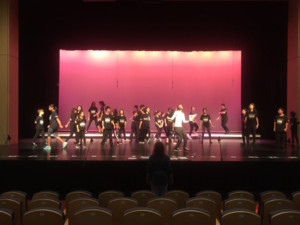 Perspective of the Music Director - Seth Weinstein
Blog #3- June 22, 2017

Last year, the American International School of Guangzhou converted an on-campus warehouse into a gorgeous 497-seat theatre. It still smells of fresh wood and polish. Yesterday we moved from the dance studio into the theatre for the remainder of our rehearsals.
Somehow the energy was lacking on our first morning as we got accustomed to the space. Was it because we had recently finished learning the show and completed a run-through, and therefore we felt the bulk of our work was done? Or was it because we were in unfamiliar surroundings? Or had we simply had too many long practice days in a row? Whatever the case, it took a pep talk among the students to raise the adrenaline level. Also, while many of the cast have learned their materials cold, a few stragglers are struggling with harmonies, lyrics, and steps, which is frustrating for the others and impedes our storytelling.
Yesterday afternoon we were visited by the British touring company of Wicked, who are nearing the end of their year-long contracts. They watched three excerpts from our show, including a medley of rapid-fire upbeat songs, a love montage, and a passionate duet. After a round of applause, our guests gave some tips to our cast.
"If you're at the back, we still see you," one cast member said. "If your energy isn't the same as everyone else's, we will notice."
"We all started in drama programs such as this," another remarked. "I was super-shy. This was what made me not nervous."
"If you don't know your choreography and lyrics one hundred percent, you can't have your heart in it."
"Hmm," our director said. "Has anyone told you that before?"
Then our students had the opportunity to ask questions of theWicked cast. One couldn't wait to see whether our experience was customary: "Does your director try to push you super-hard?"
The response: "Always. You have to trust your director. The one thing you can't do is watch yourself. You can record yourself, but you need a director to see the whole picture. Also, you can always try to do better. Otherwise someone else will get your job!"
Another student asked, "How do you guys deal with mistakes onstage?"
"We laugh. It happens. Don't beat yourself up; just get on with it. Nobody knows you made a mistake unless you show it." A few of the Wicked cast told of onstage mishaps, mostly involving tripping over a bulky costume and being unable to get up. "Just stay in character."
Staying in character seems to be the cast's biggest challenge. Most of them are onstage for almost the entire hour, and it's each person's responsibility to sustain a convincing personality throughout. Gradually they are discovering the effort required to do that, and we envision a very moving performance in three days.

Perspective of the Head of Visual and Performing Arts at AISG - Betty Lin
Blog #3- June 22, 2017
Layers and Meaning! Energy, Focus and Connections! The themes for today and this program! Yesterday, the students left rehearsal with energy and focus after the exciting visit from the cast of Wicked. Today, they have to find the same focus within themselves!
Not long ago, I asked the students what the difference between a chef and a cook was. The students rightly pointed out many differences but one thing they all understood at the end of the discussion was that a chef was an artist who could cook difficult dishes brilliantly every time, no matter the circumstances, whereas a cook was someone who was interested in cooking and could successfully cook something difficult, some or most of the time.
The beauty of the Students Live, Passport to Broadway program is that under the guidance of Amy, Seth and Jeff, we are showing ways for students to be able to reach professional standard: in other words - to become the chef in musical theatre! As the students are finding out, the journey is hard and requires dedication and perseverance. They may not get there yet but we are providing the tools and opportunity for students to aspire to be better than themselves and eventually to achieve great things. Isn't this what education is ultimately all about?
Betty Lin
Head of Visual and Performing Arts
AISGZ faculty
Perspective of the Student Assistant Director - Gloria Huang
Blog #3- June 22, 2017
Yesterday (June 21) was a day full of excitement and surprise. We finally moved into AISG's brand new theater that's not even a month old, we were visited by the international touring cast of Wicked, and last but not least, Broadway World was kind enough to allow us to take over their Instagram and Facebook account to broadcast rehearsals and performances live.
In the beginning of the day, students were struggling with performing with energy. However, perhaps due to knowing that the cast of Wicked will be visiting and that their performances will be broadcasted live, every student's energy suddenly returned and shined through their performances.
The most nerve-wracking part of the day for everyone was when the cast of Wicked arrived at AISG's campus. Students were nervous about performing in front of them, the creative team was nervous about how the Wicked cast will react to the performance. It turns out that the Wicked cast was incredibly nice and enthusiastic. It is incredibly rare to see a professional musical theatre cast give a standing ovation with cheers for a student performance. All of the cast members are so nice and excited, and their passion for musical theatre shines through the way how they interacted with the students.
The positive reaction from the cast of Wicked gave the creative team and the students more confidence and encouragement for the show that they are working on. Students received great pieces of advice from the actors about acting and performing in general, this will for sure help them and give them confidence.
The students and creative team have 3 days left to put on a show. They grew so much from the day first timidly auditioned for which characters they were going to play. It's a beautiful and extraordinary sight to see the students blossom into beautiful flowers. The only challenge right now is that students cannot give their all the first time they perform. It takes a long time for them to slowly warm up to "feel" their performance. However, no doubt, the students will give their 500% by the time of the final performance.