Trap Door Theatre's THE MARTYRDOM OF PETER OHEY Extends Through March 26
The show opened on Thursday, February 3rd at 8PM.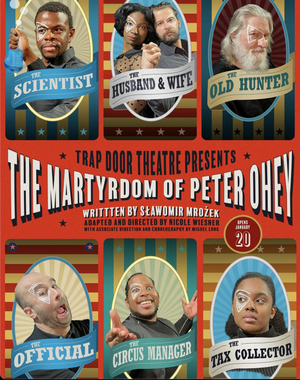 Director Nicole Wiesner brings her signature Trap Door style to adapt and direct this obscure Mrożek farce. One of Poland's most celebrated playwrights, Sławomir Mrożek wrote this absurdist piece as a subtle critique of the political system of the time. In The Martyrdom of Peter Ohey, a family's home life turns upside down when a tiger suddenly appears in their bathroom. As more and more absurd characters invade their home (a Scientist, a Government Official, a Circus Manager, and more), the family must decide whether or not to give in and join the circus.
Lighting Designer: Richard Norwood / Set Designer: Michael Griggs / Costume Designer: Rachel Sypniewski / Original Music and Sound Design: Danny Rockett/ Make-up Designer: Zsofia Otvos / Graphic Designer: Michal Janicki / Understudy/Swings: David Lovejoy and Tia Pinson / Stage Manager: Anna Klos
Opens: Thursday, February 3rd at 8PM (CST)
Closes: Extended through Saturday, March 26th at 8PM (CST)
Runs: Thursdays, Fridays and Saturdays at 8PM (CST)
Admission: $25 on Thursdays, Fridays, and Saturdays, with 2 for 1 admission on Thursdays.
https://trapdoor.ticketleap.com/the-martyrdom-of-peter-ohey/
Where: Trap Door Theatre is located at 1655 W. Cortland St.