Shakespeare Project Of Chicago Presents Free Performances Of Rarely Seen PERICLES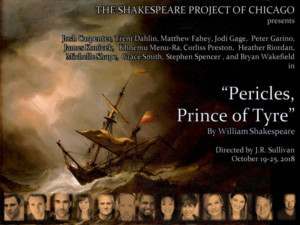 The Shakespeare Project of Chicago kicks off its 24th Theatrical Reading Season with free performances of Shakespeare and Wilkins's rarely seen epic romance PERICLES, PRINCE OF TYRE, running Oct. 19-25, 2018, at eight Chicago-area venues, including two venues new for this season in La Grange and Elmhurst.
PERICLES, PRINCE OF TYRE, is one of Shakespeare's last plays, one of his greatest romances, and thought to be co-authored with fellow playwright George Wilkins. Pericles is a virtuous, good man that has some terrible things happen to him. In Pericles, we are asked the question: How much misfortune can one person endure? He discovers a terrible truth and is subsequently pursued by an assassin. He falls in love and weds a beautiful princess only to have her die while giving birth during a raging sea storm. He rescues a nation from starvation only to have its rulers attempt to murder his only child due to petty jealousy. On we go. Pericles' journey tests the human spirit to its furthest limits of patience and anger, hope and despair. His journey becomes our journey: a journey through a world whose capricious winds may blow our little helpless sails up and down, to and fro, on an indifferent sea; where our ability to survive becomes dependent on our ability to endure.
J.R. Sullivan directs a cast that includes Josh Carpenter (Pericles), Matthew Fahey (Antiochus, Simonides), Jodi Gage (Thaisa), Peter Garino (Helicanus), James Konicek (Gower, Marshall, Pander), Khnemu Menu-Ra (Thaliard, Boult), Corliss Preston (Escanes, Dionyza), Heather Riordan (Lychordia, Bawd), Michelle Shupe (Cerimon, Diana), Grace Smith (Daughter of Antiochus, Marina), Stephen Spencer (Cleon) and Bryan Wakefield (Lysimachus, Leonine).
The production features original music performed by Trent Dahlin and sound design and original music by George Zahora. Bailey Savage is the assistant director and dramaturg.
The Shakespeare Project of Chicago's Theatrical Readings are fully staged, book-in-hand performances featuring members of Actors' Equity Association, the union of professional actors and stage managers.
Admission is free and seating is limited. All performances are preceded by an introduction to the play that commences 15 minutes prior to curtain.
Performance schedule
- Fri., Oct. 19, 7 p.m., Niles-Maine District Library, 6960 W. Oakton St., Niles (registration required, 847-663-1234)
- Sat., Oct. 20, 10 a.m., The Newberry Library, 60 W. Walton St., Chicago
- Sat., Oct. 20, 2 p.m., Wilmette Public Library, 1242 Wilmette Ave., Wilmette
- Sun., Oct. 21, 2 p.m., Highland Park Public Library, 494 Laurel Ave., Highland Park
- Mon., Oct. 22, 6:30 p.m., Vernon Area Public Library, 300 Olde Half Day Road, Lincolnshire (registration required, 847-634-3650)
- Tue., Oct. 23, 7:15 p.m., Mount Prospect Public Library, 10 S. Emerson St., Mount Prospect (registration required, 847-253-5675)
- Wed., Oct. 24, 7:15 p.m., Plymouth Place, 315 N. La Grange Road, LaGrange Park (708-482-6511 to request an invitation for Plymouth Place)
- Thurs., Oct. 25, 6:30 p.m., Elmhurst Public Library, 125 S. Prospect Avenue, Elmhurst
The Shakespeare Projects's 2018/19 Theatrical Reading Season will continue in January with TITUS ANDRONICUS, directed by Michelle Shupe.
For more information, visit www.shakespeareprojectchicago.org and www.facebook.com/shakespeareprojectchicago.