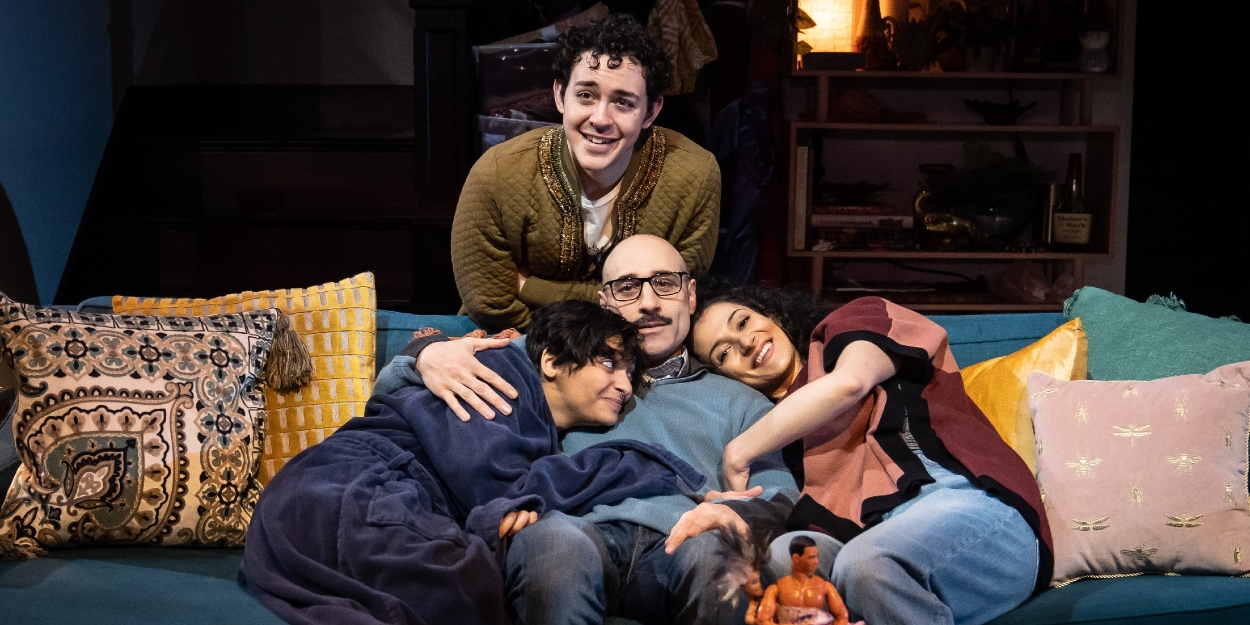 Review: LAYALINA at Goodman Theatre
The world premiere runs through April 2, 2023
Martin Yousif Zebari's LAYALINA is a heartwarming multigenerational family play that spans from Baghdad to Skokie. While Zebari doesn't shy away from portraying the family's trauma and the challenges of their immigrant experiences, LAYALINA is the opposite of many other family plays. It's about how the central family tries to reconnect and find commonalities, despite their generational and cultural differences. I first saw LAYALINA at Goodman Theatre's New Stages Festival in 2021, and I thought it was beautifully structured and touching at that time. The structure remains the same, but now it's even more hopefully optimistic.
The first act takes audiences to Baghdad in 2003. Newlywed 17-year-old Layal (Becca Khalil) and her husband Sahir (Waseem Alzer) eagerly await the day they'll depart for a new life in Skokie, where they'll reunite with Sahir's parents Farid (heard in voiceover from Jonathan Shaboo) and Samira (likewise, Shadee Vossoughi) and his younger brother, Amin. Meanwhile, Layal's older brother Mazin (Ali Louis Bourzgui) awaits his departure for Australia, where his future wife and in-laws wait. After Layal's parents Karima (Atra Asdou) and Yasir (Mattico David) find out their permission to emigrate was denied, Layal must decide if she'll assume the immense responsibility of taking her much younger siblings Marwa and Yousif to the States. After tragedy strikes, Layal finds herself taking the journey to Skokie solo with siblings in tow.
In the second act, it's March 2020 in Skokie, Illinois. With the COVID-19 lockdown on horizon, Layal reunites with Mazin after 17 years apart. Forced to take on the role of caretaker for her siblings, now in their early 20s, Layal also finds herself with the opportunity to finally pursue her passion for fashion design. When Mazin appears on her doorstep, Layal must reconcile her family's past with her present life in America. Asdou and David assume the roles of adult Layal and Mazin, so metaphorically the children become their parents. Likewise, Khalil plays young adult Marwa, who identifies as non-binary, while Alzer portrays Amin and Bourgzgui plays Yousif. Directed by Sivan Battat, it's a testament to the ensemble that they play each of their characters beautifully and distinctively.
LAYALINA's also a touching celebration of queer identity. Before Mazin appears, Marwa, Yousif, and Amin joke that they need to instate a code for "queer danger" should he say anything out of turn. Mazin, who grew up closeted, now takes on the role of the older family member who must try to understand his younger siblings. Layal likewise straddles that line between tradition and forward-thinking. Asdou embodies that beautifully in her portrayal; her Layal is determined and a devoted guardian, but she's also tender. As the play's sole non-binary character Marwa feels pressure to educate her older siblings about her identity, but LAYALINA never becomes didactic. Instead, the queer characters are allowed to live as they are.
The production design mirrors the play's dual time periods. casaboyce's set design is a modern and well-appointed home, though the Iraqi cultural details from act one are swapped for a distinctly American style in act two (think: lots of throw pillows on the couch and just the right amount of clutter). Dina El-Aziz's costumes become narrative threads for the characters; Layal and Mazin wear similar outfits in both acts, with the styles updated to reflect 2020 trends in the latter half (think: low-rise jeans in act one vs. high-rise jeans in act two). It's a subtle way to demonstrate that while our tastes may change as we grow older, we still hold onto elements of our identity and style.
LAYALINA is a celebration of family and the desire for multiple generations to connect. The characters are determined to find ways to preserve their Iraqi culture, while assimilating to life in Skokie.
LAYALINA plays the Owen Theatre at Goodman Theatre through April 2, 2023. Tickets are $15-$50.