Photo Flash: Lifeline Theatre KidSeries' DOOBY DOOBY MOO
Lifeline Theatre KidSeries presents the world premiere musical adaptation "Dooby Dooby Moo," based on the popular bestseller by Doreen Cronin, illustrated by Betsy Lewin, adapted by ensemble member James E. Grote, music and lyrics by George Howe, and directed by ensemble member Shole Milos (Lifeline's same team that presented 2008's Cronin/Lewin hit "Duck for President"). The County Fair is coming, and the grand prize in the talent competition is a trampoline! Duck wants that prize, but with Farmer Brown watching around every corner, how will he hold singing and dancing rehearsals for Cow, Pig and Ewe? Hop aboard Farmer Brown's truck and travel to the fair with this new musical about sharing your talents and reaching for your dreams. This production is appropriate for children ages five to ten, and runs about one hour with no intermission.
Author Cronin and illustrator Lewin will be at the October 18, 2009, opening from 12 noon-1 p.m. for a meet-and-greet and book signings (this pre-show event is free). The book and cast recording CDs will be on sale in the lobby.
Lifeline is offering season subscriptions to all three 27th anniversary season KidSeries shows for $27 (and all three MainStage plays for $75). Being a Lifeline subscriber allows patrons to save up to 25% off regular ticket prices; offers discounts on additional tickets for friends and family; gives first choice of seats with unlimited free ticket exchanges (and includes reminder cards for shows selected, plus a reminder call a few days before the reservation); knocks 25% off party room rental for audience pre- or post-show events; and offers subscriber events such as sneak peeks of the rehearsal process, book discussions with the creative team, and author signings.
WHERE: Lifeline Theatre, 6912 N. Glenwood Ave., Chicago, IL 60626
Parking available (street and lot - see below); CTA accessible (Red Line Morse stop/buses) Free designated parking lot west of the theatre at the NE corner of Morse and Ravenswood with free shuttle service before and after the show. Handicapped accessible
WHEN: Press opening Sunday, October 18, 2009, at 1 p.m. Closes December 6, 2009 Runs Saturdays at 1 p.m., and Sundays at 11 a.m. and 1 p.m. Previews on October 17 at 1 p.m., and October 18 at 11 a.m.
TICKETS: 773-761-4477
$12 for both children and adults for all shows Pay-what-you-can tickets (half-hour before the show - subject to availability) Group rates and other discounts also available on request Party room available for full-service birthday and special event parties $27 for all three 27th anniversary season KidSeries shows (see WHAT above)
Rogers Park Theatre Flex Pass at http://rogersparkflexpass.com/
Lifeline ensemble members Shole Milos (Director), James E. Grote (Adaptor), and Alan Donahue (Scenic and Properties Design), with guest artists Jana Anderson (Costume Design), Matthew Gawryk (Lighting Design), George Howe (Composer/Lyricist), Tony Ingram (Sound Design) and Ellen Willett (Stage Manager).
Guest artists Heather Currie (Cow), Elizabeth Dowling (Pig), Amanda Link (Ewe), Nathaniel Neimi (Duck), and Craig Thompson (Farmer Brown). With understudies Benjamin Kirberger and Mallory Nees.
The 8th Annual Glenwood Avenue Arts Festival will run August 22-23, 2009, and takes place on 6900 - 7000 North Glenwood Avenue (between Farwell and Lunt), and the 1400 block of Morse Avenue, steps from the Morse Ave stop on the CTA Red Line, with free parking nearby. This popular Northside festival features arts and crafts, theater, music, food and drink for the whole family on the brick streets of historic Rogers Park. More details available at 773-761-4477 x701 and www.GlenwoodAve.org
Photo by Suzanne Plunkett.

Nathaniel Niemi, Amanda Link, Elizabeth Dowling, and Heather Currie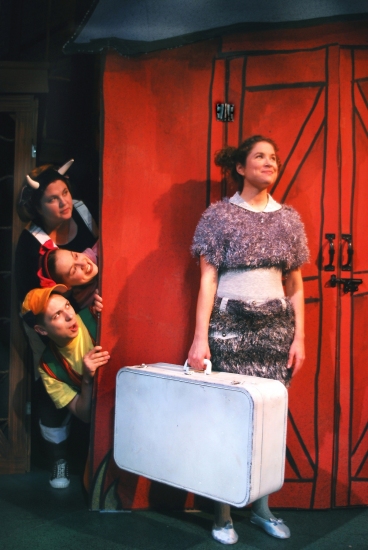 Nathaniel Niemi, Elizabeth Dowling, Heather Currie, Amanda Link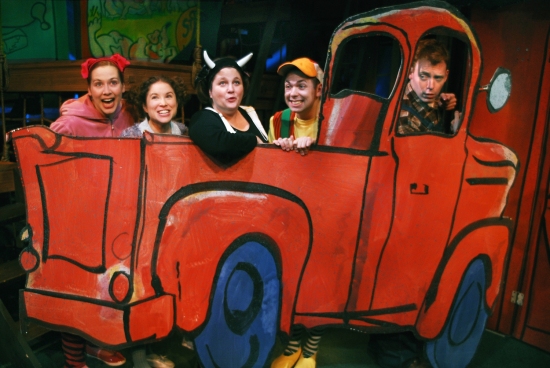 Elizabeth Dowling, Amanda Link, Heather Currie, Nathaniel Niemi, and Benjamin Kirberger