Photo Flash: Akvavit Theatre's RISING TEMPERATURES Plays Four Performances Only
Journey into a near-future dystopia where humans struggle to survive in an increasingly hostile environment as Akvavit Theatre and Dramafronten present RISING TEMPERATURES, four linked, site-specific world premiere Danish plays presented in Chicago's Andersonville neighborhood. The four short works are written by Danish playwrights Rhea Leman, Joan Rang Christensen, Kristian Halken and Jens Kløft and directed by Co-Artistic Director Breahan Pautsch*, Linsey Falls, Lindsay Tornquist and Lee Peters. RISING TEMPERATURES will play November 27 - 30, 2018. The tour begins at 5153 N. Clark St. #306 and travels to the Swedish American Museum (5211 N. Clark St.) and the Andersonville Galleria (5247 N. Clark St.). Tickets are currently available at chicagonordic.org.
RISING TEMPERATURES includes:
BLEEDING HEART
By Rhea Leman, Directed by Co-Artistic Director Breahan Pautsch*
Featuring: Mary Jo Bolduc, Kirstin Franklin*, Micah Kronlokken* and Mark Litwicki
In the shadow of the environmental apocalypse four doctors who failed to save the world, struggle to save themselves.
SOLAR STORM
By Jens Kløft, Directed by Linsey Falls
Featuring: Madelyn Loehr*, Jeffrey Paschal and Pat Tinsley
In this light-hearted-apocalyptic comedy, a young couple expecting their first child takes shelter from a dangerous solar flare and encounters a shelter warden who believes the rulebook can save their lives - but can it?
ESCAPE
By Kristian Halken, Directed by Lindsay Tornquist
Featuring: Turner Frankosky, Jude Hansen and Lucy Pearce
Three friends struggle to escape a flooding Denmark. When the only way to survive is to escape, what would you give up to get out?
IT'S GETTING WARMER
By Joan Rang Christensen, Directed by Lee Peters
Featuring: Jessika Cummins, Christopher Donaldson and Noelle Klyce
As resources become limited and political tensions escalate, Denmark has become a dangerous place for people of color. A mixed-race family struggles with the question of whether to fight or flee: is it a question of life or death - or a question of right or wrong?
The production team for RISING TEMPERATURES includes: Lily Walls (costume design), Rhea Leman (dramaturg) and Sean Pruett-Jones (stage manager).
Photo Credit: Karl Clifton-Soderstrom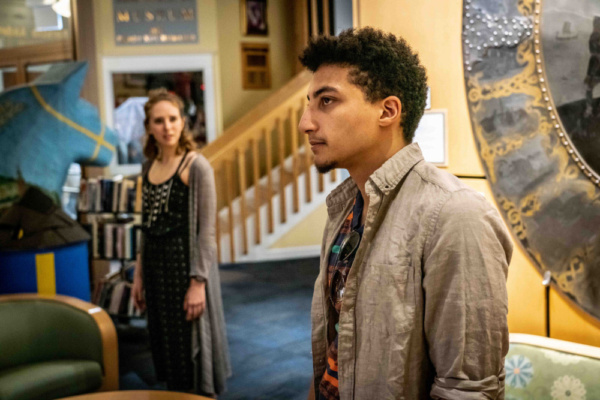 Madelyn Loehr and Jeffrey Paschal

Madelyn Loehr, Pat Tinsley and Jeffrey Paschal

Jessika Cummins, Christopher Donaldson and Noelle Klyce

Jessika Cummins and Christopher Donaldson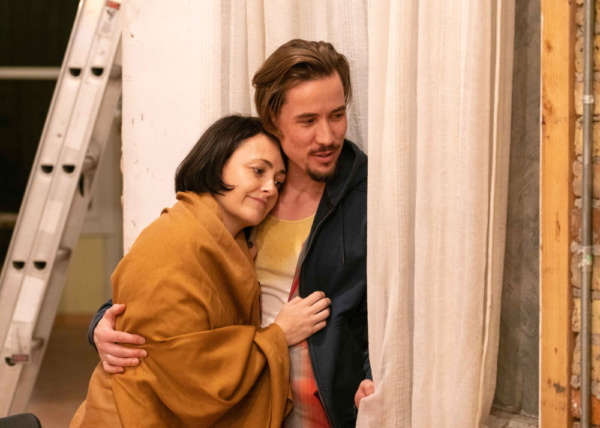 Lucy Pearce and Jude Hansen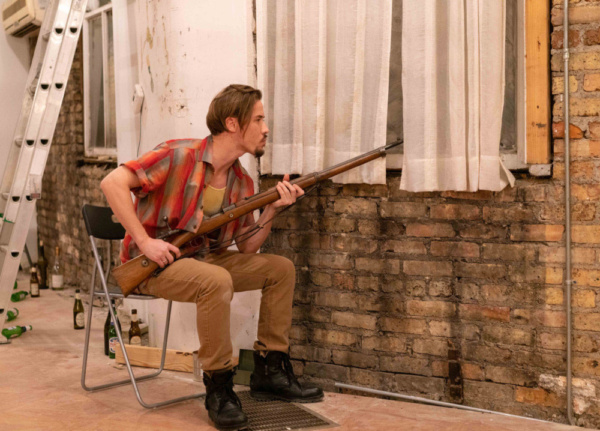 Jude Hansen

Kirstin Franklin, Micah Kronlokken and Mary Jo Buldoc

Kirstin Franklin