Photo: 2nd Annual International Women's Day Concert Presented By Working In Concert's Bellissima Opera
The program featured presentations of many works by women composers and lyricists, all performed by women.
Working In Concert's 2nd annual International Women's Day concert - A Tribute to Women in the Arts brought to the Oak Park area, on Sunday, March 5, 2023, a group of world-class musicians in a celebration of women artists. The program featured presentations of many works by women composers and lyricists, all performed by women. Opera soloists, of the highest caliber, with glorious voices, ample, opulent in tone, and wonderfully expressive in dynamic ranges that took our breath away.
See a photo below!
C21 Women's Ensemble sonorously breathes life back into the space and audience with their warm strength as roles they navigate daily as professionals, daughters, mothers, partners, and teachers. Under the direction of Martha Swisher, C21's goal is to create musical experiences of deeper meaning and they absolutely do (and more)!
It was producer, Claudia Hommel and her esteemed partner, Christine Steyer who were able to commission a new work with an awarded grant from the ?Chicago Women Musicians. A key part of honoring women's contributions to music history is by creating more equitable opportunities for women performers.
The composer perfectly blends the lyricism and intensity of the score, while the quartet gives a truly great performance. MG's music address is a meditation and an opportunity to pause, interpret and share the feelings (essence) of being alive in someway.
Christine's tender heart gave way to creating the powerful commission and Elizabeth Doyle's skilled insight into viewing another artist's craft and knowing people directly impacted this work. Elizabeth is a musical storyteller who braids, finding universal experience in the process of collaboration.
"It was Christine who came up with the question, 'Will they remember life was beautiful?' (This came from her concern for the youth. She and I had done workshops with students in the Chicago Public school system together and she is a teaching artist.) The question haunted me and became the refrain for the song. People connect strongly to Christine's refrain. It gives us a way to enter sadness while being tethered to beauty." - Mary Grace Bertulfo (MG)
Art is a place where we can hear the pain of our community, empathize, and hold compassion. And, regardless of whether the composer is dead or alive and as guardians to help audiences understand them to be enriched as evolving human beings - it's the reason we play new music, for these are the voices that are in society now to comment on. Stay tuned for the quartet video to drop soon!
The anticipation in the audience felt more harrowing in its veracity and immediacy desire to resolve issues of violence, justice, equity, and overall feelings of disconnection during the pandemic pause. It is a joy to be together! It is essential we lift up our community and resume the vibrancy that arts can provide. We owe an enormous amount to our community of artists, sponsors, neighbors - lovers of art and those committed to keeping the music alive. We are ALL in this together!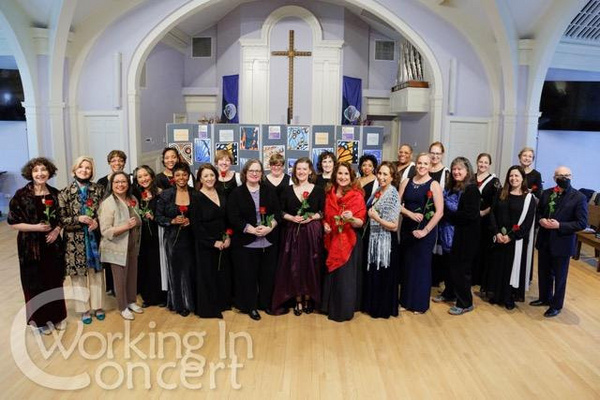 Bellissima Opera and Working In Concert''s 2nd International Women''s Day Concert (Feat. Various Artists) including C21 Women''s Ensemble, Anna Tonna, Sarah Kropski, Susan Nelson, Christine Steyer, Claud