Northlight Theatre Extends ANDY WARHOL IN IRAN
The production has been extended through February 26, 2023.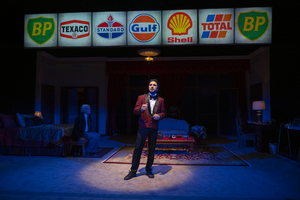 Northlight Theatre, under the direction of Artistic Director BJ Jones and Executive Director Timothy J. Evans, has announced the extension of Andy Warhol in Iran by Brent Askari, directed by BJ Jones. Five performances have been added, now running through February 26, 2023, at Northlight Theatre, 9501 Skokie Blvd in Skokie.
In 1976, the artist Andy Warhol, having re-invented himself as the portrait painter of the rich and famous, travels to Tehran to take Polaroids of the Shah of Iran's wife. Amidst taking in the Crown Jewels and ordering room service caviar, Warhol encounters a young revolutionary who throws his plans into turmoil and opens the pop icon's eyes to a wider world.
"When I first read Andy Warhol in Iran, it had not yet been produced. My interest in producing this show was primarily due to my curiosity about Andy Warhol. He did, after all, coin the phrase, 'In the future everyone will be world-famous for 15 minutes'- which does wonders for everyone's sense of hope and self-image. Since Andy's time, the revolutionary events in Iran have changed the balance of the events in the play in an important and intriguing way," says BJ Jones. "It has become a fascinating look at the history of political unrest in Iran and how it informs the current upheaval, led by women. It also reaffirms our own view of the dangers of theocracy to a democratic state. The characters in Brent Askari's piece, Andy Warhol and Farhad, are both revolutionaries: Andy a disrupter as an artist, and Farhad, seeking to overthrow the Shah. These two revolutionaries meet and realize their deeper connections rather than their obvious differences."
The cast of Andy Warhol in Iran includes: Rob Lindley (Andy) and Hamid Dehghani (Farhad).
The creative team includes Todd Rosenthal (Scenic Design), Izumi Inaba (Costume Design), Heather Gilbert (Lighting Design), Andre Pluess (Co-Sound Design), Forrest Gregor (Co-Sound Design), Mike Tutaj (Projection Design), and Jyreika Guest (Violence Coordinator). The stage manager is Rita Vreeland.
Northlight's production of Andy Warhol in Iran is supported in part by Paul Epner and Janet Gans Epner, Karen and Luke DeGrand, Joan and Jim Ducayet, Donna and Gene Frett, Greg and Anne Taubeneck, Nan Greenough.