Chopin Theatre Celebrates Centennial With Wicker Park Dignitaries And Dance Party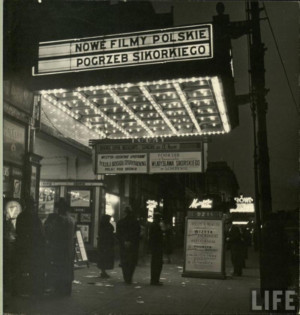 Chopin Theatre, the multidisciplinary arts center in the heart of Wicker Park, 1543 W. Division, turns 100 in 2018. To mark the centennial anniversary, owners Lela Headd Dyrkacz and Zygmunt Dyrkacz are hosting a celebration on Oct 29 from 5 p.m. to Midnight, providing a sneak peek of the forthcoming book on Nov. 5 during the "All Souls Jazz Festival" and releasing the book "Around Chopin Theatre: A Century in Pictures & Stories"on Nov. 24. The Oct. 29 celebration is free for past artists associated with Chopin Theatre and general admission tickets are $30. For more information and to RSVP visit www.ChopinTheatre.com
Monday, October 29 The Oct. 29 centennial celebration fills the Chopin Theatre with activities from the downstairs Pregnant Buffalo Lounge and studio theater to the upstairs main stage. The event, described as an Art & Environment Get Together, includes, a panel discussion with leaders from former prominent Wicker Park arts organizations such as Michael Warr of The Guild Complex, Kate Smith of Bop Shop, Edward Torres of Chicago Latino Theatre, Elizabeth Burke-Dain of Around the Coyote, a representative from Hothouse and Zygmunt, current owner of Chopin Theatre. Award-winning German artist and architect Daniel Theiler presents his recent work. There is also a complimentary reception, dinner and dance party. (Full schedule below).
"We are excited to celebrate 100 years of the Chopin Theatre in the neighborhood," said Zygmunt. "We believe in transformative abilities of art and how art influences the environment through civility and experiences. Chopin Theatre is a platform from which others can tell their stories and the Centennial celebration is a time to share the stories of Wicker Park's transformative years."
Monday November 5th A sneak peek of the book "Around Chopin Theatre: A Century in Pictures & Stories" is presented along with the music of those times during the 20th annual "All Souls Jazz Festival" Nov. 5 at 7 p.m. Tickets are $38 and $52 and available at www.ChopinTheatre.com
Saturday November 24th On Small Business Saturday, Nov. 24, Chopin Theatre will release "Around Chopin Theatre: A Century in Pictures & Stories" commemorating the 100th anniversary of the building of Chopin Theatre and recordings of the most significant events. The book will be 8x10 hardcover with glossy images. The book is $19.95 and will be sold day-of in the theatre and through www.ChopinTheatre.com
"We are so proud of being a part of Wicker Park during such an important time in Chicago's history," said Lela. "This 100-year celebration shows the power one building can have in keeping a community feeling like a community. We want to make sure we have that space for people to come together and connect in a real way."
According to the Theater Historical Society of America, the theater opened March 11, 1918 and was designed by architects Worthmann & Steinbach. The nickelodeon originally had 546 seats and was operated by Victor Bardonski. In 1923 it was renamed the Harding and the seating capacity was expanded to 987. By 1931 it was called the Chopin again but underwent another name change to the Pix Theater. The building is located across the Polish Triangle in the area once known as Polish Downtown.
In 1955 the building changed to Security Federal Savings & Loan which later moved across the street. When the Dyrkaczs purchased the building in 1990, it was vacant except for the small 200 sq. ft Eddie's Bistro. The Dyrkaczs have restored it to its present charm. Today, across three stages, Chopin Theatre presents over 500 events annually ranging from theater to jazz and classical music, literary events, films and social events.
Since 1990, Chopin Theatre has presented over 120 of its own productions, mostly Eastern and Central European. It has hosted performers from each American state and from over 40 countries. It produced I-Fest, an international festival of solo performances which brought to 17 International Artists from Austria, England, Finland, France, Germany, Lithuania, Poland, Russia, Slovenia, Switzerland and Ukraine to Chicago. It boasts of bringing over 1 million people to Chopin Theatre and Wicker Park.