Chimera Ensemble Announces Cast for US Premiere of DON'T SMOKE IN BED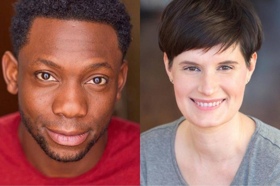 Chimera Ensemble today announced the casting for its US Premiere of DON'T SMOKE IN BED, written by award-winning playwright Aurin Squire, and directed by acclaimed director Chika Ike. Kai A. Ealy, who earlier this year appeared in MARY STUART at Chicago Shakespeare and FRANKLINLAND for Jackalope Theatre company; and ensemble member Nicole Fabbri, seen in Chimera's SISTER CITIES, will play an interracial couple being interviewed about their marriage by an unseen journalist via webcam. Director Ike comes to the project from her recent sellout hit DONTRELL, WHO KISSED THE SEA, by Nathan Alan Davis, produced by First Floor Theater. Ike's other recent directing credits include Janine Nabers's A SWELL IN THE GROUND (The Gift Theatre) and Lloyd Suh's FRANKLINLAND (Jackalope Theatre Company).
The production will go up June 15 - July 8 in The Pentagon Theater at Collaboraction Studios in The Flat Iron Arts Building, 1579 N. Milwaukee Ave, Chicago IL 60622. There will be one preview on Friday, June 15 at 7:30 pm.Opening night, followed by a reception, will be Saturday, June 16 at 7:30 pm.
DON'T SMOKE IN BED tells the story of Jamaican-American Richard (Ealy), and Irish-American Sheryl (Fabbri). As the couple open up about their relationship, inner demons are revealed and their effort to start a family together is complicated. DON'T SMOKE IN BED presents a rich, insightful exploration of how society's expectations influence what goes on behind closed doors. The play, which had its World Premiere in London in 2016, contains "intelligent, self-aware dialogue" and has been called "honest and raw" with "each scene more passionate than the last" (Annabel Mellor, THEATRE AND PERFORMANCE GUIDE AND GURU and Michelle Keepence, THE UPCOMING).
Aurin Squire
(Playwright) is a Brooklyn-based playwright and journalist whose work has been called "refreshingly clever" by THE NEW YORK TIMES. He is a 2015 graduate of The Julliard School's Lila Acheson Wallace
American Playwrights
Program, and took part in
The
Royal Court Theatre
's US Writer Programme, as well as the
Dramatists Guild
Fellowship. His plays include A FAMILY MANUAL FOR KWANZAA (The Kennedy Center MFA Workshop) THE GREAT BLACK SAMBO MACHINE (Lincoln Centre Lab and
Ars Nova
), DEFACING
Michael Jackson
(Nuyorican Poets Café workshop and winner of Lincoln Center's Act One Prize), TO WHOM IT MAY CONCERN (Abingdon Theatre and ArcLight Theatre productions), and AFRICAN AMERICANA (Brooklyn Arts Exchange and Theatre 503). Chika Ike (Director) is a Chicago-based director who comes to DON'T SMOKE IN BED fresh from a sold-out run of DONTRELL, WHO KISSED THE SEA, by
Nathan
Alan Davis
, produced by First Floor Theater. Other recent directing credits include
Janine Nabers
's A SWELL IN THE GROUND (The Gift Theatre) and
Lloyd Suh
's FRANKLINLAND (Jackalope Theatre Company). She has also worked with
Berkeley Repertory Theatre
, Victory Gardens, The Gift Theatre Company, American Blues Theatre Company, Eclipse Theatre, and Prologue Theatre Company. Chika is an ensemble member at The Gift Theatre Company and has received the SDCF Gielgud Directing Fellowship and the Bret C. Harte Directing Fellowship at
Berkeley Repertory Theatre
. Chika is also a member of the 2017-18 SDCF Observership class, and a member of the Victory Gardens Directors Inclusion Initiative. The production team for DON'T SMOKE IN BED includes Devonte E. Washington (Stage Manager), Milo Bue (Scenic Designer),
David Goodman
-Edberg (Lighting Designer), Gaby Labotka (Intimacy Designer), and Jake Engram (Technical Director).
https://dontsmokeinbedchimera.brownpapertickets.com/
More Hot Stories For You