BWW Review: Agatha Christie's AND THEN THERE WERE NONE Thrills at Drury Lane Theatre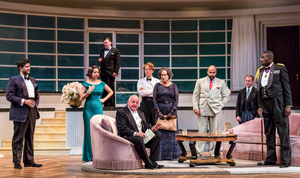 Agatha Christie, the "Queen of Mystery." The numbers speak for themselves: best-selling novelist of all time (more than two billion sold), most-translated author (more than 100 languages), and author of the world's longest running play (THE MOUSETRAP has played in the West End since the year Queen Elizabeth II took the throne). Christie originated countless murder mystery tropes, and her formidable talent for weaving intricate plots shines in AND THEN THERE WERE NONE, her best-selling novel and the world's best-selling mystery. Adapted for the stage by the author herself in 1943, the iconic thriller is now playing at Drury Lane Theatre in an intriguing new production directed by Jessica Fisch.
In 1930s England, ten strangers gather on a lonely island, having been lured under various pretenses by their enigmatic, wealthy, and absent host, U.N. Owen... or Mr. "Unknown." On the first evening, an apparently disembodied voice accuses each of the ten of a specific crime committed in the past, offenses that are impossible to prove or somehow beyond the law's reach. After this unsettling episode, the accused begin to die, one by one. Their causes of death eerily follow the pattern of the children's rhyme "Ten Little Soldiers," which counts down from ten to "none." In an increasingly tense, real-time murder mystery, the remaining characters must solve the riddle before they become the next victim.
At Drury Lane, Andrew Boyce's chic, modern set design, with lighting and projections by Driscoll Otto, channels Christie's knack for using setting to evoke a mood. At first, Mr. Owen's house on Soldier Island seems an idyllic retreat, with large bay windows overlooking the English Channel and the cliffs of Devonshire. But when the murders begin, it becomes ominously clear that the island has been selected precisely for its remote nature: no telephone can reach the mainland, no boat is stored on the island, and the electricity goes out after the generator dies. One memorable sequence takes place in complete darkness, with only the actors' voices and Ray Nardelli's sound design to elucidate the murderous proceedings.
Under Fisch's direction, Christie's flair for characterization comes to life. Marilyn Dodds Frank gives a delightfully comedic and equally sinister turn as Emily Brent, the spinster whose unrelenting religiosity drove a poor girl to her death. Yousof Sultani's Philip Lombard is charming and flirtatious, with enough underlying darkness to make his alleged crime of murdering 21 East African men quite believable. As Anthony Marston, Zachary Keller radiates the arrogant air of invincibility often found in the young and rich, while the elderly General Mackenzie (Bruce A. Young) elicits some laughs with his histrionic resignation to death. The heterogeneous group trapped on Soldier Island comprises people of diverse ages, occupations, and social classes: in other words, anyone could be a killer.
Though this ensemble give fine performances, the stage adaptation loses one key narrative element of the novel: the characters' rich internal dialog, which drives the book's suspense by gradually revealing each suspect's dark secrets in tantalizing flashbacks. Without these teasers, the play struggles to gather momentum in Act One, though the rapid pace of Acts Two and Three makes up for lost time (this is one efficient murderer). Delaying intermission until after Act Two could be one way around this problem; as is, the tension has only just begun to build when the lights go up after Act One.
Despite the pacing challenges, the inherent differences in narrative style between novel and play offer a director scope to make detailed, clever choices. Fisch admirably rises to the occasion. As a Christie fan, I already knew the killer's identity from the novel, and I watched them closely for a telltale gesture leading up to the first murder. I'll admit that the sleight-of-hand blocking caused me to miss the key moment. Later, one victim remains dead on stage for an extended time, presumed to be asleep by the others. Throughout this scene, Fisch carefully ensures that every surviving character travels within close enough proximity to the reposed body that anyone plausibly could have killed the victim. It's a stimulating challenge to watch for these nuances, which pay tribute to Fisch's intelligent direction.
Without spoilers, I can assure fans of the novel that surprises await them in the stage adaptation. For newcomers, I envy them their first experience of this masterpiece by the Queen of Mystery. And to all who dare the journey to Soldier Island, keep your wits about you, and heed the rhyme...
AND THEN THERE WERE NONE plays through September 1 at Drury Lane Theatre, 100 Drury Lane, Oakbrook Terrace, IL 60181. Tickets are available at 630.530.0111 or drurylanetheatre.com.
Photo credit: Brett Beiner
Review by Emily McClanathan
Related Articles View More Chicago

Stories

Shows