AstonRep Theatre Announces 14th Annual WRITER'S SERIES
The event is on Saturday, February 25, 2023 at The Edge Off Broadway Theater.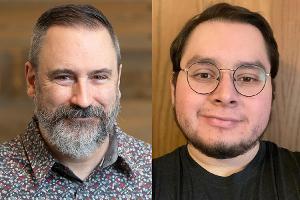 AstonRep Theatre Company has announced its 14th annual Writer's Series, featuring two free staged readings of new works by emerging writers on Saturday, February 25 at 2 pm at The Edge Off Broadway, 1133 W. Catalpa Ave. in Chicago's Edgewater neighborhood. Audiences are invited to join the playwrights for a post-show discussion. No reservations required. For additional information, visit www.astonrep.com.
The 2023 Writer's Series Line-Up includes:
2 pm: Precious Armageddon, a work in progress by Miguel Salgado, Jr. (he/they)
Five psychiatric patients are put in the care of Dr. Gregory Shultz, a retired professor of abnormal psychology. The story examines the first month of these patients' time at Beacon Psychiatric Hospital & Sanitorium through scattered therapy sessions and other happenings taking place inside Schultz's office. Precious Armageddon is a series of uncomfortable, confusing moments capturing troubled souls attempting to retain a sense of control amidst inner chaos.
2:45 pm: Finger by DC Cathro (he/him)
Seventeen-year-old Vee discovers something strange inside a small box, and embarks on a dangerous search for the owner.
Covid safety: While in the theater, masks are recommended and encouraged, but not required. Disposable masks will be available to those who request one. If you are immunocompromised or at higher risk, please consider wearing a mask at indoor public settings where vaccination status is unknown.