A BUMP ON THE LEG World Premiere to be Presented by Subtext Theater Company in March
A Bump on the Leg opens on St. Patrick's Day, March 17th and continues through April 16, 2023.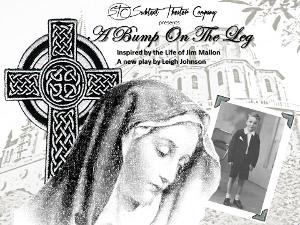 Subtext Theater Company will stage this spring a new play by Leigh Johnson entitled A Bump on the Leg. This play is the biographical retelling of an event from the life of Chicago resident and Irish immigrant James Mallon.
Raised in Northern Ireland, the young Jimmy Mallon was diagnosed with bone cancer in his leg. Doctors, who initially were going to proceed with amputation of the limb, opted instead for radiation treatment, which seemed to be ineffective. Facing a grim prognosis, money was raised to send young Jimmy to Our Lady of Lourdes in France, where he was bathed in the healing waters of the divine sanctuary. Returning home to Ireland, the tumor disappeared in a matter of weeks. Was it divine intercession? A delayed reaction from the cobalt treatment? A misdiagnosis? Or simply a testament to the powers of a mother's love and faith? All of these-and more--are lovingly examined in this whimsical, thought-provoking, and heartwarming new work.
Jim Mallon himself will be on hand along with the playwright after each performance to answer questions and talk about his experiences This truly Irish tale opens on St. Patrick's Day, March 17th and continues through April 16, 2023. Performances will not be held on April 7, 8 & 9th.
The production is directed by STC Artistic Director and founding member Jonathan "Rocky" Hagloch. The cast consists of Wesley Prahl portraying the young Jimmy Mallon and Henry Bolzon as the older Jim Mallon. Other cast members include Eric Prahl, Hilary Hensler, Lauren Miller, and Andrew Pond. Managing Director/Artistic Director and founding member John Oster is the production stage manager. STC founding member and Artistic Director Leigh Johnson has received critical praise for his scripts A Brother's Keeper (2015) and A Prayer for the Sandinista's (2017) both produced by STC, Lefties (2013), Lotto Fever in the Sucker State (2014) and Little Stones (2018) all produced by the Saint Sebastian Players and Khe Sanh Bagman (2000) at Center Theatre.
STC is a professional, non-Equity 501c3 that was founded in 2015 and is dedicated to bringing powerful stories to the stage through an exploration of the meanings found inside, under and between the authors' words. For more information about the company and its founders visit subtextnfp.org
Performances are Fridays and Saturdays at 8 p.m. and Sundays at 2 p.m. at St. Bonaventure Theater, 1625 W. Diversey, at Marshfield just west of Ashland, in Chicago. Free parking is available in two lots. There are stairs but no elevator in the building. Full-priced single tickets are $30, group rates are $20.00 for a group of ten or more. Ticketing at http://www.subtextnfp.org/box-office.html.
All programming is subject to change. For information, call 312-767-1393 or visit subtextnfp.org.