CHARLOTTE ACTING Is Back In Person At VAPA Center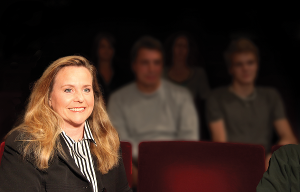 The Queen City's Charlotte Acting (CharlotteActing.com) classes were diverted in 2020 because of Spirit Square's closure and Covid. Charlotte Acting's owner Linda Ann Watt took that time to write a book and she offered Zoom classes to her students in the interim.
She has announced classes are back in person at Visual Arts and Performing Arts (VAPA) Center which is a mecca for visual and performing arts in the heart of Charlotte. She also launched her new book The Actors Manifesto; Create a Successful Acting Career, available on Amazon. The book complements Watt's classes and can be used as an encyclopedia of reference for actors.
Charlotte Acting offers "Workshop Advanced for the Working Actor," an advanced Method acting class for professional actors (by invitation with audition) on Monday nights, 7-9PM, held in the Charlotte's Off-Broadway (COB) rehearsal space at VAPA. COB produces innovative, contemporary theater for adult audiences. Watt says, "I am so happy to be having classes in person again, and COB's founder Anne Lambert has been so accommodating to make my in person classes a reality." Watt continues, "It's inspiring to be teaching in a creative space with others in the arts."
Charlotte Acting also offers "Master Class Acting & Scene Study." The curriculum includes relaxation, sense memory, voice, on-camera cold reading, the business of acting, and in-depth scene study. The principles of Strasberg, Meisner, Adler and Hagen are explored. Although "Master Class Acting & Scene Study" is designed for those wishing to enhance their career in acting, professionals in other fields can benefit. According to Watt, "This class equips anyone to be at ease in a public speaking setting."
Linda Ann Watt is a member of SAG-AFTRA, past member of AEA, and a SAG-AFTRA signatory producer. She holds an MFA in Theatre Performance Pedagogy and has appeared in film, television, theatre and national commercials. She directs television, film and commercials and directed legendary greats including Betty White and Sid Caesar for Public Broadcasting Service (PBS) television. Watt is a 2015 Tony Award nominee for Excellence in Theatre Education, and a past board member of Women in Film (WIF) in Hollywood. Watt mentored students in film production through her company Corlin Productions at Raleigh Studios in L.A., and most recently, she instructed students at the School of Film, Media and Theatre at Georgia State University in Atlanta. Watt produced the educational DVD, The Method based on Stanislavski and Strasberg with Cloris Leachman, Martin Landau and Shelley Winters (the only teaching tool approved by legendary acting instructor, Lee Strasberg).