BOEING BOEING Comes to Dreamwrights This Week
Performances run from Thursday, February 2nd at 7 pm until Sunday, February 5th at 3 pm.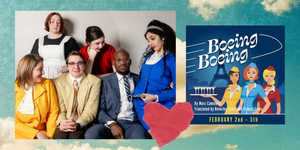 DreamWrights Center for Community Arts, located in York City, is proud to present for limited engagement the popular French comedy BOEING BOEING, written by Marc Camoletti, in their Studio Theatre from Thursday, February 2nd at 7 pm until Sunday, February 5th at 3 pm. Ranked by the Guinness Book of Records as the most performed French play in the world, this hysterical comedy set in the 1960's follows womanizing Bernard on a day when his three (clueless) flight attendant fiancés all end up in his Paris apartment on similar layovers. Wild antics, woeful misadventures, and mistaken identities fill this fast moving theatrical production.
In keeping with the theme of marriage and romance, the DreamWrights Gallery will showcase an art exhibit titled "I Do, I Do, I Do!!!" featuring works by four local photography studios (Anya Lydia Peters with A. Mullen Photography, Emily Golihew with EG Photography, Bryan & Laikyn Pelky with A Life Built for Two, and Brittany Bear with Brittany Bear Photography). The exhibit will be on display for the full run of the show and patrons are encouraged to arrive as early as one hour before the performance to view the exhibit.
Tickets are available online and at the door ($2 upcharge). Seating is limited. For more information, visit the Dreamwrights website.
BOEING BOEING CREDITS
CAST
Gabriella - Deirdre Casey
Gretchen - Sarah Garber
Gloria - Hannah Kuhn
Bernard - James Manjo
Berthe - Samantha Timothy
Robert - Tree Zuzzio
PRODUCTION TEAM
DIRECTOR - Izzy Masquelier
ASSISTANT DIRECTOR - Shana McCoy
PRODUCTION STAGE MANAGER - Skye Williams
TECHNICAL DIRECTOR & SCENIC DESIGN - Jay Schmuck
COSTUME DESIGNER - Elise Lanteign-Marrow
SOUND DESIGN - Delaney McBride
LIGHTING DESIGN - Seb Williams
PROPERTIES - Marshall Storm