Theatre444 To Present Jonathan Larson's TICK, TICK...BOOM!
Tick, Tick... Boom! takes you on the playwright/composer's journey that led to the Broadway blockbuster, Rent.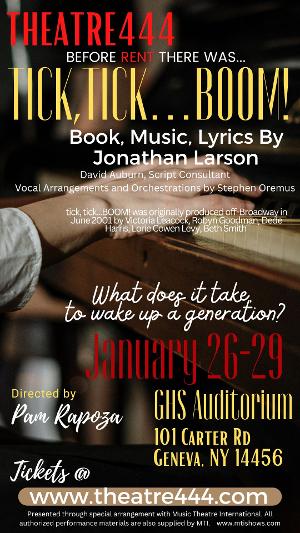 Before RENT, there was Tick, Tick... Boom! After a sold out run of RENT this past summer, Theatre444 brings you a new vision of another Larson cult favorite.
This autobiographical musical by Jonathan Larson, the Pulitzer Prize- and Tony Award-winning composer of RENT, is the story of a composer and the sacrifices that he made to achieve his big break in theater. Tick, Tick... Boom! takes you on the playwright/composer's journey that led to a Broadway blockbuster.
His girlfriend wants to get married and move out of the city, his best friend is making big bucks on Madison Avenue and, yet, Jon is still waiting on tables and trying to write the great American musical. Set in 1990, this compelling story of personal discovery is presented as a rock musical filled with instantly appealing melodies and a unique blend of musical theater styles. Everyone will love this youthful, endearing and thoughtful piece, and will surely embrace the universal ideal of holding onto your dreams through life's most difficult challenges.
With an all new to Theatre444 talented cast hailing from multiple cities, audiences can expect to see pieces of themselves in these characters. Logan Whittall (Hornell) plays Jon while Lily Flum (Rochester) plays his girlfriend Susan and Christopher Teller (Geneva) plays his best friend Michael. This talented and experienced group is led by NYS Award Winning Actor and Artistic Director Pam Rapoza and Vocal Director Meredith Beckley, assisted by Vocal Coach Alexander Ramos and Conductor Dominic Vassallo. Owen Wawrzaszek serves as Stage Manager and Costumes are put together by Pam Rapoza. Lighting and Sound Design is by Garrett Coons and Scenic Artist Laura Abbott sprinkles her talent onto the stage. If you saw RENT this past summer, you will love the nostalgia of Tick, Tick...BOOM!
Performances are Thursday, Friday and Saturday, January 26, 27, 27 at 8pm. Sunday January 29th at 2 pm. All performances are at the Geneva High School Auditorium at 101 Carter Road Geneva, NY 14456. Visit www.theatre444.com to purchase tickets. For more information on Theatre444, visit www.facebook.com/theatre444 and like our page!