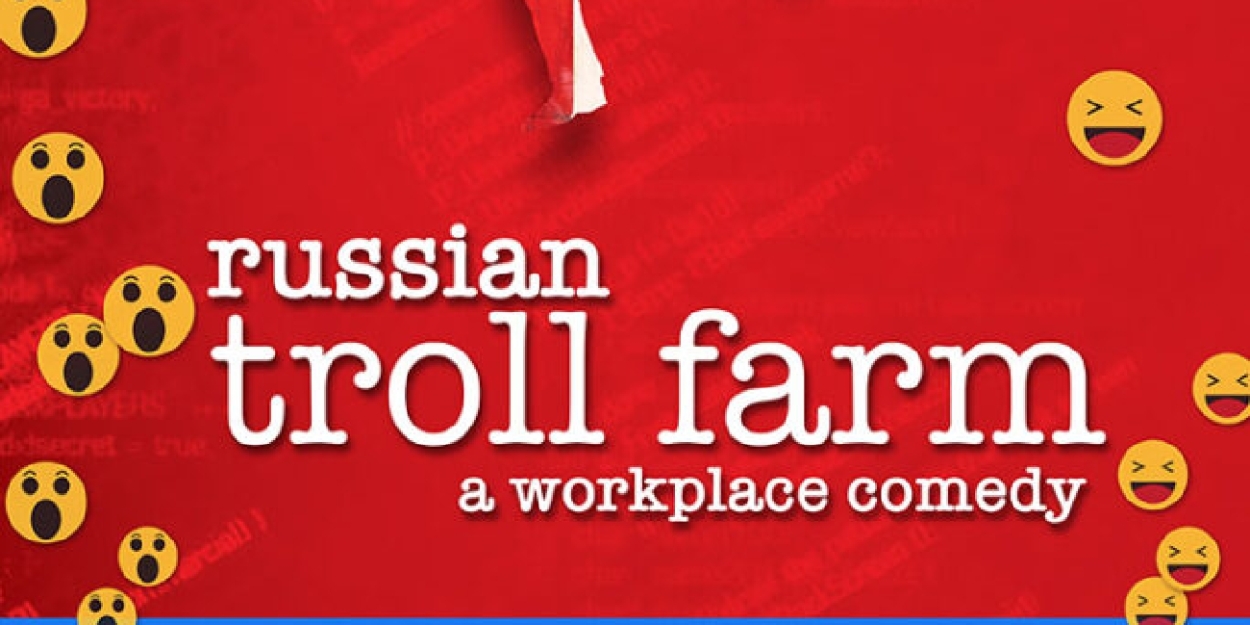 Review: RUSSIAN TROLL FARM at Geva Theatre
The production runs at Geva through March 26th.
It's hard to overstate the effect that the internet generally, and social media specifically, has had on American politics and culture over the last 10-15 years. Everything from the sweeping rise of Barack Obama in 2008 to the MAGA movement, Bernie Sanders, the alt-right, Black Lives Matter, and, in some ways, even the war in Ukraine, can all be traced back to the outsized power that platforms like Twitter, Facebook, and YouTube have over discourse in the U.S and around the world. And most famously, the Russian government's weaponization of social media and misinformation played a central role in Donald Trump's 2016 presidential victory.
Doesn't sound particularly funny, does it? All this weighty material takes center stage in "Russian Troll Farm: A Workplace Comedy", which can currently be seen on Geva Theatre's Wilson Stage.
"Russian Troll Farm" is a 2020 play written by Sarah Gancher. From Gancher's website: "At the infamous (real-life!) Internet Research Agency (IRA), professional internet trolls work 24-7 to influence American popular opinion, creating the illusion of consensus-or conflict. There are floors for twitter, for Facebook, memes, fake news, and comments sections. "Russian Troll Farm" imagines the daily lives of these workers as they invent characters, stage conflicts, create conspiracies, and even sway presidential elections. What happens to your grasp on the truth when your whole job is lying? How does your identity shift when you impersonate Americans for a living?"
There is much to love about "Russian Troll Farm", and its stunning production design tops that list. For this production, Geva's design team gave the stage that drab, monochromatic fluorescent light look (think "Office Space" or the AppleTV show "Severance"), but layered on top of that is a wild multimedia experience featuring lights, computer sounds, news reels, and plenty of tweets and hashtags. It culminates in a perfect blend of futuristic vibes and soul-crushing office aesthetics.
"Russian Troll Farm" also features terrific acting performances, most notably from John Lavelle and Julia Brothers. Lavelle perfectly plays the crude, boorish INCEL-type who loves to troll throughout act I, only to pivot and give a flooring monologue in act II. Brothers' act II monologue exploring her childhood and disillusionment with freedom is also one of the play's highlights.
"Russian Troll Farm" is astoundingly well produced, quite funny, and explores themes that are timely, topical, and terrifying; but narratively speaking, it's a bit all over the place. While workplace romances, boss/employee frictions, and trivial office hierarchies serve the purpose of world-building and establishing that the IRA has the trappings of jobs we've all had, these elements aren't fully explored and, more than anything, serve as distractions from the play's central thrust: that technology is poisoning democracy and the cultural discourse. It leaves the viewer feeling simultaneously floored by the thematic weight of the play and the way it encapsulates our current political divisions, and also like this play-narratively-isn't really about anything at all.
Amusingly, it was also hard not to notice the audience-dominated by seniors on the night I attended-struggle to keep up with a script saturated with internet speak and Twitter lingo. This is no fault of the playwright or performers, but I doubt one-in-ten attendees knew what "IRL" stands for.
It's not a perfect play, but "Russian Troll Farm" is a biting political comedy that entertains while also spotlighting the frightening state of politics and the world we're currently living in. It's playing at Geva until March 26th, for tickets and more information click here.