Karen Akers Debuts Bob Levy and Alex Rybeck Composition MY SISTER AND BROTHER AND I
The song that was inspired by family Zoom meetings premiered at Urban Stages WINTER RHYTHMS.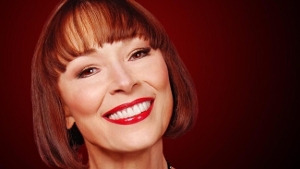 Singer-songwriter Christine Lavin sat in the audience at an Urban Stages concert in December's Winter Rhythms series, thinking she was just there to support her colleagues from the cabaret and concert industry and enjoy some lovely music, but, it turned out, she would find the inspiration for a new project there.
During the program presented, Karen Akers performed a brand-new song written by Bob Levy and Alex Rybeck titled "My Sister And Brother And I" all about the family's weekly zoom meetings. The song grabbed Lavin immediately because the first sentence was "I've got a sister who lives in Virginia" - which Lavin actually does have. So moved was the songwriter and filmmaker by the composition that she reached out to Mr. Levy to ask if she might make a music video of Ms. Akers performing the tune. Misters Levy and Rybeck consented, Bob sent over some screen captures of some of the family zoom meetings, Christine added some from her own family's zoom meetings, and a music video was born.
Broadway World Cabaret is pleased to present that video today in a Broadway World exclusive.
Regarding the creation of the song, itself, Bob Levy says, "I wrote the lyric for this song during the Pandemic and sent it to Alex who set it to music. The song was inspired by my many regular phone calls and Zooms with my family in the DC area, especially my cousin Susan who has always been like my older sister and mentor. I do not have siblings, sad to say but I have always been so close to Sue. There is one photo in the video of Sue with my mom and you can see the incredible resemblance. Growing up people always thought we were brother and sister."
For her own part, Ms. Lavin says that the weekly family zooms that she has enjoyed since the start of the pandemic has "done a lot for bringing us all closer together since the start of the pandemic. My family zooms are filmed because my brother Jimmy in Chicago reads one of our Dad's letters every zoom (he wrote 278 letters to our Mom during WW2, Jimmy found them and reads one or two each zoom meeting)."
Lavin says that hearing the iconic cabaret artist Karen Akers perform the song live at Winter Rhythms was extremely special and Mr. Levy feels that the composition by he and Mr. Rybeck has been "beautifully recorded" by the Tony Award nominated singing actress.
Broadway World Cabaret invites our listeners to enjoy being the first to hear the Karen Akers recording and Christine Lavin music video of Bob Levy and Alex Rybeck's new song "My Sister And Brother And I."
My Sister And Brother And I
Music by Alex Rybeck, Lyrics by Bob Levy
Vocals by Karen Akers
Piano: Alex Rybeck
Guitar: Sean Harkness
Bass: Ritt Henn
Engineer: Chip Fabrizi/PPI Recording Studio NYC
Music Video created by Christine Lavin