Feature: Melissa Errico Speaks Of A NOIR ROMANCE at Birdland Theater
The Tony Award nominee will play a week of shows from February 10th through the 14th.
Melissa Errico has a real romance going with Noir. Film Noir, the music of the cinematic genre, the look, the feel, the history of the oeuvre - it just speaks to the singing actress, author, and chanteuse extraordinaire. For the last year, the Tony Award nominee has been enjoying sharing her passion for Noir with her fans and with new audiences discovering the magic of Melissa. With the release of her album Out of the Dark - The Film Noir Project (read the Broadway World review HERE) came a companion show that played 54 Below (read the review HERE) and one sold-out show after another, as the people flocked to the musical storyteller to learn more about Noir and how it has informed her life.
This week Melissa Errico will open at Birdland Theater for five nights of A NOIR ROMANCE, February 10th through the 14th, with two shows nightly at 7 pm and 9:30 pm on the 10th - 12th, one 8:30 pm show on the 13th, and two shows at 5:30 pm and 8:30 pm on February 14th (ticket link Click Here). In anticipation of the engagement, Ms. Errico stopped by the studio for a photo shoot designed to capture the mood of the musical storytelling show, and, later, shared some of her thoughts and feelings on all things NOIR.
Photos by Stephen Mosher; Visit the Stephen Mosher website HERE.
This interview was conducted digitally and is reproduced with minor edits.
The first Film Noir I remember seeing is:
I may have seen others before but seeing Jules Dassin's jewel robbery-and-betrayal movie "Riffi" in college turned me inside out. I even began my Noir show at the FIAF (French Institute/Alliance Francaise) in a trench coat - with a suggestion of little beneath! - singing the theme from that movie.
The quintessential Film Noir is:
So hard...but probably "Double Indemnity." It has Stanwyck, sex, murder, betrayal, fatalism, and great hard-boiled dialogue. The last bit of dialogue, when Fred MacMurray says "Know why you couldn't figure this one, Keyes? I'll tell ya. 'Cause the guy you were looking for was too close. Right across the desk from ya." And then the Robinson character says, "Closer than that, Walter."-that thrillingly sums up the genre: we're all closer to the dark side than we know before we enter it.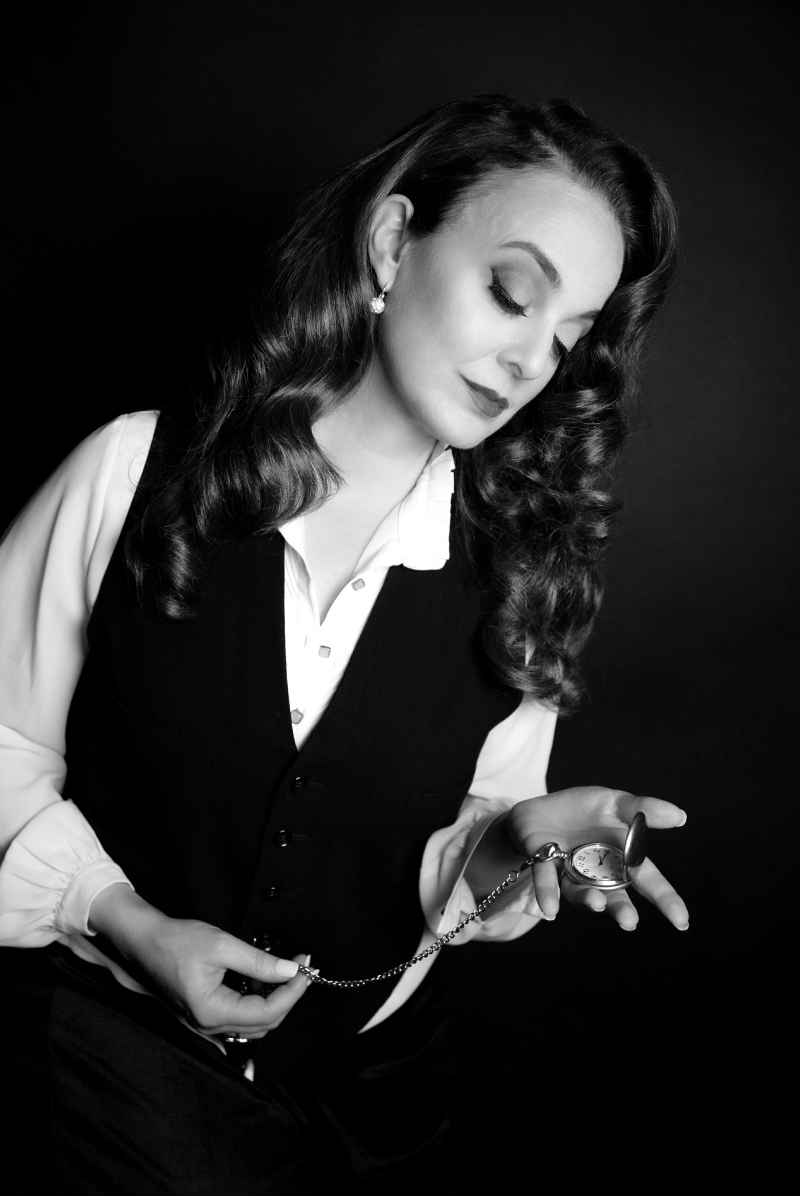 My personal favorite of the Film Noir dames is:
Well, Stanwyck is probably the greatest actress, but mine has to be Lauren Bacall in "The Big Sleep" and "To Have & Have Not". Partly because she's so witty and sexy at the same time, but also because I knew her a little. She came backstage to a play once when I was still in ingenue mode, and said, "Darling you're going to be a star! All you need now is a scandal." I'm still searching for the scandal to launch me into celebrity outer space, but in the meanwhile, I can play with the make-believe scandals of my Noir show. (As a mom with three teenage daughters in what is laughingly called 'real life' the big scandal seems unlikely. But maybe a little scandal on stage can be arranged.)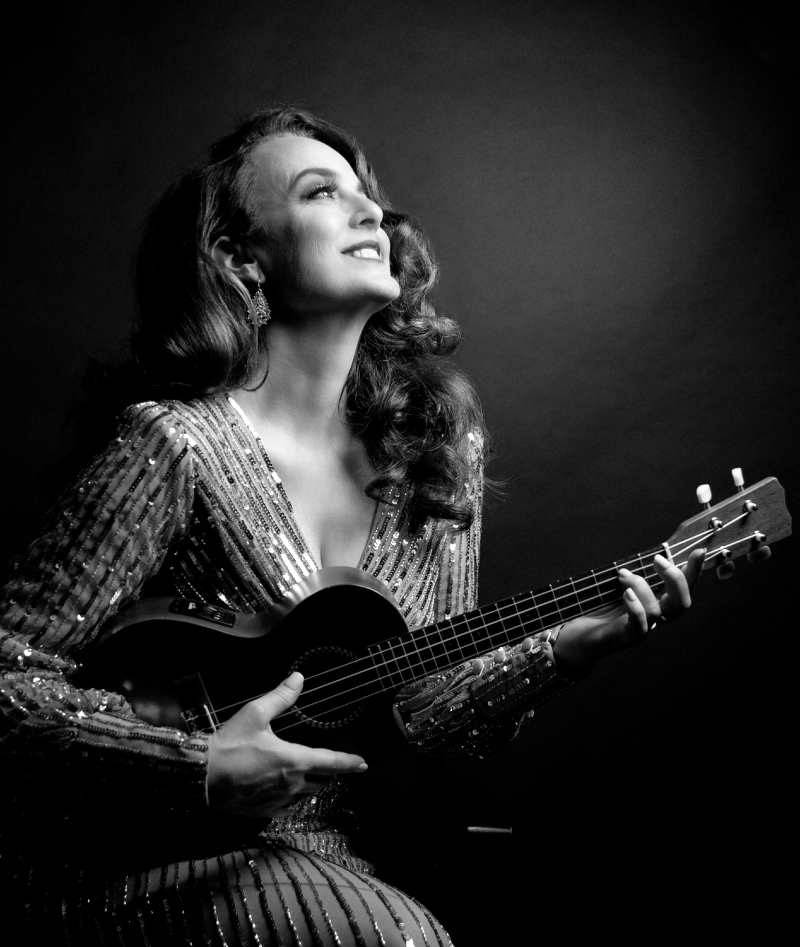 If I were an actress in a Film Noir, my leading man would be:
It's a toss-up between Mitchum and Bogart. Mitchum has a tragic sense in everything he does, and I could throw myself passionately on the rock of his impassivity, like a Pacific wave -- though his sleepiness is not quite my style. I love Bogart's snarling intensity - that kind of witty cruelty is a turn-on for me. I could give him a hooded look for every snarl.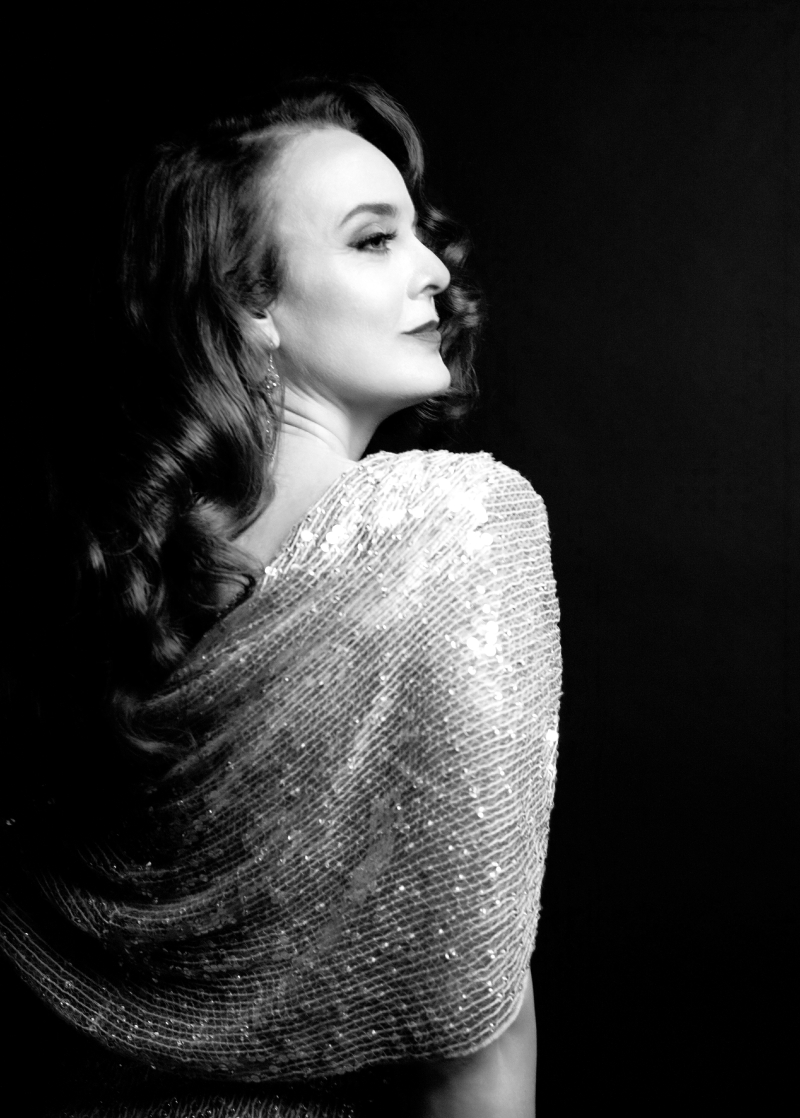 The most dramatic Film Noir death is:
OH, the one in "Nightfall "is terrifying, but so is the moment when Jane Greer shoots Mitchum in "Out Of The Past". He wishes it on himself! Chooses it! I think the academic Noir nerds call this "death as redemption."
The Film Noir that speaks to me the strongest is:
Well, that one, "Out Of The Past", Jacques Tourneur's great Noir with Mitchum as the runaway gangster and Jane Greer as the femme fatale and Kirk Douglas as the evil gangster is perhaps my favorite - even though it's a city genre and this one mostly takes place out in the Northern California countryside! (With detours to a Mexican café.) It's beautifully stylish visually, in a lyrical French way, because of Tourneur, and I'm fixated on the doomed love between Greer and Mitchum. Some of the wisest fatalistic dialogue, too. "Mitchum :(watching Greer gambling) "That's not the way to win".Greer: "Is there a way to win?" Mitchum: "There's a way to lose more slowly. (And also, some perfect femme fatale-ism. "She can't be all bad. No one is." "She comes the closest.")
The Film Noir song that speaks to me the strongest is:
Has to be "Laura" from the film of the same name. Mysterious unsettling David Raksin music, a great dreamy Johnny Mercer lyric - no story, really, just unfolding images ...and it was the first music that my pianist father ever played for my convent-schoolgirl mother, starting my own family's web of musical destiny- entrapments! (Someone told me that it was also Sinatra's favorite song, music and words together, which pleases me, since Sinatra's great moody albums of the fifties, like "Only The Lonely" were one of the things that gave me the courage to do my own "Out Of The Dark", an album of seductive dark songs without a lot of swinging 'relief.') Oh, and there's another demanding Raksin I do, "The Bad And The Beautiful," with a super-smart lyric by the great Dory Previn.
The greatest Film Noir detective is:
Oh, it must be Bogart's Philip Marlowe in "The Big Sleep." Though his Sam Spade in "The Maltese Falcon" is fine too. And don't overlook Dick Powell's turn as Marlowe in "Murder, My Sweet"! He was a graduate of musical comedy, too - a lifelong 'juvenile', the male equivalent of the ingenue - and found his maturity and authority in Noir. I like that example, obviously.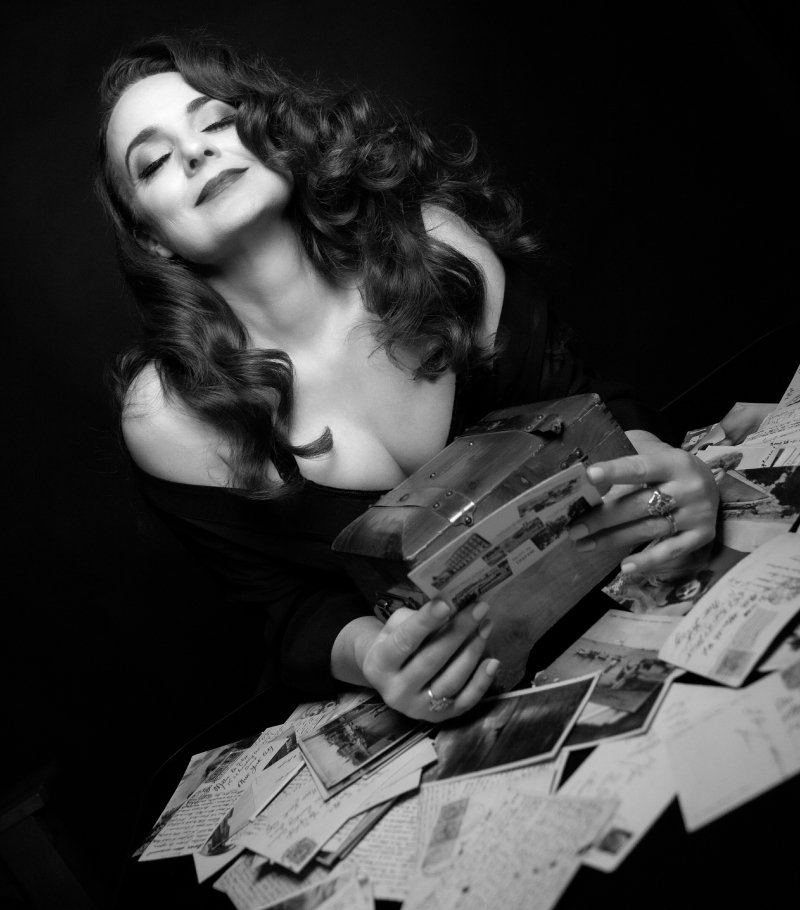 A modern-day movie that captured the Film Noir experience is:
Well, the remake of Farewell My Lovely" in the nineteen seventies, with a wizened Mitchum, by Dick Richards is wonderfully moody. Takes advantage of color. It supplied the great music of "Marlowe's Theme", which David Shire and Adam Gopnik turned into a dark melodramatic ballad for me, called, exactly, "Farewell, My Lovely", and inspired by the cover of the original Chandler novel. A man leaving a woman behind in a hotel room by the light of a grim dawn - though in this song, it's me, the woman, doing the leaving. (I imagine the gangster-lover she's leaving as looking and dressing, even undressing, very much like Kirk Douglas.)
The Film Noir that doesn't get the love it should that I want to recommend is:
"Gun Crazy" and "Detour" are both sort of D-Movies of the period - not even "B" s - but they capture the underside of American experience so compellingly. There's a 'live' sequence in Gun Crazy of a bank robbery that's still the most contemporary bit of filmmaking I know. They may not be as well-known as the detective stories, but they're unmissable.
What I find romantic about Film Noir is:
Everything. The sense of fatality, of people drawn to each other helplessly, like iron filings to magnets. The sense of entrapment, which we've all come to feel in the past few years, like what happens to the lovers in Louis Malle's "Elevator To The Scaffold," when Julien sees that he forgot to remove the murder-rope and then gets stuck all night in the elevator and is then arrested for a murder he didn't commit. Above all, the sense that the darkest and brightest sides of our lives interpenetrate, and that, as my song says, shadows are all we have to show the shapes that light can make.
Melissa Errico's makeup artist is Emily Katz, whose website (with IG link and more) is HERE.
Melissa Errico's hairstylist is Shaniqua Griffin, whose IG link is HERE.