BWW Review: ANTHONY NUNZIATA Is a Top-Notch Storyteller at The Green Room 42
Anthony Nunziata Enchants in an Evening of His own Songs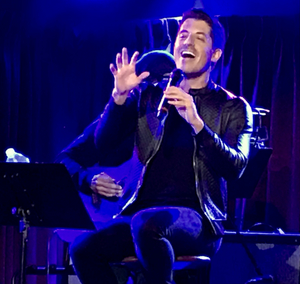 There are some performers who are blessed with an ineffable quality called "stage presence." They enter a stage and instantly command your attention, even if they are not really doing much. It is more than looks or charisma or talent. It's as if they are able to alter the very air in a room simply by being there.
Singer/songwriter Anthony Nunziata is such a performer. His self-titled show which opened tonight at The Green Room 42 was 70 minutes of great songwriting and compelling storytelling. Many of his musical collaborators were in the room, including Jeff Franzel and Nina Ossoff. The bulk of the evening was made up of their collaborations with Nunziata. He has an angelic tenor voice that is capable of blues, country, pop, and Broadway colors.
He welcomed us to the show with Billy Joel's "New York State of Mind." Nunziata is a Brooklyn native who has been living in Nashville writing songs, so it was about his return as well. He followed this with two songs made famous by Elvis Presley, " Can't Help Falling In Love With You'" and the Righteous Brothers' "Unchained Melody."
He then launched into the first of many of his own wonderful songs. "Will You Be My Everyday?" which he wrote with Jeff Franzel and Tom Kimmel, is a soul-tinged proposal song. "Just One Prayer Away," written with Nina Ossoff and Maria Christensen is an inspirational song about going the distance. Jeff Franzel joined Nunziata at the piano to perform their song "I Found Home" a song they wrote for the Humane Society, which gave a different meaning to their cozy love song.
For "I'll Be With You Again" Nunziata announced special guest star, Marieann Meringolo, who brought great passion to this beautiful song. He then introduced the wonderful Marissa Rosen who sang two of Nunziata's songs with Ossoff and Christensen. First, the very witty "Girl Who Loves Football," and then in a completely different vein "The Good Face" which was, for me, the highlight of the evening. The song talks about a woman who smiles through all the daily struggles and tragedies and the toll that takes. It is superb songwriting.
For the final part of the concert, Anthony Nunziata gave us a taste of Christmas in June, singing three of his holiday tunes, "The Greatest Wish,"written with Jim Brickman and Victoria Shaw, "Together For Christmas," written with Maria Christensen and Nina Ossoff, and "New York On New Year's Eve, a collaboration with Jeff Franzel and Nina Ossoff.
Nunziata was brilliantly supported by a fantastic band led by Meg Zervoulis on piano, Steve Bargonetti on guitar, and Mark McLean on drums and percussion. They navigated the many styles with grace and polish.
Anthony Nunziata saved the most heartfelt song for the end. In a moving story about his Neopolitan grandmother, he sang a very emotional "O Sole Mio" in the original Italian. It was a touching finale to a virtuoso show that had everyone in the house on their feet.
Anthony Nunziata returns tomorrow night to The Green Room 42. You should run to get tickets for this show. These are fantastic songs, beautifully sung by a very individual voice. See Anthony Nunziata now, while you can still afford to.
For more information on Anthony Nunziata, go to anthonynunziata.com. For tickets to this show and to check out the other great artists at The Green Room 42, visit greenfignyc.com.