Review: A Is For Audra, but H Is For Hannah Jane & The LADY LEGENDS OF BROADWAY At The Greenroom 42
Miss Hannah Teaches Us The ABC's Of Broadway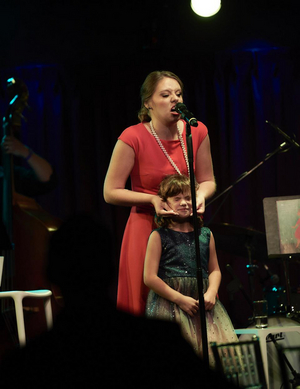 How Can Hannah Help The Hapless Hoofers Have A Happy Hour? (How'er?)
Heigh-Ho, My Merry Rainbow Tribe! Bobby Patrick, your RAINBOW Reviewer here. Putting the silent T in cabareT to bring you all the T!
Ok, my lambkins... So, the first thing you notice about Hannah Jane is her youthful, scrubbed, and polished apple pie image... one that evokes memories of Romper Room and perhaps a "Miss Hannah '' holding up her magic mirror to look at all the good little boys, girls, and thems. In her simple, lovely pink cocktail frock with her hair neatly but casually pulled back, HJ definitely gives off a "kindergarten teacher" vibe perfectly suited to her debut show Monday night at The Green Room 42. Having performed LADY LEGENDS OF BROADWAY to great acclaim before the PAINdemic, (just ask my Boss, Stephen Mosher, who did A LOT of acclaiming in his 2020 review) HJ created tremendous buzz around her million-dollar idea - taking the "children's" book A IS FOR AUDRA: BROADWAY'S LEADING LADIES FROM A TO Z by John Robert Allman and using it as the wraparound to showcase her musical theatre fandom and considerable talents. But, as we all know, my dearlings, that buzz happened, and the next thing that happened was ... let's just call it our current predicament. Now it is 2021 and this gifted young performer is taking the book and her pipes out of last year's mothballs to reignite the fire she sparked 21 months ago (at an age so incomprehensibly young that it makes Bobby a little dizzy to think about). Jane has worked diligently with director Coco Cohn to blow the dust of those months off this cabaret gem. Coco's deft and subtle direction guides her fine young actress with a golden voice down a beautiful sort of "Mrs. Rogers - won't you be my Broadway neighbor" path.
The picture book, beautifully illustrated by Peter Emmerich with Allman's Seussian-style love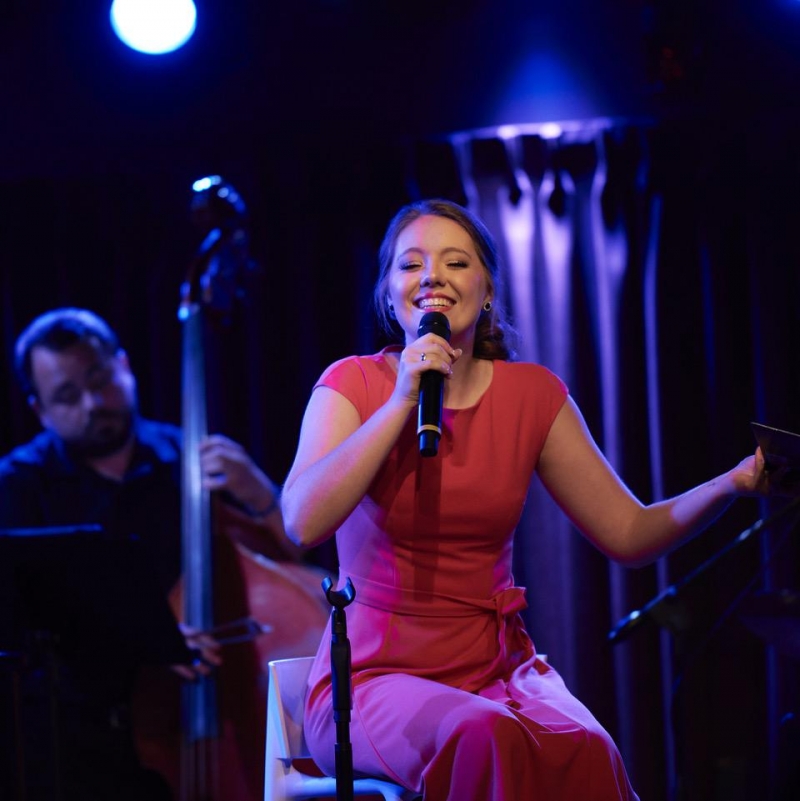 poems to many female stars of our Broadway stages, serves as HJ's guide throughout. As Miss Hannah turns each page to show the pictures to the entire class, she reads Allman's words as her segue into a song that is part of the tapestry of that particular legend's stardom, but not always the song you would expect. Jane's song choices rarely adhere to what is evoked by the words and pictures in A Is For Audra - for example, for the letter A, though the picture in the book is clearly the goddess in her most recent Tony win as Lady Day, the song Hannah presents is from her first Tony win as Carrie Pipperidge. Though Christine Ebersole's caricature is clearly a drawing of Little Edie, HJ goes all the way back to the lady's first big star turn as Ado Annie, and so forth on through the alphabet. "BUT WAIT!" I hear you screech, "Bobby, there are 26 letters in the alphabet! Are you telling us that this Bright Young Woman has a 26 song setlist?!?" Well, yes, my dear ones, she does, and to be honest, the thought of it gave us a tiny little headache just behind the left eye... for a moment. But you see, the experience was a quick-paced 75 minutes made all the more pleasant by HJ and Music Director/Pianist Jon Weber's choice to abbreviate several numbers, just giving a taste of the tune or using them like musical one-liners to land a hilarious joke. Herein lies one of this soon-to-be Lady Of Broadway's many strong points - her humor. Never forced, never overplayed, never reaching for laughs, Hannah's hilarity happens with comedy's best friend... ti... timing. Pitching her spoken performance in that sweet Romper Room delivery of hers, adopting the singing style of each number's particular era - adding a lilting tear to her soprano or a clear, clarion clang to her belt - never attempting to imitate any of her subjects, HJ relies on her own strong points as a performer to give it some good old fashioned SELL... and then out come the tap shoes. Now, if you read Bobby (and we certainly hope that you do read Bobby) then you all know that TAPPY MAKE ME HAPPY! Just slap on some taps, make with some floor percussion, and we will follow you just about anywhere.
And speaking of percussion - and bass for that matter - the undercurrents of rhythm provided by Clint de Ganon on drums and Joseph Wallace on bass joined with Weber's expertly expressive keys to fill the room without overfilling it, or ever blowing out in front of their star. And speaking of stars... Miss Hannah also invited guest stars to join her in her journey through the Broadway alphabet. None other than the fabulously talented and gorgeous Nicolas King sang with HJ on K is for Kristen's I'LL NEVER FALL IN LOVE AGAIN from PROMISES PROMISES, the electrifying Kristy Cates brought her Elphaba magic to the letter I (Idina) and a tiny star in the making, Lucia Isabelle Schwartz, gave hilarious adolescent support on LITTLE GIRLS, the N tribute to a famous Miss Hannigan, Nell Carter. Schwartz rejoined near the end to wow the crowd by duetting with Jane on A MILLION DREAMS from THE GREATEST SHOWMAN, a song added to cover the fact there are no X or Y entries in Allman's tome.
And so, me darlins, follow Hanna Jane through the ABCs of divadom, from Audra's MR. SNOW to LiZa with a Z's CABARET and your lessons for the year are covered in the lights of the Broadway. Add to that the performances of each song with the reverence, irreverence, and humor that mixes together in the pert, pretty personage of Hannah Jane, and you have a cabaret must-see... So then, Bobby happily gives LADY LEGENDS OF BROADWAY a full...
5 Out Of 5 Rainbows
Hannah Has Her Webby: HERE
Follow Her InstaPictoGrams: HERE
Twitter Her Tweets: HERE
Definitely Check Out Her YouTubes: HERE
Ande Followe On Ye Olde FaceBooke: HERE
All Photos By The Gorgeous, Helane Blumfield