Angie Schworer and Klea Blackhurst Join The Rigano Songbook's Ninth Annual Ides Of March Extravaganza
The event is set for March 19th at Don't Tell Mama.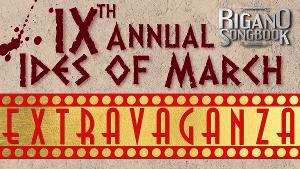 Brothers David Rigano and Paul Rigano are back at the famous cabaret venue, Don't Tell Mama for the ninth iteration of their annual Ides of March Extravaganza, their first live concert since 2019! The 9th Annual Ides of March Extravaganza will take place on March 19th at 7pm. As always, the evening will premiere new material, as well as beloved Rigano Songbook classics, showcasing the talents of their talented friends. This year will feature Broadway veteran Angie Schworer (The Prom, Some Like It Hot) and cabaret sensation Klea Blackhurst (Everything the Traffic Will Allow), alongside Ian Brodsky, Christa Cornay, Alexandra DeSuze, Adam LaSalle, Amanda Nicholas, Sylvester Nunnery, and Alexander Sovronsky.
Also appearing in this annual celebration of Julius Caesar's assassination will be members of the cast of the brothers' recent virtual musical Get The Duchess, Chloe Kramer, Lily Patracuolla, Abby Semelsberger, Matthew Sniderman, and Koko Waller.
David and Paul Rigano are the award-winning writers of the musicals Get the Duchess, We Were Wild, Awaken: a Sleeping Beauty musical, You Heard It Here (NY Winterfest 2017 Award for Best Musical Score), and The Holy Cows of Credence South Dakota (with Mark-Eugene Garcia). They received a 2018 TOWN Stages Fellowship to create the musical talk-show Broadway On Deck. Their music video "Screen to Screen" won Ken Davenport's Rave Theatre Social Distancing Festival in April 2020. For more information about the Brothers Rigano, visit RiganoSongbook.com and follow @RiganoSongbook on social media.
Cover charge for the event is $20 with a $20 food and drink minimum (must include 2 drinks) cash only. Doors will open at 6:15 for the 7pm show at Don't Tell Mama, 343 West 46th Street.